New Police Body-Cam Videos Show Horror Inside Orlando Nightclub After Gunman Omar Mateen Opened Fire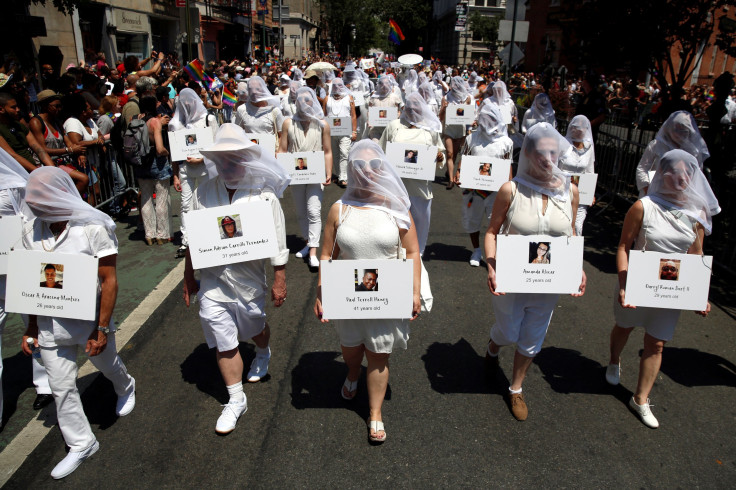 More than 30 new body-cam videos, showing the aftermath of Pulse nightclub massacre in Orlando through police officers' point of view, emerged Wednesday. Released by the police to a handful of news outlets, the videos show officers arriving at the scene, grabbing their advanced automatic weapons and rushing toward the nightclub. Sirens can be heard in the background as officers rush to save the victims.
On June 12, 2016, Omar Mateen, a 29-year-old security guard, opened fire at a gay nightclub, killing 49 people and injuring several others in a hate crime attack. Although the attack was not directly claimed by the Islamic State group (also known as ISIS) Mateen pledged allegiance to the terror group in a Facebook post.
Read: Orlando nightclub shooting: Gunman dead after 'mass casualty situation'
"I probably got about 20 gunshot victims. They're going to need a lot of people," an officer can be heard saying in one of the videos. "Come out with your hands up or you will die!" someone can be heard screaming as gunshots can be heard in the background.
In another video, an officer can be heard telling a victim to come out of the nightclub with his hands up. "Hands up, both hands, put your hands up," the officer tells a victim as he leads him to safety. "Follow the sound of my voice. Come this way. Show me your hands! … I need you to crawl this way. … Follow my light," he says.
In one of the videos, Belle Isle Police Officer, Brandon Cornwell, can be heard saying a prayer: "Lord Jesus, watch over me" as he advances towards the gunman. "You, in the bathroom, let me see your hands now. Come out with your hands up, or you will die," Cornwell can be heard telling Mateen.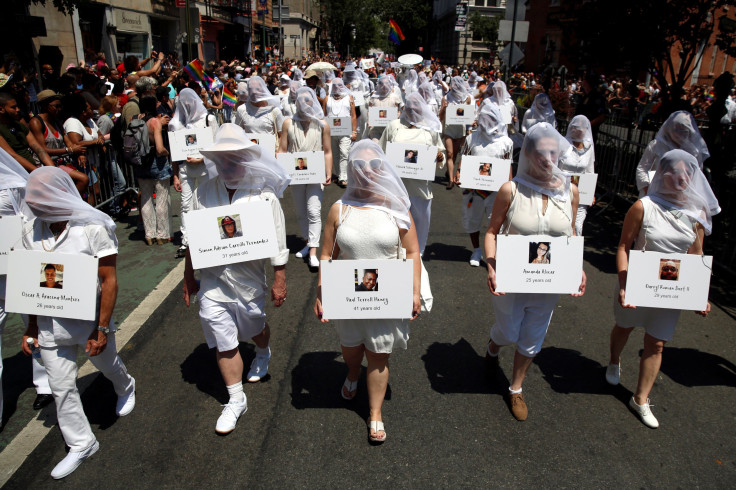 "I couldn't see the guy," he was heard telling another police officer, adding, "He came out of the left bathroom and we were stacked up, and the guys that were up front just started shooting right at him. And he went back into the bathroom. As soon as he came out, I saw a dark-colored shirt ... and about that time they started firing at him, but I couldn't open up on him."
Read: Orlando Shooter Omar Mateen Pledged Allegiance To ISIS On Facebook Before Pulse Shooting
Another video shows the chaos getting intense as rumors about a second gunman spread across the nightclub. Matthew Davis, an Orlando police officer, drew a long gun and followed a trail of blood down the stairs all the way to the basement. However, he found nothing.
"Does anybody know where this blood is going?" someone can be heard asking in the video.
Soon after, police officers spotted a man running away from them. Suspecting him to be the gunman, they took aim at him and shouted: "You, here, down the hall. Hey, hey, hey, where are you at? Come here! Let me see your hands!"
The man responds back saying: "I'm shot."
"I don't care, crawl to me right now," the officer shouts back. "Crawl to me right now. Crawl out! Crawl out! Crawl out now!" he yells.
As the camera focuses on the man, the man can be seen with a gunshot wound on his left foot, which determines he is a victim. He is then taken away by the police officers. "We'll obviously get him treated and everything," Davis said adding, "But we're gonna keep someone with him until we can figure out who he is."
© Copyright IBTimes 2023. All rights reserved.