New Porn Condom Law Will Send Shoots Outside California, Or Underground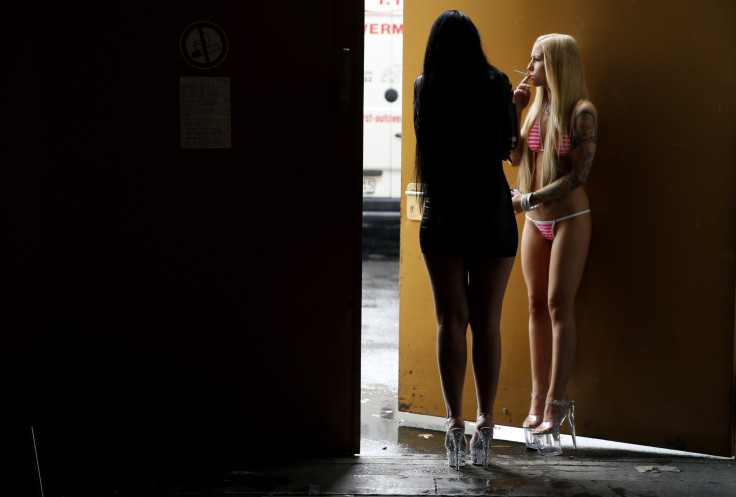 LOS ANGELES — Several months ago, Ela Darling agreed to film what for her was a routine oral sex scene with a man she met through Sexyjobs.com, a web portal she describes as "sort of Monster.com for porn." The adult film actress said she picks up a handful of gigs a year through the site and most are perfectly professional, but her anger was palpable as she recounted this particular job.
Because the producer wanted to shoot the scene without condoms — a practice that's now illegal in Los Angeles — he didn't get a permit, and the "set" was just the two of them in a hotel room. Darling didn't want to use a condom either, so she was fine with the absence of latex, but when it came time for her to get paid, she said things "got a little seedy."
"My rate [for oral sex] is at least $350," she told International Business Times. "We agreed upon it ahead of time. Then we did the scene, and he gave me $300."
After an argument, Darling said the producer eventually gave her an extra $10 for cab fare. And in the heat of the moment, she said she left $1,500 worth of lingerie at the shoot. When she tried to get it back, she was out of luck.
"I don't even know the name of his company," she said. "I have a phone number that doesn't even ring. It was such a shady dealing, because of this new law. The way it was before, there was a point person — a legit business. Now, there's no recourse. That really f------ sucks."
The "law" Darling cites is Measure B, a successful 2012 ballot initiative in Los Angeles County that required condoms to be used at any adult film shot in the county, where the professional porn industry was born. For opponents of the measure, things could soon go from bad to worse. Next November, California voters will weigh in on a ballot initiative mandating the use of condoms in adult films across the entire state. The initiative, which is based on Measure B, has widespread support among voters, with 71 percent approving of it in early polling.
While the initiative's main backer, AIDS Healthcare Foundation President Michael Weinstein, said he believes the state's enforcement resources can finally force porn performers to cover up, the opposite has been true so far. Some producers have decided to film in places like Las Vegas and Brazil, but those without that kind of travel budget — and the talent and support staff that rely on them — have gone back into the shadows. Weinstein casts himself as the man keeping adult actors safe, but Darling blames his agenda for pushing her into shoots like the sleazy hotel experience.
"A lot of smaller producers have simply gone underground," said veteran adult film director Kelly Holland, now a managing director at Penthouse Entertainment. "That has a devastating impact on exactly what Michael Weinstein and AHF purport to want to protect."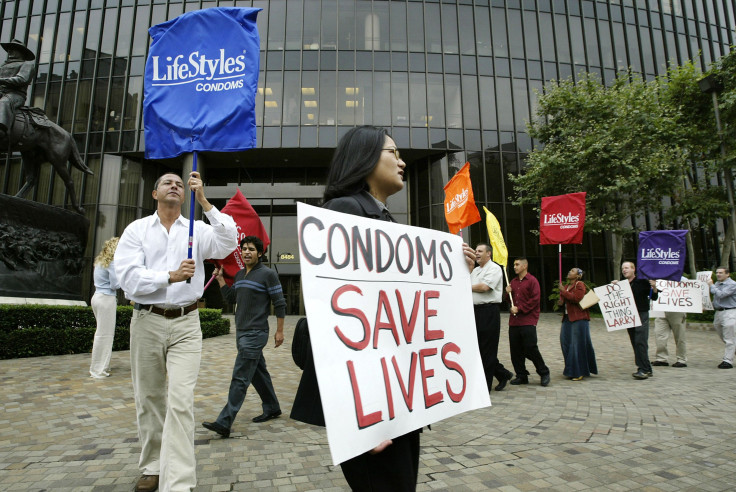 Claims of HIV Transmission
Weinstein has said condom use in adult films is a core workplace safety issue that simply can't be compromised, and he mentions several performers who have contracted HIV while working in the industry as proof.
But since Darren James returned from a shoot in Brazil and infected three co-workers in 2004, there has not been a confirmed HIV transmission on a California porn set. Performers Cameron Bay and Rod Daily, who both work with AHF — as does James — were infected in 2013 while active in the industry, leading to a moratorium on adult filming. But there's no proof they contracted the virus at a shoot, and they've declined to testify under oath that they did. Last December, the California Department of Public Health confirmed an on-set transmission at a shoot in Nevada, where a lot of filming has moved in the wake of Measure B.
What hasn't skipped town has gone underground. In 2013, the first year after Measure B took effect, there were 40 permits for adult films, according to trade organization Film L.A. Inc. Last year, there were 36 and through the first half of this year, only seven adult filming permits have been pulled. Film L.A. didn't keep separate adult film data previously, but it estimates there were 480 permits in 2012.
"Measure B pushed people from a space that was well-regulated outside and inside the industry," Holland said. "Now they don't pull permits because they're hiding. And if they don't have production insurance, you get into what happens when the lighting guy falls."
Stuart Waldman, president of the Valley Industry and Commerce Association, said adult filming isn't all that hard to hide, either.
"A commercial might take a couple days and go to several different locations," he said. "A scene for the adult industry really takes hours. It's just not hard for someone to walk into a bedroom and start filming."
Darling said hotel rooms have become more common lately, as producers steer clear of known porn houses. She's been on impromptu sets in Los Angeles where producers have asked actors not to post any behind-the-scenes photos on their social media accounts — a common practice, for obvious promotional reasons — so they don't reveal where they're shooting.
"You never know who's got the GPS tag on their phone," she said.
Weinstein doesn't dispute that shooting has gone underground, but he said having the full resources of California, and not just Los Angeles County, will change behavior from evasion to compliance. He also dismissed the claim that the adult industry had been reasonably well-regulated before Measure B, saying Californians shouldn't just take the porn industry's advice on public health.
"It's going underground and they're filming without permits," he said. "It's not a good thing, it's not a bad thing. It's just the reality of what's happening. And if the county was providing better enforcement, it wouldn't be happening."
Cracking Down
In a September press release, the AHF decided to counter the "industry lie" that adult filming was fleeing Los Angeles by naming seven porn shoots in LA County that didn't use condoms and were not permitted, which seemed like an unusual way to defend its legal efforts.
But increased enforcement would result in a crackdown on the underground shooting, as it's not like porn studios have gone back to condoms in a meaningful way. And that would only accelerate moves to places like Nevada, where directors like Holland say testing is less stringent. Performers don't want to start shooting with condoms, either.
"Companies want to follow the rules," said actress Chanel Preston, who's been in the industry for six years. "There's a reason we don't want condoms."
Preston said having vigorous porn sex that can last hours at a time — and it isn't always with someone she's attracted to — while using condoms causes a lot of friction and extreme discomfort. And she's more than happy with the existing testing protocol.
"If we felt that condoms kept us more safe, we'd probably be willing to make that sacrifice," she said. "But we're making sacrifices unnecessarily."
When asked about filming going to other states, Weinstein pointed to the fact that California and New Hampshire are the only states with court decisions confirming the legality of adult films. But filming has moved en masse to places like Vegas and Miami rather than shoot with condoms in LA, pending legal challenge or not.
"What you see is performers flying to Nevada or Florida to shoot for a week or two," Holland said.
That could accelerate, as the looming California law even allows completely unaffiliated residents of the state to sue producers for damages if they become aware of porn filmed in the state without condoms.
"Your fundamentalist Pentecostal aunt can sue if she happens to see some pornography in which she didn't recognize that a condom was being used," Holland said. "It's beyond absurd."
And if Nevada and Florida prove not to be happy homes for the porn industry, other countries await. Holland said she really enjoys working in Spain, where she raves about the local performers, and Darling said she had a great experience at a recent shoot in Jamaica. But not everyone can go where the work is – and it's harder when there's not a compelling reason for the industry to skip town.
"LA was the mecca of the porn industry, and it's breaking apart," Preston said. "There's accountants, secretaries — it would put so many people out of work."
But Weinstein doesn't much care about that. Asked about the statewide initiative potentially driving shoots to overseas destinations that wouldn't be as adamant about condoms, he invoked child labor laws. To him, porn without condoms is a total nonstarter and any argument about a city losing an industry doesn't really register.
"The voters had a chance to say they were worried about the economic impact," he said.
In the meantime, it's back to the hotel.
"I wish we had the luxury of responding by having everyone do films in hazmat suits and gloves," Holland said. "It's certainly somebody's fetish."
© Copyright IBTimes 2023. All rights reserved.