New Year's Eve 2013 Times Square Photos: Psy's 'Gangnam Style,' Ryan Seacrest And Thousands Of Colorful New Yorkers
Over one million revelers flooded the Times Square in New York Monday night to watch the famous crystal ball drop as part of the New Year's Eve 2013 celebration.
Reports said that security in Times Square was very tight with a number of uniformed police were assigned to blend into the crowd. Police Commissioner Raymond Kelly told Associated Press that Times Square would be the "safest place in the world on New Year's Eve" with officers using barriers to prevent overcrowding. There were also checkpoints to inspect vehicles.
The famed crystal ball was covered with 2,688 Waterford crystal triangles and was lit up by more than 32,000 LEDs in red, blue, green and white. One crystal panel was imprinted with the name of Dick Clark, who died in April. This year's countdown was the first in decades without the long time host Clark.
It was Ryan Seacrest who hosted the countdown show with other high profile names like South Korean rap sensation Psy, Taylor Swift, Carly Rae Jepsen, Neon Trees, Flo Rida and Pitbull among the musical guests.
Prior to the night's festivities, New York City Mayor Michael Bloomberg spoke briefly about the absence of late Clark.
"It's hard," Bloomberg said. "There are certain people that are bigger than life. Most people come and go. Dick Clark was here for generation. What's an American? Dick Clark was a real American."
In a slim-fitting metallic red jacket and skin-tight leather pants, Taylor Swift performed "I Knew You Were Trouble." She also performed her other popular single, "We Are Never Ever Getting Back Together."
Psy, who turned 35 Monday, came out in a furry white coat and slim black turtleneck to perform his worldwide hit "Gangnam Style." He joined MC Hammer for a blending of "Gangnam Style" and "Can't Touch This."
Watch a video of Psy's "Gangnam Style" performance in Times Square here.
Carley Rae Jepsen performed her song of the summer, "Call Me Maybe."
Hours before the midnight celebration, thousands of New Yorkers with New Year's hats and sunglasses boasting "2013" started to pack into the waiting pens in Times Square, which were erected starting at West 40th St. and went all the way up to Central Park South around 59th St, the Daily Mail reported.
Take a look at the photos of New Year's Eve 2013 celebration at the Times Square: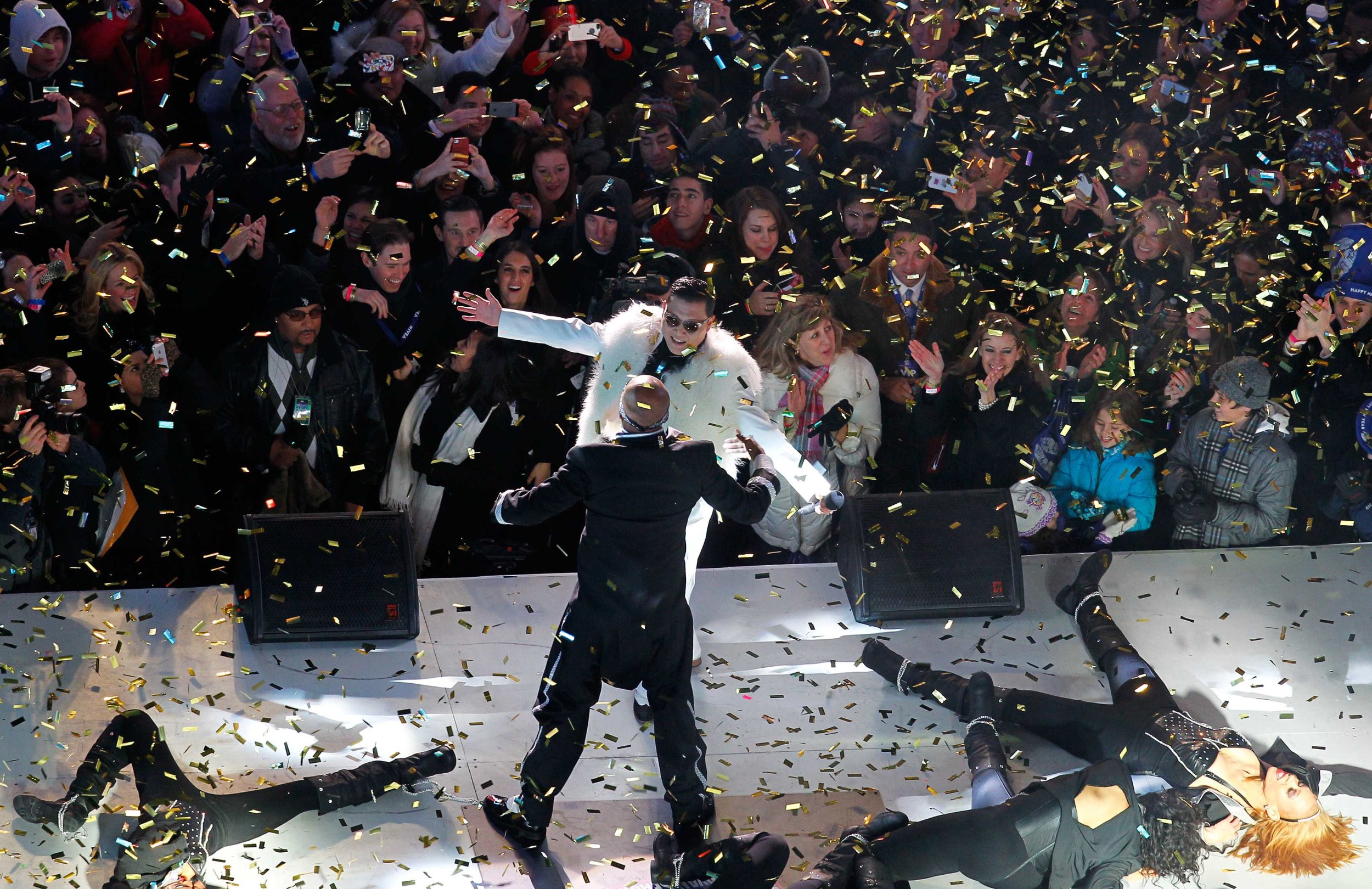 © Copyright IBTimes 2023. All rights reserved.