New York Area's Metro-North Railroad Given Emergency Order By Government To Make Safety Improvements To Bronx 'Death Track'.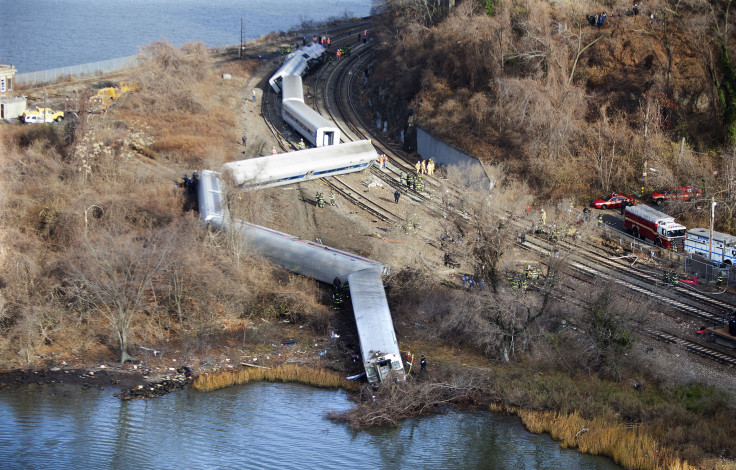 An Emergency order has been issued to the Metro-North Commuter Railroad by the Federal Railroad Administration to ensure that train crews do not exceed speed limitations in the future.
The order comes just five days after four passengers died and dozens were injured when the train they were travelling in derailed from the Metro-North track in the Bronx borough of New York City.
The directive requires Metro-North to modify its signaling system to ensure speed limits are obeyed, but in the meantime they want two qualified train drivers in the locomotive cab or passenger control compartments at locations where speed limits change by more than 20 mph or more, until the signal work is complete.
Furthermore, the FRA has demanded an action plan to be submitted no later than Dec. 31 detailing target dates and milestones for doing the necessary signal work.
"Safety is our highest priority, and we must do everything we can to learn from this tragic crash and help prevent future derailments," said U.S. Transportation Secretary Anthony Foxx. "While we assist the National Transportation Safety Board in carrying out its investigation, this Emergency Order will help ensure that other Metro-North trains travel at appropriate, safe speeds."
The Emergency order is a mandatory directive to Metro-North where failure to comply with requirements will result in enforcement actions against the railroad or individuals who violate it.
The emergency order marks the second time this week that the FRA has given Metro-North safety directives. On Wednesday evening Metro North's operator The Metropolitan Transit Authority, received a letter calling for a full employee safety stand-down and full implementation of the confidential close call reporting system, which has been proven to help safety on other lines.
"Last year was the safest on record for our nation's rail industry," said FRA Administrator Joseph C. Szabo. "Even with a 43 percent decline in train accidents nationwide over the past decade we must remain steadfast and vigilant to ensure passengers and employees are safe. The public deserves better and our mission is to drive continuous safety improvement."
The FRA has already implemented a number of safety enforcements after a number of accidents occurred on the line, including additional inspections of its lines and audits of Metro-North's operations and compliance with federal regulations.
© Copyright IBTimes 2023. All rights reserved.