New York City Coronavirus Infection Rate Is 21%, 2.7 Million New Yorkers Had COVID-19
KEY POINTS
A prelim study reveals up to 21% of people in New York City have been exposed to the coronavirus that causes COVID-19
This percentage is 13.9% for the entire state
New York state will continue testing to understand if these preliminary results remain true
There are two ways to assess the data revealing around 21% of randomly sampled people in New York City have antibodies against "severe acute respiratory syndrome coronavirus 2 (SARS-CoV-2)," the virus that causes COVID-19.
New York Governor Andrew Cuomo said this preliminary data from a coronavirus antibody study indicates 21% of the people in the city might now have some immunity against this highly-infectious disease and can resume a semblance of their normal lives. NYC has a population of 8.4 million persons.
"These are people who were infected and who developed the antibodies to fight the infection," said Cuomo on Thursday. "They had the virus, they developed the antibodies and they are now 'recovered'."
On the other hand, the figure of 21% also confirms NYC has one of the highest (if not the highest) infection rate among all U.S. cities. This outcome might lead to the outbreak lasting longer than anticipated. It also means uninfected New Yorkers remain under an ever present threat despite welcome data showing a leveling-off in statewide hospitalizations.
Cuomo revealed the antibody study data shows the statewide infection rate stands at 13.9%. This comes to around 2.7 million residents that might now also have some immunity from the disease.
Some 70% of the overall testing was conducted in parts of Westchester, New York City and Long Island. In Long Island, the infection rate was 16.7%. The infection rate came to 11.7% in Westchester/Rockland Counties and 3.6% for the rest of the state.
The study was conducted over a two-day period at grocery stores and other big box stores and involved regular New Yorkers. More than 3,000 samples were collected from New Yorkers at 40 sites in 19 counties.
"These are people who were out and about shopping," noted Cuomo. "They were not people who were in their home. They are not people who are isolated. They are not people who are quarantined -- who you could argue probably had a lower rate of infection because they wouldn't come out of the house."
Cuomo said there are 15,500 COVID-19 deaths in the state, and 2.7 million infected people means the death rate might be 0.5%.
On the other hand, if the actual infection rate among the state's entire population is similar to the early sample infection rate of 13.9%, it will change the state's death rate.
Cuomo said the state will continue testing to understand if these preliminary results remain true for a larger subset of the population.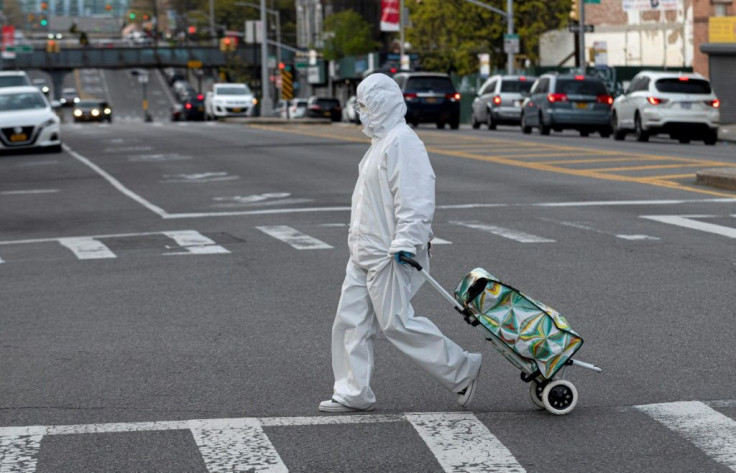 © Copyright IBTimes 2023. All rights reserved.