New York Fashion Week: Prete & Bruno Captivate With Classic Elegance For Fall 2012 [PHOTOS]
As the fashion world moves toward the departure of grunge, Prete & Bruno, led by Italian design team Salvatore Prete and Filippo Bruno, have showed up at just the right time. Drawing inspiration from old Hollywood glamour, Prete & Bruno took Mercedes-Benz Fashion Week in New York by storm with their Fall 2012 collection on Monday night, captivating with classic elegance.
Though their eponymous label officially launched in spring 2011 in Italy, New York is a place the designers always dreamed to break through, which they did for their first ever show on day five of Fashion Week.
"For us, it's very important to be here," Filippo Bruno told me after the show. "We love New York. We love the states. The people here are very different from Italy, more polite more educated."
The dynamic duo first met and, within a mere moment, delved into collaboration mode to create elegant designs.
"In a couple of months we decided to do something together in fashion," Bruno said. "I have some experience in the fashion industry and Salvatore [Prete] was a consultant so we met together. It's really amazing."
Amazing is the only way to sum up the Fall Prete & Bruno collection, who believe we are at the feet of a return to chic and elegance where one can obtain strength from deep-rooted feminine grace. Drawing inspiration from iconic actresses like Grace Kelly, Prete & Bruno created feminine, sophisticated designs in classic black, emerald green and gold with a provocative modern spin.
"When something is traditional in 2012, something traditional is like new," Bruno said backstage. "We take inspiration from the great icons of the past. Women that have marked epochs of great refinement where fashion never fell into vulgarity."
Dedicated to women who want to "highlight their femininity without falling into banality," as their motto says, pieces in the collection include refined tweed suits and pencil skirts in ladylike, high-waisted silhouettes, flowy dresses and gowns for evening wear and everything in between suitable for day or evening.
As is the Italian tradition, Prete & Bruno only use the finest fabrics and textiles -- chiffon, silk, velvet, jacquards, bouclé wool and tweeds -- for their designs to give the air of elegance in ready-to-wear, with a bit of couture.
"We love the classic elegance and we love the classic fabrics too so we tried to put it together and make something different," Bruno said.
Prete & Bruno kicked up their traditional textiles with details like feathers, sequins and lace in addition to hair done in high chignons by the Vince Smith Hair Experience, nails by Pure Ice and 60's mod makeup by key makeup artist Dani Fonseca.
View the slideshow to see photos from the Prete & Bruno Fall 2012 runway show at Mercedes-Benz Fashion Week in New York.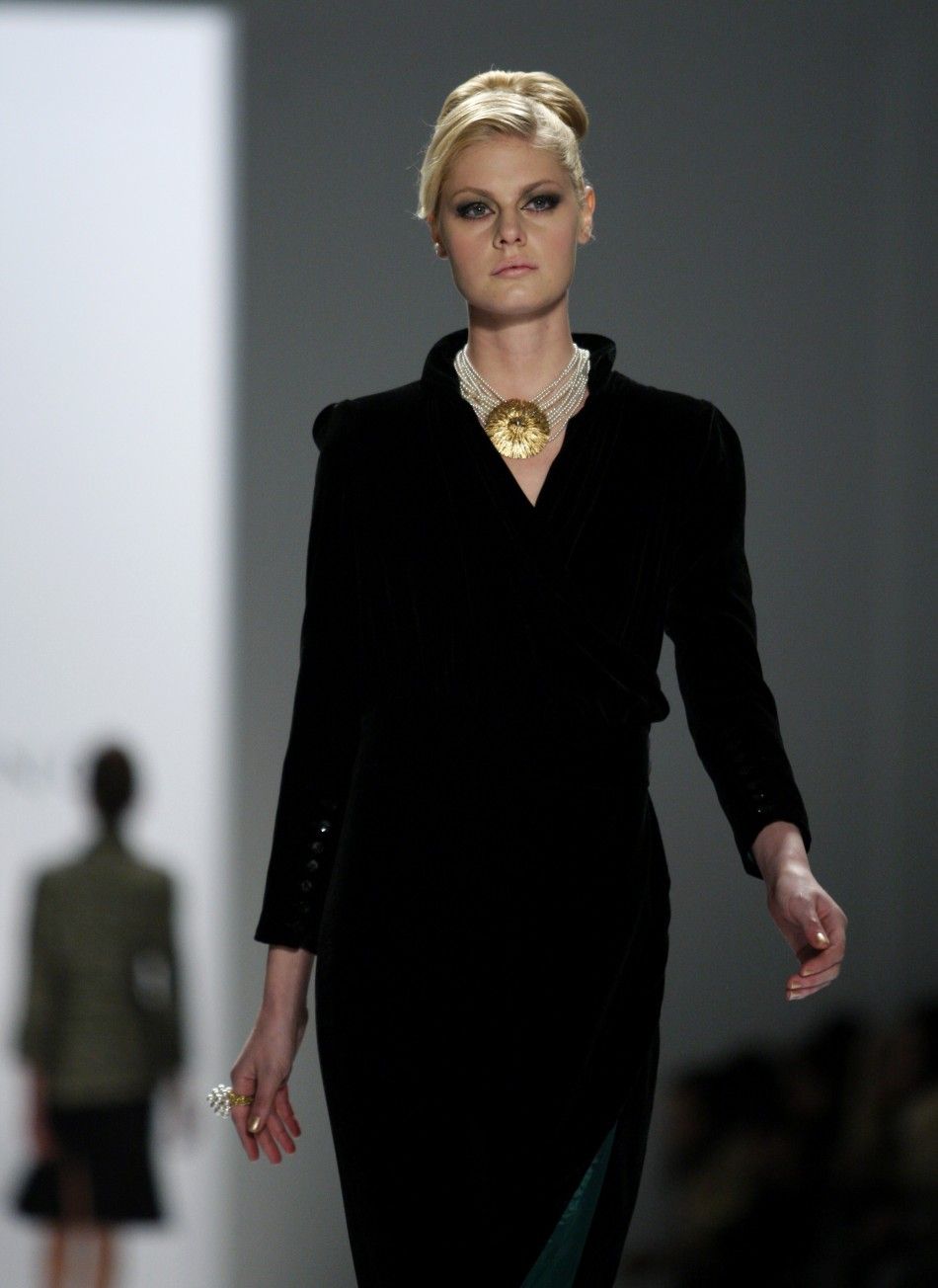 © Copyright IBTimes 2023. All rights reserved.