New York Snow Storm Affects Traffic: Flights Grounded, Buses Canceled, Multiple Accidents
The first snowstorm of the season hit New York on Thursday afternoon, bringing life in the city to a standstill. Forecasters said the city witnessed higher-than-expected snow, resulting in the snowiest November since 1938 with some also predicting the city to receive anywhere from 5.3 to 6.5 inches of snow.
On Thursday, snow came down at rates of 2-3 inches an hour with New York City and Long Island receiving anywhere from 3 to 6 inches of snowfall. This made driving conditions extremely dangerous resulting in multiple accidents.
"Plan on slippery road conditions. The hazardous conditions will impact the evening commute," the National Weather Service warned.
The New York City Emergency Management Department too issued a travel advisory citing a "wintry mix of snow and rain is expected to cause slippery conditions during the Thursday evening commute."
Weather.com reported a multi-vehicle accident brought the George Washington Bridge to a standstill with all lanes being blocked Thursday afternoon. Though the lanes were reopened in the evening, travelers were advised to expect delays.
Apart from the George Washington Bridge, the Holland Tunnel and the Lincoln Tunnel were also experiencing delays. A semitrailer truck overturned and blocked all westbound lanes of the Gowanus Expressway. Accidents also shut down portions of New York Route 17 near Vestal and Apalachin.
"We are definitely seeing the ramifications of what happened on the George Washington Bridge earlier and also what's happening on the Bayonne Bridge. We had gotten to over sixty percent of the streets of New York salted, at least once. But we are definitely being slowed down by the traffic that is currently there. I have several pieces of equipment that are in the traffic," City Sanitation Commissioner Kathryn Garcia said, CBS Local reported.
"Across the city, things are moving slowly. We have over 700 spreaders and several hundred plows out on the streets of New York right now, making progress through all of their routes. We are seeing more snow than we had anticipated but were able to shift into plowing starting around 3:20 this afternoon," Garcia added.
Around 560 national flights were cancelled Thursday which included 47 flights originating at Newark Liberty National Airport, 46 at LaGuardia and 35 at John F. Kennedy International Airport.
The Port Authority Bus Terminal also remained jam packed with many buses delayed or cancelled. This led to officials initially closing the second and third floor of the terminals. They then closed all the door of the terminal and asked people to find another way back home as several buses were stuck in traffic.
"I've been here 25 years, I've never known them to shut down these floors before," commuter Neil Martin said.
AccuWeather.com said the snowfall could turn into rain and flooding is most likely to occur in the wee hours of Friday morning.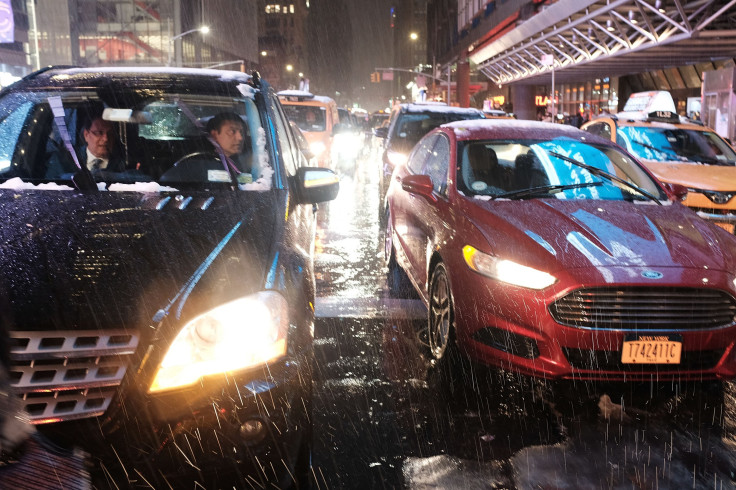 © Copyright IBTimes 2023. All rights reserved.