New York Times Co. (NYT) Q2 2014 Earnings: Print Declines Loom As Digital Gains Touted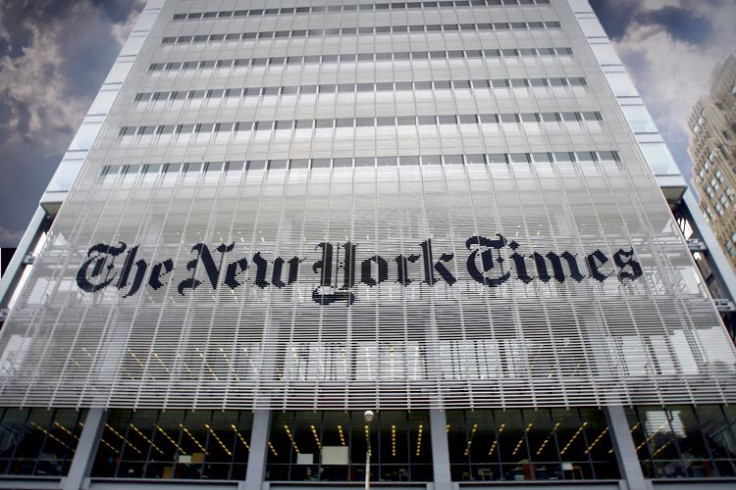 If ever a company's financial woes could be summed up by its own motto, it's the New York Times with its famous doctrine of "fit to print." The foibles of ink and paper loomed heavily over second-quarter 2014 financial results released Tuesday by the New York Times Co. (NYSE:NYT).
Print-advertising revenue continued its downward spiral, declining 6.6 percent for the three-month period ended June 30 and highlighting the continued evaporation of what was once the paper of record's primary revenue source. The numbers come at a time when company's tenuous digital strategy -- thrust into the national spotlight several weeks ago by a leaked internal report that stressed a crucial need for innovation -- is becoming increasingly and unquestionably vital for the paper's survival.
Writing about the company's financial results, Times media reporter Ravi Somaiya noted the company invested heavily during the quarter in new digital products, some of which are already paying off. Quarterly circulation revenue increased 1.4 percent to $209.8 million while digital subscriptions grew by 32,000 subscribers. The increases are due in large part to new subscription apps, NYT Now, NYT Opinion and Times Premier. In a statement, CEO Mark Thompson said the Times is "encouraged by the reaction of users to the products," in particular, NYT Now.
But the gains were not enough to offset a decline in total company revenue, which fell 0.6 percent to $388.7 million, compared to the same period last year. Even more troubling, the Times' net income dropped a staggering 55 percent to $9.1 million, missing analysts' estimates and sending shares of New York Times Co. down 8.06 percent Tuesday to $12.89.
In trying to focus on the company's ramped-up digital strategy, Thompson did not shy away from mentioning the much-talked-about "Innovation Report" leaked by BuzzFeed May 15. In a statement, he noted a focus on the "depth and engagement" of the paper's digital audience was one of the report's key recommendations. The 96-page report, authored by A.G. Sulzberger, son of Times publisher Arthur Sulzberger Jr., spoke of an urgent need to break away from the unwieldy print-centric mindset cemented in the company's culture. It also acknowledged, perhaps for the first time, the storied 163-year-old paper is now competing with much leaner digital-native players such as Business Insider, the Huffington Post and BuzzFeed.
But old habits are hard to break. Print-advertising revenue, while falling, is still very much the lifeblood of the Times, a fact noted in the innovation report. Total advertising revenue was $156.3 million for the quarter, but only $41.5 million of that came from digital ads. The company's continued reliance on print revenue is particularly worrying given the unrelenting decline of that revenue stream, now a seven-year trend for the Times Co. Gains in circulation revenue are promising, but still not the savior the Times needs to retire that musty motto. For now, "fit to print" may not be sexy, but it pays the bills.
Got a news tip? Email me. Follow me on Twitter @christopherzara.
© Copyright IBTimes 2023. All rights reserved.