New York Times Scores More Digital Subscribers, But Less Digital Ad Revenue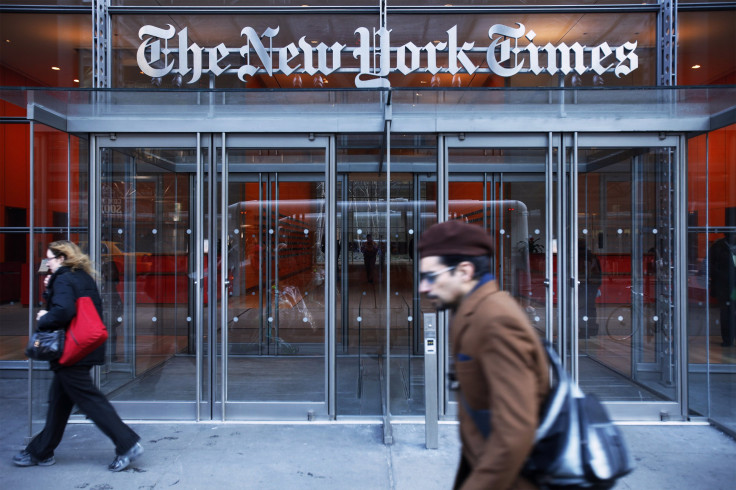 The New York Times' latest earnings report on Tuesday proved that not even the paper of record is immune to the digital advertising crunch affecting everyone in the business: While the paper boasted of 67,000 new, digital-only subscribers, online advertising revenue ominously declined by 1.3 percent. In a conference call, the Times downplayed the first quarter's total revenue losses of 6.8 percent, or $14 million.
"We believe our timely pivot from traditional advertising to branded content will help us grow," CEO Mark Thompson told participants on the call, taking an optimistic line on the revenue drop.
"The rate at which we are adding digital subscriptions continues to accelerate," he said in a statement released earlier on Tuesday.
In the face of universally declining revenues in print advertising, the legacy media brand is trying to forge a way ahead by increasing online advertising revenue and roping in more digital-only subscribers.
The New York Times Company (NYT) | FindTheCompany
This quarter, they succeeded on the subscriptions front: The Times now has about 1.2 million online subscribers in total. But the digital ad revenue is still declining, casting doubt on the ultimate value of all those new subscribers.
Chief Revenue Officer Meredith Kopit Levien said the company, like every other shop, is coping with a volatile ad market.
"We're operating in a digital ad business that is broadly in transition," she said. "We're confident about it. We're growing mobile, and particularly smartphone, fairly quickly." She echoed Thompson's confidence in the paper's future in branded content.
Among the sentences Times executives probably didn't think they'd ever be telling investors was Thompson's assurance on the call that, "We have a very successful cooking app."
It was a noticeable nod to the latest burgeoning craze in online content-mongering: food. BuzzFeed currently leads the the way in that genre with its new video network Tasty, which brings in 360 million views every month.
Perhaps the Times' salvation lies in "food porn," but right now the company has enough on its plate.
© Copyright IBTimes 2022. All rights reserved.
FOLLOW MORE IBT NEWS ON THE BELOW CHANNELS