Nextbit Robin: This Kickstarter Startup Is Taking On Samsung With A Cool $400 Android Phone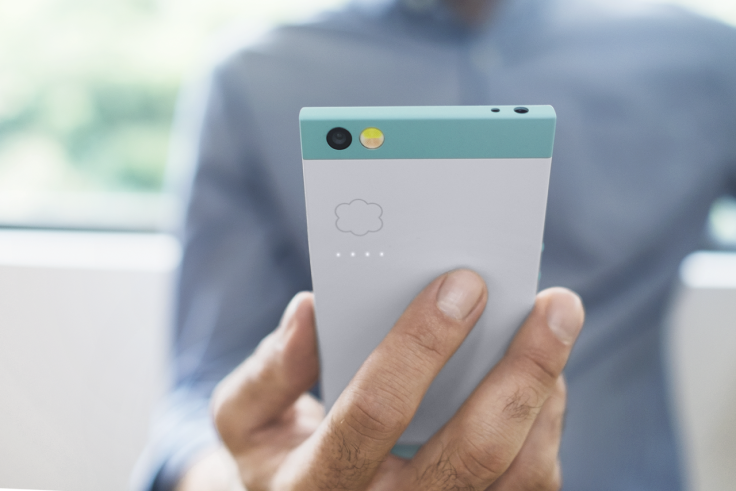 Launching a completely new smartphone brand in 2016 sounds suicidal, especially in the Android mobile operating-system world, where the South Korean Samsung Electronics Co. Ltd. is battling it out with the Chinese Huawei Technology Co. Ltd. and Lenovo Group Ltd. — and none of them is making any money. But that's exactly what one Silicon Valley company founded by a pair of Google Inc. veterans is attempting to do by not focusing on the mass market and instead making a device with a personality, what it calls "a smartphone with a soul."
Nextbit will ship its first smartphone, the Robin, to its initial 1,000 Kickstarter backers in February as it enters the smartphone market, a business where Apple Inc. takes almost all the profit, based on iPhone revenue of $150 billion and a margin close to 70 percent.
But Nextbit is betting that particularly among Android users there is a demand for a luxury product but not at iPhone (or even Samsung Galaxy) prices. "There is definitely a big demand all over the world for high-end Android smartphones, but that demand is not at $700 or $800 because [Android] is not a luxury good and because there is no monopoly premium," co-founder Tom Moss, who was head of business development for Android at Google between 2007 and 2010, told International Business Times.
This means there is an opportunity. In 2016, when 1.5 billion smartphones will be sold, that opportunity will be bigger than ever despite the fact that hundreds, if not thousands, of smartphone manufacturers wll be competing for the same customers. Nextbit believes it can stand out in a sea of black touch screens.
Soulless Smartphones
"We think we can lead in terms of design," said Scott Croyle, Nextbit's head of product and design. "If I was to put the iPhone and every Android phone out here on the table, nothing really stands out. Everything feels like a derivative of an iPhone and a HTC."
Croyle is pretty dismissive of every other smartphone on the market, calling them "soulless." He added, "There has never been a cool Android phone since HTC did the M7." Of course, Croyle would say this, given he led the design of the HTC One M7 before joining Moss and co-founder Mike Chan, another ex-Googler who worked on the original-version Android at Google.
"The Robin is a product that will stand out from the crowd at a time when smartphones have become a sea of sameness," Ben Wood, mobile industry analyst with the market-research company CCS Insight, told IBT. "That's a real opportunity."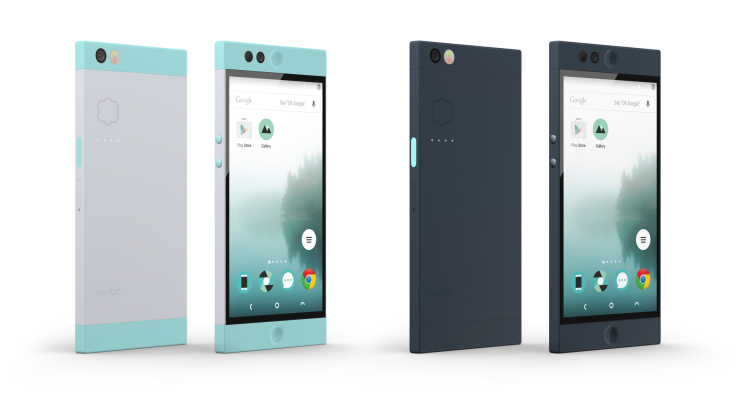 While it may stand out in terms of design, the Robin's specifications are very much run-of-the-mill for upper midrange Android smartphones today. It features a 5.2-inch 1080p screen, 13-megapixel camera, Snapdragon 808 chipset, fingerprint sensor and USB C port including fast charging, as well as 32 GB of internal storage. Along with the Robin's design, its key selling point is that it employs a modified version of Google's Android software that leverages the cloud.
Each user gets 100 GB of free cloud storage while Nextbit's modified OS intelligently manages the phone's internal storage by off-loading applications and content to the cloud when the systems needs to free up space. Using Amazon Web Services' cloud infrastructure to power this feature, the company indicated that 70 percent of the addressable market is turned off by the fact the cloud is so integral to the way the phone works, but that it was aware of this fact at the outset.
"People misunderstand," Moss said. "They assume it will kill their data plans. They assume it will kill their battery, they assume they can't do anything when they are offline. People assume the worst, [but] you just keeping using your phone as you always have."
While the cloud is key to the way the phone works, Nextbit will not be relying on users paying for cloud storage or any other services to make money. "The money is made in hardware," Croyle said. "No one is paying for cloud storage, they are not paying for services to a large extent."
Focusing on solving the storage problems users have is a smart move. "For once, [the Robin] is something that solves a problem consumers actually have — storage — which is a good starting point for success," Carolina Milanesi, chief of research and head of Kantar Worldpanel ComTech US Business, told IBT.
A Gap in the Market
Even with an eye-catching design and a unique approach to software, making money in the smartphone market is tough, but Moss said he and Croyle spotted a trend in the market 18 months ago when the company was founded and that now is the perfect time to launch a new smartphone at its planned price.
With Apple dominating the premium end of the market, the space where there is an opportunity to make gains is in the range between $300 and $400. With the U.S. market at a tipping point, moving from long-term, subsidized smartphone contracts to buying directly from manufacturers, Nextbit believes consumers will see a significant shift in the next 12 months.
Buying an $800 phone was one thing when the true cost was buried in a two-year contract, but with contracts going away, U.S. customers in particular are experiencing sticker shock at the high end.
Of course, Nextbit is not the only smartphone manufacturer to see this change coming, but unlike the Silicon Valley startup, which has just 35 full-time employees, major manufacturers such as Samsung, Sony Corp., LG Electronics Inc. and others simply cannot produce a smartphone at this price with premium hardware and design — or so Moss contended.
"We believe the large [original equipment manufacturers] today as they are structured cannot actually make high-end Android smartphones at the $300-$400 price point where it needs to be for major volumes to come." This contention is based on the fact that overhead costs implied by huge employee numbers, marketing budgets and research-and-development spending would not make it a viable product.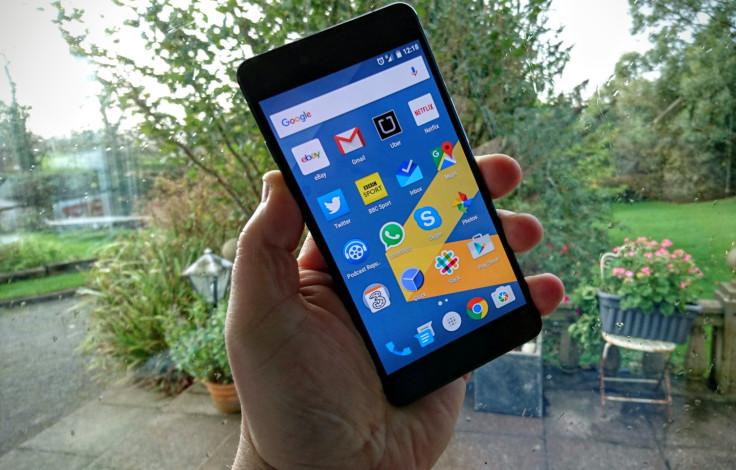 This means there are huge opportunities for companies such as Nextbit, and one of those firms is OnePlus, which has been selling its midrange smartphones directly to the consumer for a couple of years now with relatively big success. While Croyle said he has huge admiration for what OnePlus has done, he said it is still only offering customers a low price: "I don't think they are offering that level of differentiation. What they have differentiated on to this point is price."
'We Don't Need to Sell a Lot of Phones'
Nextbit has been backed by Accel Partners and Google Ventures in an $18 million Series A funding round, and the company has recently taken on some debt to boost inventory levels. While the firm is far from being flush with money, Moss said the way its business model works, it doesn't need to sell a big number of smartphones to survive. "Because of our size, we don't need to sell a daunting amount of phones to stay in business. We don't need to sell 10 million phones, we don't need to have a certain percent market share."
The company's Kickstarter campaign launched in September and within 12 hours had reached its goal of $500,000, before raising more than $1.3 million in all from 3,611 backers. While there is clearly an appetite among the hardcore Android enthusiast fan base, getting Nextbit to a wider audience is going to be a bigger challenge, especially considering it doesn't have the marketing budget of a major manufacturer.
While Croyle said the Robin does not have to be a "mass-market product" for Nextbit to survive, it will have to reach those users who don't follow the Android smartphone market closely, and to do that it he said building its brand is the key to attracting customers. "From a brand and product perspective, we are talking to [consumers] in a way they can relate to."
Without the marketing budget of a Samsung or Apple, Nextbit will use some digital ad spending to augment what it hopes will be its real marketing secret: word of mouth. "People are hungry for something fresh," Croyle said. "When people see it, they want to know more, so getting [the Robin] into people's hands is the number-one thing."
Another Silicon Valley company looking to disrupt rhe smartphone market is Cyanogen, which is building a version of Android that offers something more than what Google offers. Moss is a founding board member of Cyanogen and rather than seeing it as a competitor he sees the firms as allies. Indeed, Nextbit is working with Cyanogen to create a specific CyanogenMod ROM for the Robin smartphone, which it will make available to all users in coming months.
While launching a smartphone brand in 2016 may be seen as many as crazy, Nextbit's approach is one that industry watchers believe has a chance of succeeding. "It's a slick product being delivered by a team that has a proven track record in the smartphone business — that's very different from some of the other companies trying to target the smartphone market who basically do little more than stick a brand on a white-label product from a Chinese factory," CCS Insight's Wood told IBT.
© Copyright IBTimes 2022. All rights reserved.
FOLLOW MORE IBT NEWS ON THE BELOW CHANNELS