Nexus 5 Release: Device Maintains Functionality After Screen-Shattering Drop Test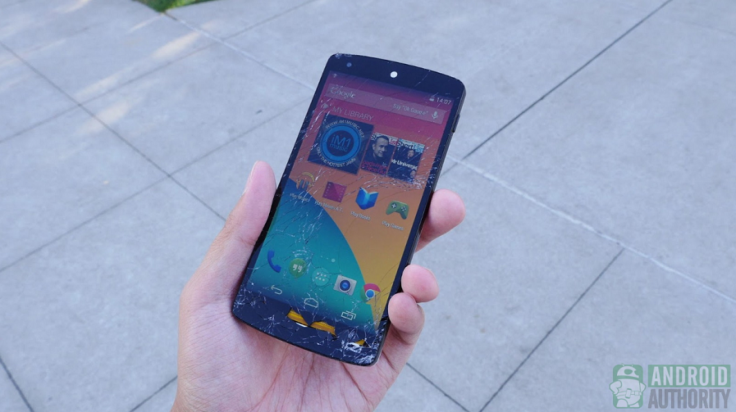 The Nexus 5 passes the affordability tests among the market's favorite smartphone brands; however, the newly released device has not fared as well in durability tests.
A recent drop test by Android Authority shows that the Nexus 5 is very similar to its predecessor, the Nexus 4, in terms of how much impact it can withstand. Joshua Vergara of Android Authority demonstrated a standard drop test using heights of approximately five feet from the ground, dropping it from its back, bottom and face and showing the Nexus 5 largely taking outside damage but remaining functional even after extensive damage.
When the Nexus 5 is dropped on its back, we see the handset land a bit on its side, which causes the back panel to open a little. This is interesting for a technically non-removable back, but it does easily pop back into place. When the device is dropped on its bottom, we see some scuffs grating at the edge, while the back cover remains in place. As expected, when the Nexus 5 is dropped on its face, it takes considerable damage. In addition to a complete shattering of the screen, parts of the glass break off to a point where the inside circuits are exposed.
One positive is that the Nexus 5 remains functional even after its severe front drop. Its touchscreen still responded and its on-screen buttons were largely saved from damage. This means users would still be able to use the Nexus 5 after a fall; however, the jagged edges where the glass has separated could pose a danger.
In comparison, the Nexus 4 also can also take a considerable amount of outer damage when dropped on its back, side and face. One drop test rendered the Nexus 4 not functional after a front-face drop, to the point where the touchscreen no longer responded among the shatters. In addition, many users also reported that the Nexus 4 as susceptible to cracks on its back panel as both its front and back were made of glass.
Even though the Nexus 5 still cracks pretty easily under pressure, its continuing functionality may indicate improvements in its design. Notably, the Nexus 5 features Coring's Gorilla Glass 3, while the Nexus 4 features Gorilla Glass 2.
The 16GB Nexus 5 costs $350, while the 32GB Nexus 5 costs $400, a considerable deal compared to similar smartphones, which cost upwards of $600.
What do you think of the Nexus 5 following its drop test? Let us know in the comments below.
Follow me on Twitter @FionnaatIBT.
© Copyright IBTimes 2023. All rights reserved.