Nichelle Nichols' Death: Lynda Carter, George Takei, Others Offer Tribute To 'Star Trek' Star
Nichelle Nichols, who portrayed Nyota Uhura's character in the 1966 "Star Trek: The Original Series," died at the age of 89. Many celebrities took to Twitter to mourn the tragic news Sunday.
Actress Lynda Carter, popularly known for playing Wonder Woman in the 1970s, praised Nichols' extraordinary power.
"Many actors become stars, but few stars can move a nation. Nichelle Nichols showed us the extraordinary power of Black women and paved the way for a better future for all women in media," the 71-year-old actress wrote alongside a photo of Nichols. "Thank you, Nichelle. We will miss you."
Director Adam Nimoy, son of actor Leonard Nimoy who played Spock in the "Star Trek" franchise, shared a throwback photo.
"My favorite photo of Dad and Nichelle Nichols on set," Adam captioned the photo. "The importance of Nichelle's legacy cannot be over-emphasized. She was much loved and will be missed."
Radio host Jill Hopkins shared photos of the late actress and professional basketball player Bill Russell, who died Sunday, and wrote, "We lost two greats. Two people who changed their respective games. Two Black Icons. Rest easy Nichelle Nichols and Bill Russell. And thank you."
George Takei, who played Hikaru Sulu in the series, also shared his condolences.
"I shall have more to say about the trailblazing, incomparable Nichelle Nichols, who shared the bridge with us as Lt. Uhura of the USS Enterprise, and who passed today at age 89," the 85-year-old actor wrote. "For today, my heart is heavy, my eyes shining like the stars you now rest among, my dearest friend."
In the same thread, he shared a photo of himself with the actress and captioned it, "We lived long and prospered together."
Actress Kate Mulgrew, who played Captain Kathryn Janeway in the 1995 "Star Trek: Voyager" series, shared her love for Nichols.
"Nichelle Nichols was The First," Mulgrew wrote. "She was a trailblazer who navigated a very challenging trail with grit, grace, and a gorgeous fire we are not likely to see again. May she Rest In Peace."
Nichols' son, Kyle Johnson, announced her death on the official uhura.com website Sunday. "My mother, Nichelle Nichols, succumbed to natural causes and passed away," he wrote.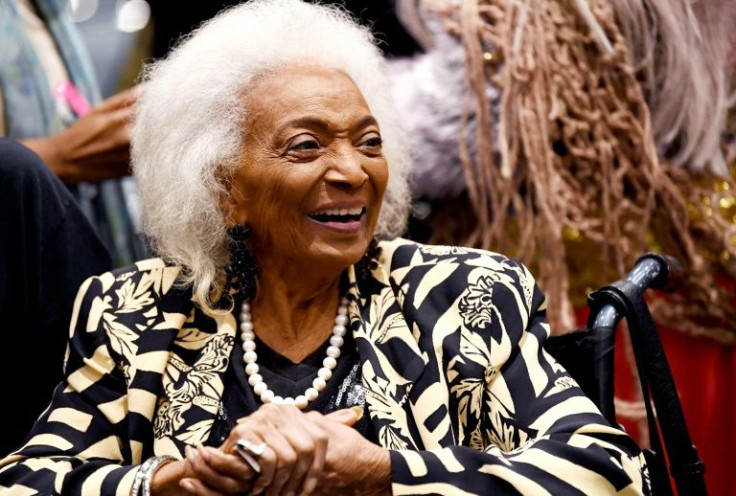 © Copyright IBTimes 2023. All rights reserved.