Nicole Kidman Snubbed From Tom Cruise Career Montage At Cannes Film Festival: Report
KEY POINTS
Tom Cruise's 10-minute career montage video at the Cannes Film Festival didn't feature Nicole Kidman, a report says
The video featured solo scenes of Cruise from the three movies they starred in together
Many of Cruise's other co-stars, including Renée Zellweger and Penelope Cruz, were all featured in clips
Nicole Kidman didn't make the cut in her ex-husband Tom Cruise's career retrospective montage at the Cannes Film Festival, a report says.
Kidman and Cruise, who were married for 11 years, starred in three movies together. However, the 54-year-old actress was one of the only leading ladies not included in the 10-minute montage played at the 2022 film festival Wednesday, Variety reported.
The video included clips from 1990's "Days of Thunder," where the exes first met, along with scenes from 1992's "Far and Away" and the Stanley Kubrick-directed 1999 film "Eyes Wide Shut."
However, all of the clips that were used showed Cruise in scenes by himself rather than with his ex-wife, according to the outlet.
The footage from "Days of Thunder" was of Cruise behind the wheel of a car, while the clip representing "Far and Away" in the montage video was of Cruise riding a horse.
Rather than feature one of the pair's wrenching confessional moments from "Eyes Wide Shut," Cannes opted to include a scene from Kubrick's final film of Cruise removing a mask in the montage video.
But while Kidman appeared to have been excluded from the career montage, several of Cruise's leading ladies and co-stars over the years made the cut, including Kristen Dunst ("Interview With the Vampire"), Renée Zellweger ("Jerry Maguire") and Penelope Cruz ("Vanilla Sky").
But the "Mission Impossible" star did discuss his and Kidman's work together at the Master Class. Cruise was asked about a scene in "Eyes Wide Shut" in which Kidman's Alice Harford told her husband, Cruise's Bill Harford, about an extramarital fantasy.
"We worked together to find the tone: [Stanley Kubrick], Nic and I," he said.
Cruise and Kidman were married from 1990 to 2001 and share two kids together: Bella, 29, and Connor, 27.
Prior to Kidman, Cruise was married to Mimi Rogers from 1987 to 1990. After his three-year relationship with Cruz, he began dating Katie Holmes in 2005, and they were married from 2006 until 2012. The exes share daughter Suri, 16.
Kidman moved on with Keith Urban in 2005, and they tied the knot in 2006. The couple shares daughters Sunday Rose, 13, and Faith Margaret, 11.
On Thursday, Cruise was spotted with Prince William and Kate Middleton at the London premiere of "Top Gun: Maverick." The actor was photographed helping the Duchess of Cambridge climb up the stairs as they walked into the theater.
"Top Gun: Maverick" will hit theaters on May 27.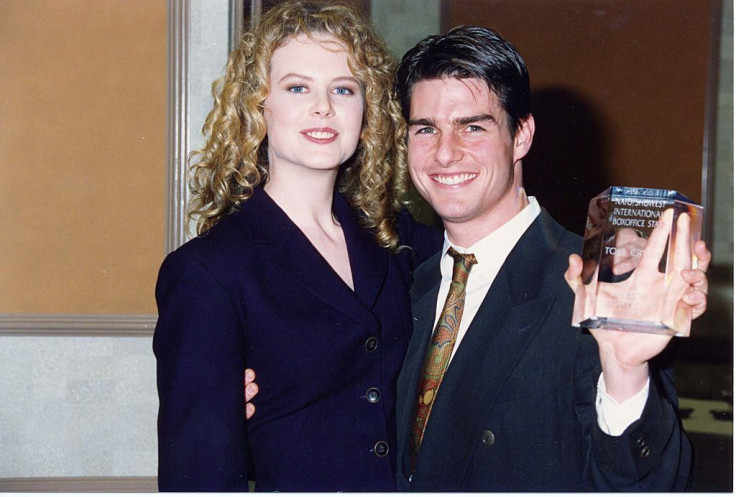 © Copyright IBTimes 2022. All rights reserved.
FOLLOW MORE IBT NEWS ON THE BELOW CHANNELS