Nigeria Elections 2015: Boko Haram Front And Center In Jonathan, Buhari Campaign Showdown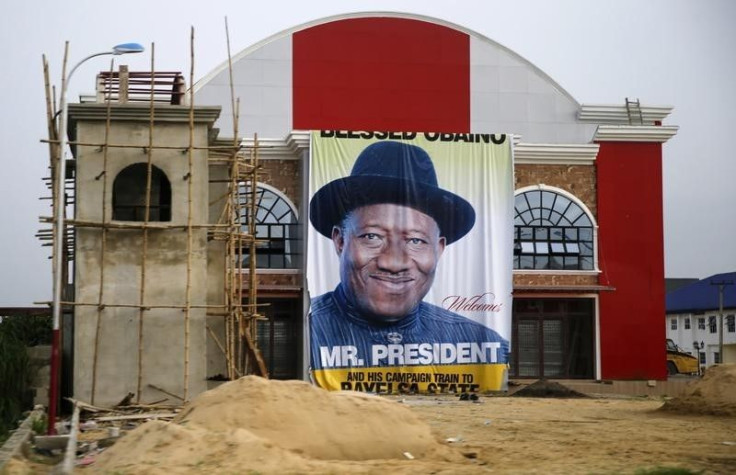 Who do Nigerian voters trust with their lives? Not President Goodluck Jonathan. At least that's what retired Maj. Gen. Muhammadu Buhari is banking on in his bid to unseat Jonathan as the country's top elected official.
Nigerians are voting Saturday against the backdrop of a Boko Haram insurgency that has left more than a million people displaced in Africa's most populous nation. Already, explosions have been reported at three northeastern polling stations in the latest actions by the group, which sees democracy as a corrupt Western concept. A large portion of the country's northeastern territory, including significant areas of at least two different states, is mostly under the control of the Islamist militant group, a fact the main political opposition has capitalized on during the campaign.
In the presidential election, Jonathan is the nominee of the People's Democratic Party (PDP), and Buhari is the nominee of the All Progressives Congress (APC).
By focusing on Nigeria's security in general and the government's failure to counter the threat posed by Boko Haram in particular, Buhari has mounted a competitive campaign against Jonathan, bringing the candidates into a dead heat before the country's voters cast their ballots.
"The Boko Haram insurgency is the biggest issue, front and center, in this election," said J. Peter Pham, the director of the Africa Center at the Atlantic Council, a Washington think tank. "The big question has become: Have Goodluck Jonathan and his government properly handled the insurgency, and what does that say about their general competence to govern on other issues?"
Nigeria declared a state of emergency in three states -- Adamawa, Borno and Yobe -- in May 2013 as a result of Boko Haram's ongoing attacks. The violence has led to the deaths of more than 15,000 Nigerians and the displacement of more than 1.5 million, according to the United Nations. Since 2009, the militant group has been responsible for a wave of assassinations and bombings in northeastern Nigeria as part of its stated goal of establishing an Islamic state in the area. As the insurgency has grown over the years, Jonathan has faced mounting criticisms over his government's lackluster response in addressing the security issue.
Despite the fact Nigeria ranks No. 1 in military firepower among sub-Saharan Africa's countries by multiple metrics, leaders of the nation's opposition APC insist Nigerian forces have been unsuccessful against Boko Haram because the states most affected by the insurgency contain big voting blocs for the APC.
"The PDP is sacrificing the lives of our brothers, of our sisters, of our children for very selfish political ends," John Oyegun, the APC national chairman, said at a rally in the Nigerian capital Abuja last year. "They have allowed the insurgents to take over substantially controlled APC states."
Criticisms of Jonathan's administration reached a peak in April 2014 after Boko Haram fighters abducted more than 200 schoolgirls from the northern town of Chibok, drawing foreign attention to the domestic issue. Jonathan vowed to free the girls in response to intense international pressure, however, that promise has yet to be kept, and he has yet to deliver on other security improvements his administration promised. He has been roundly criticized by many, including former President Olusegun Obasanjo, who claimed Nigeria could have saved the girls, but failed to do so because Jonathan's corrupt and incompetent government did not act quickly enough.
"The government did not believe that there had been an abduction for some time," Obasanjo told a panel at the Global Education & Skills Forum in Dubai this month. "If that had happened, maybe the girls would have been rescued."
Obasanjo, who had been a PDP member until he publicly tore up his membership card at an event this year, was twice Nigeria's leader -- once as a military ruler between 1976 and 1979, and again as a democratically elected president from 1999 to 2007.
Since the mass abduction, Boko Haram's insurgency has only intensified, even spreading across borders into neighboring countries such as Cameroon, Chad and Niger in recent months. The escalating threat has opened the door to outside involvement, and the African Union announced it was establishing a multinational force to battle Boko Haram in January, with Chad taking the lead in carrying out offensives against the militant group.
Even as the multinational force has made gains against Boko Haram, the Jonathan government has failed to turn the tide of criticisms against its handling of the insurgency. In fact, some criticisms have become more pointed amid allegations that the Nigerian military has failed to secure the towns that Chadian troops liberated from the militants' control. Among the most prominent of the critical voices is that of Chad's President Idriss Deby, who said his troops were still awaiting the arrival of Nigerian forces to take over liberated territory in an interview with the New York Times Friday.
"We want the Nigerians to come and occupy, so we can advance," Deby told the Times. "We're wasting time, for the benefit of Boko Haram. ... We can't go any further in Nigeria. We're not an army of occupation."
These developments have provided a crucial opening for Jonathan's opponent, a former Nigerian head of state himself, who has staked almost his entire election campaign on the government's failure to beat back Boko Haram. "The case being made by Buhari is that as a military man he would be better equipped to deal with the security challenges of the insurgency, [with the] subtext being that he would be competent across the board," Pham said.
Buhari's tenure as Nigeria's unelected ruler between January 1984 and August 1985 is a period remembered for campaigns against corruption and a lack of discipline -- as well as for its human-rights abuses. His effectiveness in stamping out threats left a particularly indelible impression in the country's northeast, where he drove away Chadian soldiers who had annexed Nigerian islands in the Lake Chad area in 1983.
Promises to rebuild Nigeria's military and security infrastructure have been a major selling point of the Buhari campaign, with the former leader vowing these initiatives would be a "top priority" in his administration. "I will ensure that never again will terrorists find a safe haven in Nigeria," the candidate reiterated while campaigning Thursday.
However, Buhari's critics point to his strongman background, most notably his ascension to power in 1983 as the result of a military coup, as evidence that a Buhari presidency may not be the solution to Nigeria's problems.
One of the most compelling criticisms of Buhari is his lack of concrete proposals to combat the issues he has pledged to solve, according to Pham. "At this particular moment in history, with the security and humanitarian crises facing Nigeria, Nigerians and the international community need to have more specifics on what someone who would lead Africa's largest economy actually has on their agenda," he said.
Few anticipate the election results to be official this weekend. Preliminary results are expected sometime Sunday, with clearer results Monday, Pham said. However, declaring an official winner could take days, weeks or even months.
The PDP has won every presidential election since 1998, when military rule came to an end, and this year's election is the most hotly contested in recent memory. As the recently designated biggest economy in Africa, boasting a gross domestic product of close to $510 billion, the oil-rich nation is the linchpin for much of the future wealth and safety of West Africa. The election even prompted a visit by U.S. Secretary of State John Kerry.
Allegations of ballot rigging by Jonathan, who claimed an outright victory with 59 percent of the vote, led to riots that ravaged the country's capital city and left more than 1,000 people dead after elections in 2011. And this year accusations of voter suppression and intimidation have already begun to circulate, in addition to those embodied in the threats of violent attacks by Boko Haram, which has pledged to disrupt the elections and in some areas has already done so.
Despite, or perhaps because of, the turmoil, reports show Nigerian voters have turned out in the millions. Now, those who have voted will wait with the rest of the world for the results.
FOR FREE to continue reading
✔️ Unlock the full content of International Business Times UK for free
offer available for a limited time only
✔️ Easily manage your Newsletters subscriptions and save your favourite articles
✔️ No payment method required
Already have an account? Log in
© Copyright IBTimes 2023. All rights reserved.