Nikki Bella Walks Down The Aisle Alone During Wedding Ceremony; Here's Why
Professional wrestler Nikki Bella walked down the aisle alone because she doesn't feel the need of having anyone give her away. Bella got married to Russian-American professional dancer Artem Chigvintsev in August.
"I walked myself down the aisle because I'm about to be 39 and I don't need to be given away," she told Brides in an interview published Tuesday. "I'm a mother. I'm an entrepreneur."
The tradition of fathers walking their daughters down the aisle represents that father is giving away his daughter to the groom.
According to wedding historian Susan Waggoner, "A bride was a 'financial liability' who was essentially transferred from the household of her father to that of the groom. This custom stems from the days of arranged marriages when a father's looming presence was a good way to prevent the groom from backing out "
However, Bella shared how she has "done a lot of things" in her life and she knew that she wanted to walk down the aisle alone. "I also wanted to have the presence of all these strong women with me," she added as she carried rosaries given by her grandmother and Chigvintsev's mother.
The professional wrestler also revealed why the couple chose to get married in Paris.
"Artem and I went to Paris on a secret vacation when we were first dating and didn't want the world to know we were a couple yet," she told the outlet. "After that, we always said, 'Run away to Paris with me.' It's always held a special place in our hearts."
Bella shared how she felt like "it was literally a fairy-tale ending." Fans will be able to witness this fairy-tale ending in the form of a four-part docuseries, titled "Nikki Bella Says I Do," which is slated to release next year.
Bella previously flaunted her wedding ring on Instagram in August.
The couple first met on the sets of the reality show, "Dancing with the Stars" in 2017. However, rumors of their love made headlines in January 2019. The pro wrestler revealed via Instagram in January 2020 about getting engaged to Chigvintsev in November 2019.
The couple was engaged for almost three years before getting married. Bella and Chigvintsev share a two-year-old baby boy named Matteo. They welcomed the little bundle of joy in July 2020.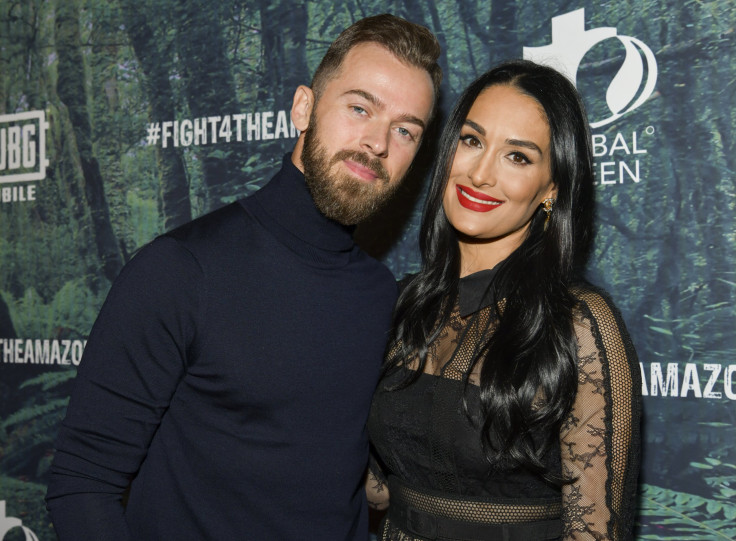 © Copyright IBTimes 2023. All rights reserved.