Nina Davuluri Wins U.S. Beauty Crown: Face It, America, Indians Are Just Smarter, More Successful (And Better Looking) Than You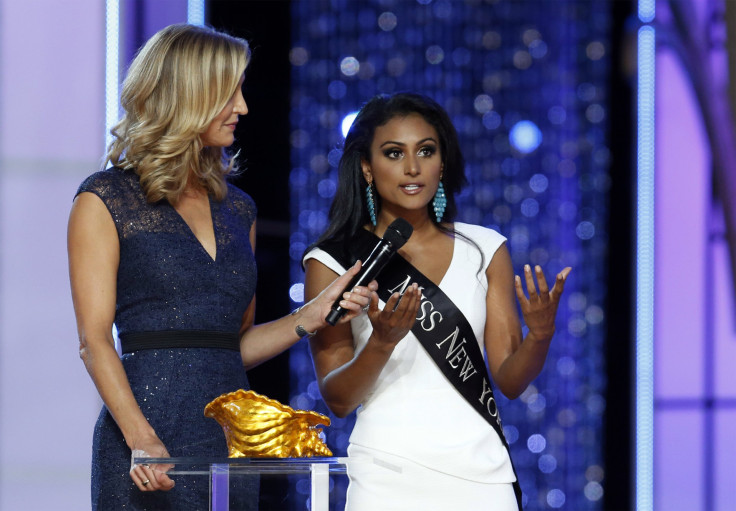 The historic victory by Nina Davuluri, the first Indian-American to win the Miss America beauty contest, triggered an avalanche of bigoted and highly ignorant comments on social media, while concurrently prompting the usual criticism from feminists who disparage the very notion of beauty pageants as an archaic form of oppression and objectification of women.
But, as an Indian-American male who also loves beauty pageants, I viewed Ms. Davuluri's triumph as a watershed event for the now 3.3-million-strong "Desi" community in the U.S. as yet another type of "success" that we have been blessed with during our relatively few decades of existence in this country.
Consider some stunning data (from no less a source than the U.S. Census and the Pew Research Center), which depict how well-educated and successful Indian-Americans are.
As of 2010, Indian-Americans had a median household income of $88,000 -- higher than the figure for all Asian-Americans as a group ($66,000) and almost double the figure of all U.S. households ($49,800).
Seventy percent of adult Indian-Americans have earned at least a bachelor's degree -- almost three times the figure for Americans as a whole (28 percent). Only 9 percent of adult Indian Americans live in poverty -- versus 13 percent for the nation.
And there's more. Almost three-fourths (72.3 percent) of adult Indian Americans participate in the U.S. workforce, 57.7 percent of whom are employed in managerial and/or professional capacities.
A study by the University of California-Berkeley determined that fully one-third of the engineers in the tech hub of Silicon Valley are of Indian descent, while 7 percent of high-tech companies are led by Indian chief executives.
More than 300,000 Indian-Americans work in the field of information Technology, while another 200,000 are millionaires, according to data from Merrill Lynch.
On the whole, Indian-Americans have an aggregate purchasing power of at least $25 billion (a figure larger than scores of whole countries' GDPs).
Perhaps most astounding, almost 10 percent of the physicians in the U.S. are of Indian origin. Consider that for a moment -- Indians, who represent barely 1 percent of the total American population, account for one-in-ten of its doctors, perhaps the most prestigious and difficult career to obtain.
In terms of social issues, Indian-Americans, generally speaking, enjoy higher rates of marriage, lower incidences of divorce and far lower rates of unwed motherhood, relative to the whole U.S. Consider this tell-tale statistic: While more than one-third (37 percent) of American babies are born to unwed mothers, the figure for Indian-Americans is a microscopic 2.3 percent.
Of course, Indian-Americans are far behind in many other spheres of American life -- for example, there are no Desis who are top movie stars or athletes. And despite the high-prolife careers of governors (and potential future presidential candidates) Nikki Haley and Bobby Jindal, there are otherwise no Indian-American lawmakers with a national profile.
This could all change in the coming years as more Indian kids gravitate toward "non-traditional" careers and professions, in politics, the arts, sports, etc.
I believe the naming of Nina Davaluri as Miss America is a good step in this direction, which is toward "mainstream acceptance."
Of course, many people don't share my optimism and excitement over Ms. Davaluri.
Samhita Mukhopadhyay, an Indian-American woman and feminist, would strongly disagree with me. Writing for the left-wing Nation, she blasted both the pageant and the notion that Davuluri represents a kind of "progress" for Desis.
"As tempting as it might be, to suggest that Davuluri's win signifies progress for South Asians in America is to defend the Miss America pageant itself," she wrote.
"And there isn't really much about Miss America that could be considered progress for anyone … Miss America's role in the public imagination has always been the product of objectification. It's a beauty pageant after all, and the winner embodies the ideal American woman -- prized as an object of beauty."
Mukhopadhyay added: "The minor net good is that little South Asian girls may feel better about themselves when they see a beauty queen that they can relate to. But Miss America still sends a message to girls and women that what you look like determines what you are worth."
I would tell Ms. Mukhopadhyay that women are judged on their looks far more in other countries, particularly in our native India. I would also inform her that Ms. Davuluri is in no way trying to harm the Indian-American community -- after all, Nina is not just another pretty face, she is a future medical student as well.
I would also tell Ms. Mukhopadhyay that her brand of left-wing politics is rejected by most Indian-American adults as anathema to our culture.
In essence, Ms. Davuluri should be celebrated and hailed, not condemned.
© Copyright IBTimes 2023. All rights reserved.