No Respite For U.S. Crops; Kentucky Corn Hit Hardest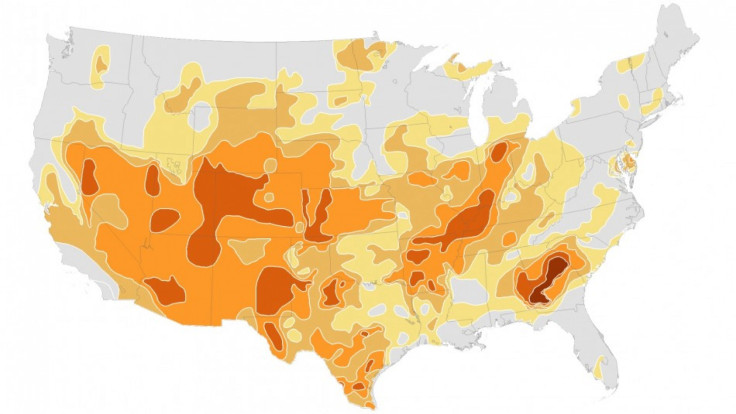 The biggest drought the U.S. has seen since 1956 is hammering 55 percent of the Lower 48 and sending corn prices to record highs.
Corn for December delivery was trading Wednesday at $7.83 per bushel after hitting $7.89 a bushel on Tuesday, 10 cents lower than the record of $7.99 hit in 2008 during the global food crisis.
The U.S. Department of Agriculture's weekly crop bulletin said the brunt of the harm to the country's corn crop has been felt in Kentucky, where 77 percent of the state's crops are in poor or very poor conditions.
Missouri and Indiana are also seeing poor to very poor crop conditions above 70 percent of their crops. Michigan's rate is 56 percent. The department slashed its estimates for the national corn yield by 12 percent, but many analysts have said this is an under-estimation of the loss.
In Nebraska, 43 percent of the corn is currently rated good or excellent, down from 83 percent in the same period last year.
And since corn is an ingredient in so many items, consumers can expect to see rising expenses in many of the hundreds of foods, beverages, non-consumables and industrial materials that use corn or its derivatives, including starch for industrial production.
According to the Department of Labor, food prices are already on the rise, up 0.2 percent in June and up 2.7 percent from the year before. Over the past month, corn is up 53 percent, wheat prices climbed 41 percent while soy advanced 21 percent, according to data from CME Group, which tracks Chicago Board of Trade commodity prices.
Farmers themselves, while not exactly happy about seeing their crops whither, will be covered by federal crop insurance administered by the USDA's Risk Management Agency.
Bruce Babcock, an economist at Iowa State University who follows crop insurance, told the Food and Farm File that this year the taxpayer could shell out $30 billion to $40 billion in claims.
Meanwhile, Fitch Ratings said private crop insurers aren't likely to be harmed because private crop insurance represents such a small share of premiums for these companies, about 1 percent, and that the companies that are involved in providing private insurance to farmers -- including Sydney-based QBE Insurance Group Limited (ASX:QBE), New York-based Wells Fargo & Company (NYSE: WFC), Cincinnati, Ohio-based American Financial Group Incorporated (NYSE: AFG), and Germany's Allianz Insurance Group (Frankfurt: ALV).
We believe the leading writers of crop insurance will be able to absorb any near-term crop losses and are likely to maintain current levels of financial strength due to the primary writers' size, diverse portfolios, conservative use of additional reinsurance, and the business line's historical profitability, Fitch said in its report.
Meanwhile, while the Northeast is expected to get some respite from the recent heat wave, little relief is in sight for the Midwest. While Ohio, Kentucky and parts of Indiana are likely to see some much-needed precipitation, little or no rain is in stores for key growing regions.
It's a little wetter for next week in the west and southwest but even if the rains fall they would only be 0.50 inch or less so not much relief and confidence is low in that forecast, Don Keeney, a meteorologist for MDA EarthSat Weather, told Reuters. Heat and dryness will continue to lower yield potential for corn and soybeans across western areas, including Missouri, Iowa, Illinois, southern Minnesota, Nebraska and South Dakota.
© Copyright IBTimes 2023. All rights reserved.