North Korea Founding Day: Solar Storms Could Delay Pyongyang's ICBM Launch Plans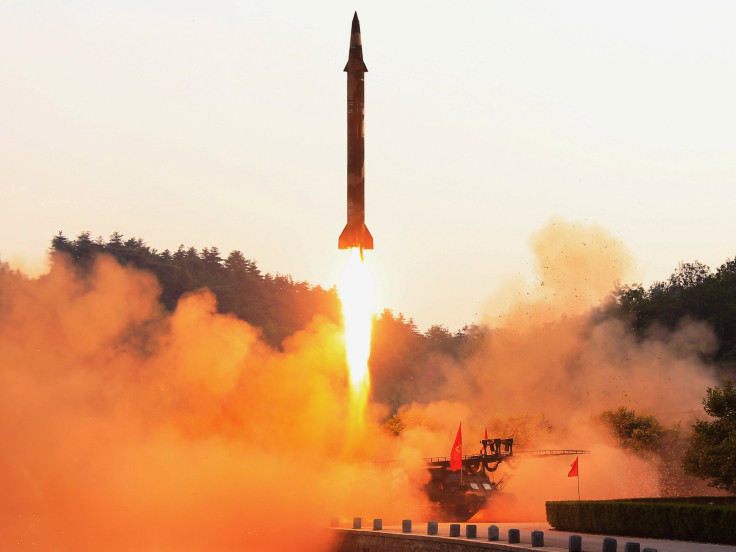 North Korea's plan to launch an intercontinental ballistic missile (ICBM) on the anniversary of the reclusive country's founding day Saturday could be deterred due to a current outbreak of severe geomagnetic storms that can pose a risk to electronic equipment, Bloomberg reported. On Thursday, South Korean Prime Minister Lee Nak-yon said Kim Jong Un could launch another ICBM on Sept. 9, calling the situation "very grave."
Saturday is the 69th anniversary of the founding of the Democratic People's Republic of Korea (DPRK) and the holiday in Pyongyang could mean another propaganda effort from the Kim regime to show its nuclear advancement. As tensions on the Korean Peninsula escalated following North Korea's sixth nuclear test, the country promised the United States of more "gift packages" soon.
"I am proud of saying that just two days ago on the third of September, DPRK successfully carried out a hydrogen bomb test for intercontinental ballistic rocket under its plan for building a strategic nuclear force," North Korea's chief diplomat Han Tae Song said at a UN meeting, held in Switzerland Aug. 6.
"The recent self-defense measures by my country, DPRK, are a 'gift package' addressed to none other than the U.S.," the diplomat said. "The U.S. will receive more 'gift packages' from my country as long as it relies on reckless provocations and futile attempts to put pressure on the DPRK," he warned.
As South Korea closely watches the North over the possibility of another provocative action Saturday, Lance Gatling, an aerospace consultant with Nexial Research in Tokyo, said that it is likely there won't be a launch due to the solar storm.
Gatling said that while missiles are mostly heavily shielded against radiation, Kim may decide not to risk firing one during the solar flares as it may result in loss of data or ancillary equipment.
Amid concerns of another launch, the National Security Council met Thursday to discuss plans in case Kim fires a missile to celebrate the founding day of North Korea Saturday.
Another possible date for a missile launch from North Korea is Oct. 10, a holiday marking the founding of the country's ruling party, according to Seoul's Unification Ministry spokeswoman Eugene Lee.
North Korea, which is pursuing its nuclear and missile program in defiance of international condemnation, successfully test fired a hydrogen bomb on Aug. 3. Experts said that the country's sixth nuclear test was ten times more powerful than earlier tests conducted over the years.
These recent Pyongyang actions have raised global concerns of a war that could lead to thousands of deaths if North Korea fired a missile or if the United States chose military action in retaliation to the isolated country's provocations.
While President Donald Trump said that all options are on the table to deal with North Korea's threat, there is not much support for a military action against Pyongyang.
"Military action would certainly be an option," Trump told a White House news conference Thursday. "I would prefer not going the route of the military, but it's something certainly that could happen."
© Copyright IBTimes 2023. All rights reserved.