North Korea Ski Resort To Be A 'World Class' Attraction, Says Kim Jong-un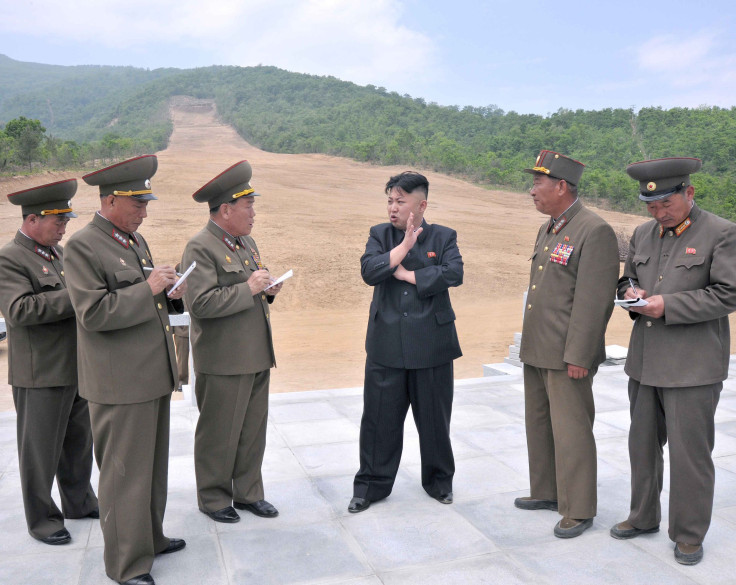 Grab your ski boots and don't forget to pack a portrait of the supreme leader: It's off to next winter's hottest destination, North Korea! North Korean state media report that Kim Jong-un, not to be outdone by his brethren across the DMZ, has ordered the military to construct a "world class" ski resort to rival the facilities under construction in South Korea for the 2018 Winter Olympic Games. The hope is that the hills well beyond the eastern edge of Pyongyang will look remarkably similar to those surrounding Pyeongchang, the 2018 Olympic host city.
If the photos released this week are any indication, however, the military has got a long way to go. The images come from a recent visit by Kim to the future location of the Masik Pass Skiing Ground, where the young leader offered "on the spot field guidance."
"[Kim] mounted an observation deck to hear a detailed report of the construction of the skiing ground," the North's Korean Central News Agency reported. "He was greatly satisfied to learn that soldier-builders have constructed a skiing area on mountain ranges covering hundreds of thousands of square meters, including primary, intermediate and advanced courses with almost 110,000 meters (68.3 miles) in total length and 40-120 meters (130-400 feet) in width."
It is thought Kim may have picked up an interest in skiing during the seven years he spent in Swiss schools in his youth. His family is believed to have vacationed in the mountain resorts of Interlaken, and the North Korean leader appears to be familiar with ski resort operations:
"[Kim] said it is necessary to build not only rest places, but first aid stations at starting, middle and final points of the courses, and establish an automatic cableway monitoring system for a real time watch so as to take measures to prevent accidents," the KCNA report said.
The mountains of Kangwon Province rise to a height of more than 1,350 meters (4,400 feet) above sea level, and the ski site on Masik Hill is located in an area that typically receives heavy snowfall from early November to early March. The resort will be accessible from the Pyongyang-Wonsan tourist motorway and will reportedly have a cableway, hotels and heliport, while a nearby military airfield could be turned into an airport to handle the anticipated surge in tourists.
Kim ordered the military to speed up construction to have the facility operational for next winter, telling state media, "A skiing wave will seize the country." But most outsiders remain dumbfounded by the project. Who would actually go to the ski resort, they wonder, and will it be safe? Moreover, a UN-imposed ban on luxury goods could make it difficult for Pyongyang to import any skiing equipment to actually get people on the slopes.
Tourism to North Korea, though minimal, is on the rise. Last year, approximately 4,000 Westerners and 20,000 Chinese visited the hermetic nation, despite lengthy travel warnings from most countries. Chinese predominantly came in for trips 48 hours or less, while most Westerners came in with increasingly popular groups like Young Pioneer Tours or Koryo Tours.
In response to a perceived increase in interest, the state airline, Air Koryo, added two additional flights per week between Beijing and Pyongyang in April. The government also expanded its railway timetable and added faster trains between the Chinese border and the North Korean capital.
Aside from the proposed ski resort, other forays into tourism this past year included a cruise ship and a massive luxury hotel. Both failed. The cruise ship stopped running after just two trips and the hotel's backers, who once called the project "a money-printing machine," have since backed out.
© Copyright IBTimes 2023. All rights reserved.