North Korea Test Launches Another Set Of Missiles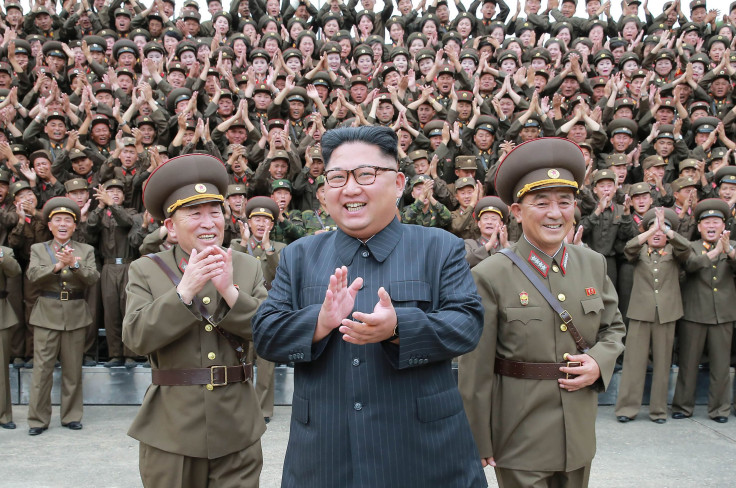 North Korea has once again test launched a series of missiles, reigniting tensions with the U.S. after the State Department had credited the bellicose nation for showing more restraint.
North Korea launched three short range missiles Saturday from a multiple-tube rocket launcher, according to the New York Times. Two of the missiles flew about 155 miles before crashing down in the Pacific Ocean, while one missile exploded shortly after launch, according to U.S. Pacific Command, the military wing responsible for armed forces in the region.
The U.S. and South Korea began joint military exercises Monday, an annual event that typically draws a blustery response from North Korea. The war games called the Ulchi-Freedom Guardian exercises, prepare troops for a possible invasion from North Korea. On top of the Saturday missile test, North Korea released a threatening video. The video depicted missiles landing on the U.S. territory of Guam and President Donald Trump surrounded by flames looking out on a graveyard of white crosses. The video is called "What will the cost be for Americans, who are losing sleep at night?"
North Korea is known for its intense rhetoric and evocative language. Trump matched that rhetoric earlier this month when he warned continued North Korean threats would be "met with fire and fury like the world has never seen." Trump heightened tensions after North Korea tested two Intercontinental Ballistic Missiles this summer that have a range that includes the continental U.S.
Last week, Secretary of State Rex Tillerson praised the country for its "restraint." After Trump's comments, the country threatened to shoot missiles that would splash down around Guam, but decided to ease tensions, and watch and wait. Guam is home to two key U.S. military bases.
The country, through its state controlled media, has poked fun of Trump for his tweets, this week, after saying they would monitor the president's actions and wait.
"[He posts] weird articles of his ego-driven thoughts in [sic] his Twitter" and "spouts rubbish to make his assistants have a hard time," wrote the Korean Central News Agency, the state news arm of North Korea.
The Saturday missiles launched by North Korea have a range long enough to hit U.S. military bases in South Korea. While the missiles the country has launched are not new developments, their launching mechanism is. The missiles were fired from a tube missile launcher, according to South Korean officials. Typically in the past, the North Korean have used Scud-type launchers, which shoot one missile at a time. Tube launchers are cheaper and can fire multiple missiles at a time.
This set of missiles flew northeast, away from U.S. military bases and Guam.
North Korea has test fired over 20 missiles since February, according to CNN.
© Copyright IBTimes 2023. All rights reserved.