'Not Safe With Nikki Glaser' Comedy Central Series Brings On T.J. Miller And Pete Holmes In Episode 6 [VIDEO]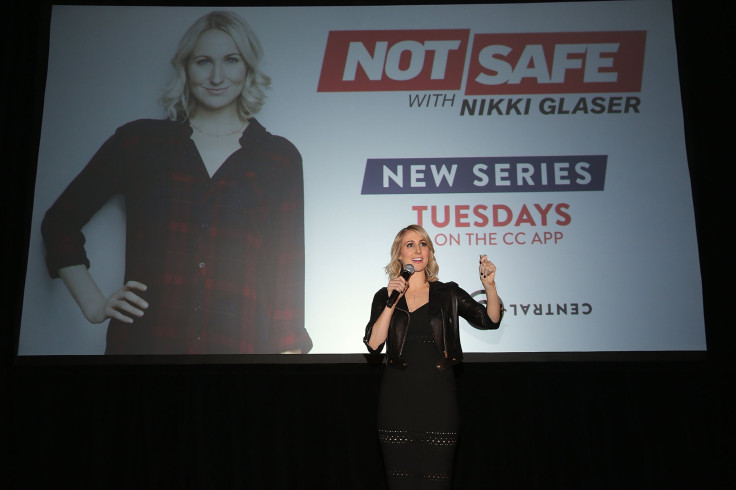 Comedy Central's incredibly bold, new series "Not Safe with Nikki Glaser" specializes in showcasing the comedian's raunchy joke style through various sketches and pre-taped segments. All that changed in episode 6, where it was Nikki Glaser's discussion with her two comedian guests that pulled the whole episode together.
Given the fact that "Not Safe" is hosted and run by Glaser, it's hard for either of her two guest comedians to really steal the spotlight. However, that's exactly what happened when "Deadpool" star T.J. Miller and former late-night host Pete Holmes joined her to talk about, well, mostly their nether regions.
Building off the momentum of last week's episode about dating via text and social media, Glaser showed them both an edited picture of her bearing her chest for the camera. Miller was all compliments with the picture, but Holmes couldn't get over the bold choice of her facial expression.
While they were on the subject of their body parts that are normally covered by a bathing suit, Glaser, Miller and Holmes began a tirade of self deprecation regarding their genitals in the style of "your mama" jokes.
From there, the conversation turned to the concept of open relationships, where partners are allowed to date outside the circle. Glaser showed a pre-taped segment in which she interviewed a slew of other women that she thought would be a good fit for her current boyfriend.
Meanwhile, back in the studio, Miller suggested that there's a clever game of reverse psychology to be played by asking your partner if he or she wants to engage in an open relationship.
In the end, it was Holmes who closed out the night with a pun so great, Miller insisted he do a victory lap around the stage. When Miller told a joking story about the time he got his penis high, Holmes mentioned that the concept isn't the logistical nightmare it sounds like.
"Not Safe With Nikki Glaser" airs Tuesdays at 10:30 p.m. EDT on Comedy Central.
© Copyright IBTimes 2023. All rights reserved.