November Jobs Report Expected To Show Continued Hiring Growth Led By Holiday Delivery Services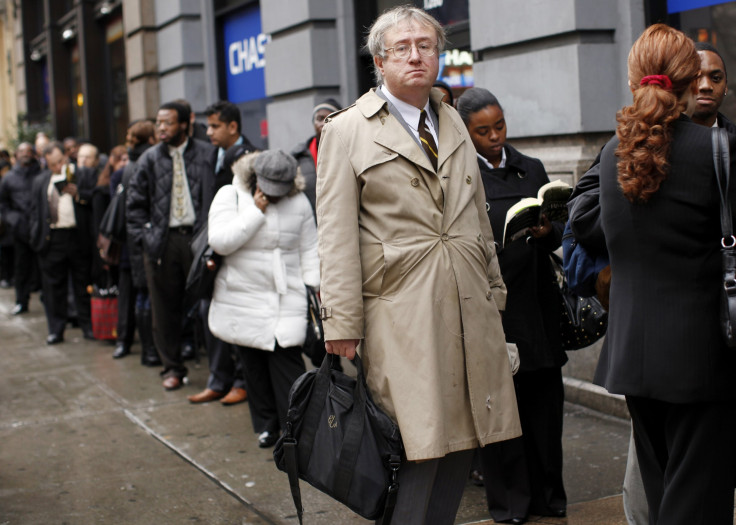 The November jobs report coming on Friday is expected to show a U.S. unemployment rate that either ticked up slightly or remained at 5.8 percent, the lowest level in six years.
But even as November's assessment is likely to show healthy employment gains driven by seasonal hiring, three of the U.S. job market's most enduring problems are likely to be evident: Wages haven't kept pace with inflation; many Americans who want full-time jobs are working in part-time positions; and a sizeable portion of people who are able to work have given up their search for jobs and dropped out of the labor force.
Many economists are baffled as to why wages—stagnant for the better part of three decades—haven't inched upward as the job market's topline numbers improve. But some see wages rising by more than 2 percent before the end of the year as a result of a virtuous cycle that drives the unemployment rate lower.
"At the current pace of employment gains, the labor market recovery is self-sustaining, with job growth creating income growth, driving consumer spending gains, spurring further job growth," said Stuart Hoffman, chief economist for PNC Financial Services Group. "Wage growth remains disappointing, but will pick up in 2015 as a tighter labor market forces employers to raise pay in order to retain and attract workers."
Employers in the U.S. have steadily improved the job report's topline numbers since May, adding to their payrolls at a healthy pace. Private sector payrolls increased by 208,000 in November, according to data from the payroll processing firm ADP. Hoffman expects the economy to have added 230,000 jobs in November, above the average 228,000 per month of the first 10 months of 2014. The economy added 214,000 jobs in October, according to initial estimates, which many economists say will be revised upward Friday.
UPS, the package delivery service company, said it plans to hire 95,000 workers for the busy holiday season, and FedEx said it plans to hire 50,000 seasonal workers. Last year, more than 2 million packages arrived late to homes as last-minute Christmas shopping overwhelmed the companies. The jobs often do not remain full-time work in January.
But beneath the headline jobs growth data, many Americans are working part-time but want full-time jobs, and the most Americans since the 1970s have dropped out of the labor force altogether and so are not counted as unemployed.
Some economists see job growth slowing in the next few months. The economy seems to be reaching a tipping point in terms of job market maturity, according to Tara Sinclair, professor of economics at George Washington University and Chief Economist at Indeed.com. If the trend continues, people will likely stop looking for "a job" and start to look for "the right job," she said. As workers find more job options, employers will likely begin to raise wages more.
David Santschi, CEO of TrimTabs Investment Research, said he expects hiring to slow down over the next few months from its six-month spree. TrimTabs uses real-time tax data rather than surveys to estimate job growth, and its macro index of variables from housing to manufacturing to employment has been flat for four months.
"It's not signaling that economic growth will pick up," he said.
Further signaling weak hiring ahead, a recent Conference Board survey showed consumers were less optimistic about job availability in November than the past four months, despite stock market highs and record low gasoline prices padding their pockets.
"The fall in the share of households saying that jobs are plentiful and the rise in the share saying they are hard to get suggests that the unemployment rate may soon start to fall at a slower pace," said Paul Dales, U.S. economist for Capital Economics, in a recent note.
Still, an alternate measure of consumer sentiment by Thomson Reuters/University of Michigan recorded a seven-year high in the number of Americans who feel confident about their personal finances, up 20 percent from a year ago. Discrepancies in the two measures of consumer confidence often differ month-to-month but mirror one another over the long-term.
© Copyright IBTimes 2023. All rights reserved.
FOLLOW MORE IBT NEWS ON THE BELOW CHANNELS