NPR, IHeartMedia Are Pitching Podcasts To Advertisers, But Are They Ready?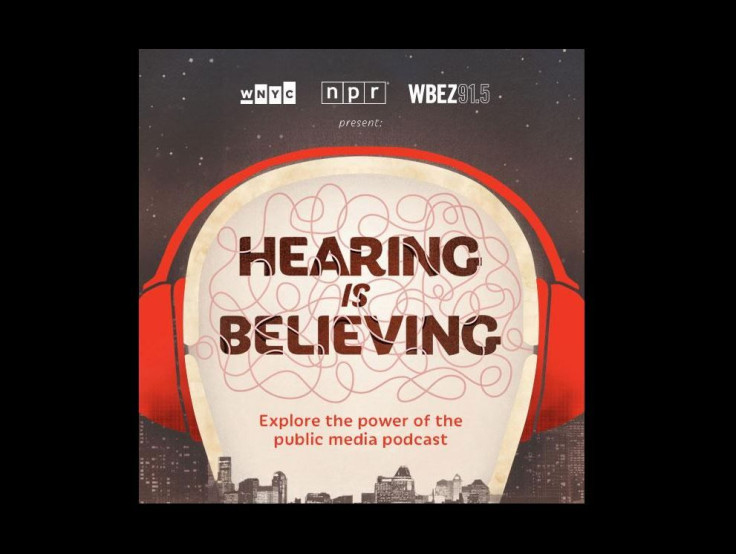 The two titans of American radio broadcasting have spent this month pushing podcasts hard on their advertising partners. Up in their gleaming midtown Manhattan offices, iHeartMedia executives earlier this month told a group of assembled advertisers that podcasts should be an essential part of their strategy. On Thursday, executives and talent from NPR, WNYC and WBEZ extolled the power of podcasts at an event downtown, complete with appearances from public radio royalty like Ira Glass, Guy Raz and Glynn Washington.
"Podcasting is kind of having a moment," National Public Media General Manager Bryan Moffett told reporters. "It's time for everybody to take a look at it."
There is no shortage of stats that companies like NPR, iHeartMedia or Podcast One can point to -- more than 42 million Americans have listened to one in the past month, according to Edison Research, or the 21 million hours of podcast content Americans listen to every day -- but there is an equally confounding number of statistics missing that will make podcasts a difficult sell to advertisers.
Because of the way podcasting evolved as a format, many of its top producers define, structure and deliver podcasts differently, so it's difficult to account for the size and shape of the industry as a whole. That point was illustrated in a report published this week by the Pew Research Center for Journalism and Media, which was forced to use numbers supplied by one podcast-hosting service in lieu of industry-accepted alternatives.
"At the moment, there isn't consistency or clarity," said Carl Kalapesi, vice president of industry initiatives at the Interactive Advertising Bureau. "If you don't have standards, achieving scale becomes very difficult."
Sure, the podcasting business has "Serial" and it has its recaps, and more celebrities and media companies are piling in with new shows every month; at the moment, there are more than 285,000 podcasts available in the iTunes Store. But with basic definitions and terminology not yet set, how much appetite or buy-in can media companies like NPR and iHeartMedia really expect? And, once those basic definitions and measurement guidelines are set, what happens to podcasting?
Old School Advantages
NPR and iHeartMedia may be hawking an unfamiliar format, but each has plenty of muscle it can flex in promoting its podcasts. iHeartMedia, which until recently was called Clear Channel, is the largest terrestrial radio broadcaster in the United States; its radio programming reaches 250 million people every month, and it connects with another 100 million people via its digital channels. NPR, though it doesn't have the same reach iHeart does, still reaches upwards of 25 million people on-air and its shows are downloaded 100 million times per month. Six of the top 10 most popular podcasts on iTunes are made by NPR or its member stations. "We compete with everybody," National Public Media president and CEO Gina Garrubbo told International Business Times.
Those audience numbers give both companies ample opportunity to work podcasts into larger ad buys, and they also provide a chance to promote podcasts in radio shows. Gayle Troberman, chief media officer at iHeartMedia, told International Business Times her company will look to promote its new podcasts by playing moments of them during commercial breaks on terrestrial broadcasts.
New Old Format
Despite many technical advances in the field of delivering ads in digital audio, most podcast ads are a throwback to a simpler time, when show hosts would personally endorse products or services. Just as Jack Benny once extolled the taste of Lucky Strike cigarettes, people like Jim DeRogatis now plug Casper mattresses.
Whether it's because of intimacy, host enthusiasm, or something else entirely, the system works. "It's five times as effective as buying one website," Mike McLaughlin, the head of digital at Palisades Media Group, told Ad Age. It's also far, far more cost-effective than television or digital video spots.
"As someone who's created a lot of TV spots, I can tell you that the flexibility and speed of audio production is amazing," iHeartMedia's Troberman said.
Buying What?
But for many advertisers, those advantages do not make up for some larger limitations. To access big ad budgets, advertising needs to conform to standards that have been agreed to by every player in the industry. These standards govern a whole host of things, including ad length, where and how those ads can be inserted into media, and how to determine whether the ads have been heard.
Podcasting has no such standards in place. In fact, the industry has not even agreed on what technically qualifies as a podcast. Some players frame them only as sound files downloaded onto mobile devices, while others include versions streamed via specific apps or digital audio players. "The definition of what a podcast is is evolving," IAB vice president Kalapesi said.
This confusion makes it difficult for advertisers to buy efficiently, or even know what they're getting. Executives made no bones about it this week. "Everybody that's got skin in this game is working to get this solved," said Sarah Van Mosel, the senior director of underwriting and ad operations for New York Public Radio.
Measurement is the first of many hurdles that podcasters will have to clear before they can even get ready to serve ads in the fastest-growing method. Programmatic advertising, a term for advertisements that can be served in real time to extremely specific audience segments by drawing on different sources of consumer data, has gone from a curiosity to the dominant method of ad delivery; it already accounts for half the Web's digital display advertising and is expected to double by 2016, according to eMarketer. Programmatic advertising in television, Web video and other forms of digital audio is following a similar trajectory.
Will The Iron Stay Hot?
Given the complexity and the due diligence required, solving the problem of measurement may take some time. "I don't think it'll be resolved this year," Kalapesi said. "We would hope in the course of this year that we'd make a good stab."
Whether there will be similar energy surrounding podcasting in a year or more remains to be seen. Will "Serial" be able to retain the 7 million listeners who downloaded every single episode of its first season? Will "Invisibilia," which drew more than 5 million listeners?
NPR, iHeartMedia and the rest of the players in this growing ecosystem can't know. But by going in and fixing this at the molecular level, there's a chance that podcasts will be able to deliver on the promise and power that were hailed this month. "We have a real chance to make sure it works for consumers as well as advertisers," Kalapesi said.
[NOTE: An earlier version of this story incorrectly stated that Gina Garrubbo and Bryan Moffett work at NPR. Both work at National Public Media.]
© Copyright IBTimes 2023. All rights reserved.