NYC Coronavirus Update: Health Chief's Heartless Comments On NYPD SOS Causes Anger
KEY POINTS
Dr. Oxiris Barbot made the comments during a phone call with NYPD Chief of Department Terence Monahan in late March
The NYPD requested 500,000 face masks in March
Barbot's comments drew backlash, with some calling for her resignation
The commissioner of New York City's Health Department (NYC DOH) reportedly made heartless comments against the city's police department after she rejected an urgent request to provide the NYPD with 500,000 coronavirus masks.
"I don't give two rats' a**es about your cops. I need them for others," Dr. Oxiris Barbot apparently said, per a report from the New York Post.
The report cited unnamed sources saying Wednesday that Barbot made the comment to NYPD Chief of Department Terence Monahan during a phone call in late March, before the force reported any deaths due to COVID-19 in its ranks.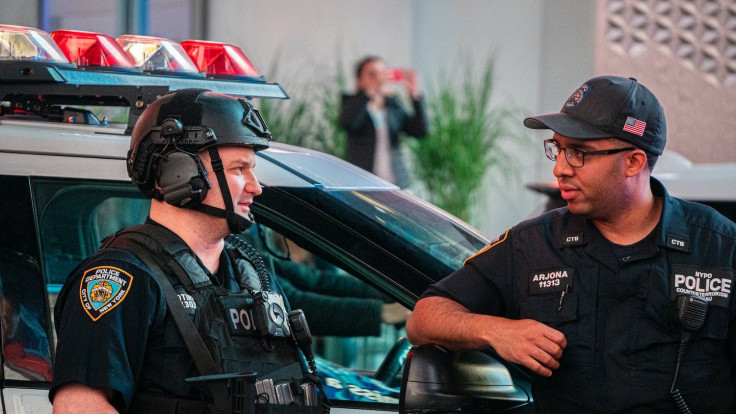 Monahan also apparently complained to Barbot in person, in the presence of Mayor Bill de Blasio, about the lack of personal protective equipment (PPE) for the NYPD. Witnesses who were at the Brooklyn meeting said the mayor instructed Barbot to address the NYPD's request and provide the cops with the safety gear they requested, the report said.
Two months after that call, 41 members of the NYPD have died from COVID-19, while 5,490 men and women in blue, as well as civilian workers at various precincts, have tested positive for coronavirus. As COVID-19 cases accelerated in the city, the NYPD has found it a challenge to procure PPEs for its 55,000 workers.
Concerned civilians and family members of the NYPD set up a petition on Change.Org asking the public to support calls for providing cops with coronavirus protection even as private donations for PPEs have come in.
"They are being provided with a single pair of gloves, 1 single surgical mask, and a 6 oz bottle of sanitizer (a few precincts received stock that expired in 2016!)," the petition, which generated 42,434 signatures so far, stated. "Some officers have reported getting a SINGLE sanitizer wipe and some have reported getting nothing at all."
Meanwhile, the NYC DOH released a statement confirming the exchange between Barbot and Monahan.
"During the height of COVID, while our hospitals were battling to keep patients alive, there was a heated exchange between the two where things were said out of frustration but no harm was wished on anyone," the statement read. "The Commissioner apologized for her contribution to the exchange, the apology was accepted and agreement was arrived between the two to ensure that respirators were delivered to members of the force. This has always been about saving the lives of our healthcare workers, police officers and every New Yorker who is fighting through this pandemic."
Barbot's statement, however, has been called "despicable and unforgivable" by Patrick Lynch of the Police Benevolent Association, who also said the health commissioner should be relieved of her position.
"Dr. Barbot should be forced to look in the eye of every police family who lost a hero to this virus. Look them in the eye and tell them they aren't worth a rat's a**," Lynch said.
© Copyright IBTimes 2023. All rights reserved.