NYPD Chokehold Victim's Wife Requests Civil Rights Investigation Into Eric Garner's Death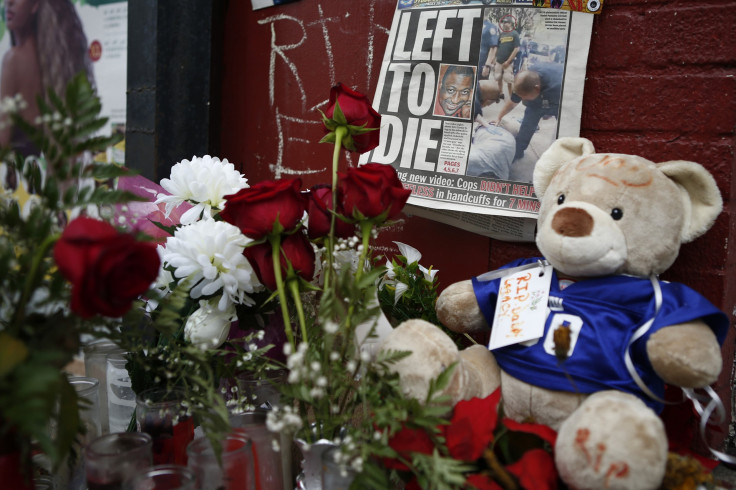 The wife of Eric Garner is asking federal prosecutors to launch a civil rights investigation into the death of her husband after he died last week while being arrested by New York City police.
The 43-year-old Staten Island man was placed in a chokehold by NYPD officer Daniel Pantaleo during the arrest and became unresponsive as he was forced to the ground by police.
A portion of the incident was captured on cell phone video. Garner can be seen in the video becoming upset as officers attempt to handcuff him under suspicion that he was selling untaxed cigarettes on the sidewalk. He refused to let officers handcuff him and told them he had been doing nothing wrong.
In the footage, Garner tells officers that he can't breathe as they force him to the ground and cuff him. Garner screamed "I can't breathe!" six times before he went silent.
Officials say Garner was resisting arrest, and the city has launched an investigation into the incident.
On Friday U.S. U.S. Attorney General Eric Holder met with Garner's widow, Esaw Garner, and two federal prosecutors from the U.S. attorney's office, Reuters reports. Holder described Garner's death as a "tragic event," but he didn't say if the Justice Department would launch its own investigation into the death.
"We are closely monitoring the city's investigation into the incident," Holder said in a statement following the meeting.
Pantaleo has been with the NYPD for eight years. He and a second officer were placed on desk duty for their role in the forceful arrest on July 17 that ended with the death of 43-year-old Eric, reports ABC. Pantaleo was also stripped of his gun and badge.
According to medical examiner spokeswoman Julie Bolcer, the cause of Garner's death hasn't been determined.
© Copyright IBTimes 2023. All rights reserved.