Obama Says Possibility Of Israel-Palestine Peace 'Very Dim'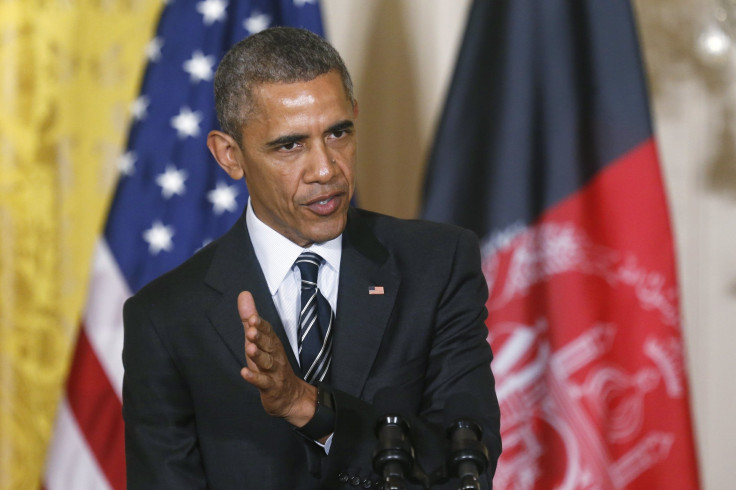 U.S. President Barack Obama said on Tuesday that the prospect of peace between Israel and Palestine seems "very dim," in the wake of pre-election comments by Israeli Prime Minister Benjamin Netanyahu. Last week, Netanyahu had announced that he would not allow the creation of an independent Palestinian state if elected, going back on his previous support for a two-state solution, only to revert to his original stance after his election victory.
"There still does not appear to be a prospect of a meaningful framework established that would lead to a Palestinian state," Obama reportedly said, during a press conference on Tuesday. Referring to Netanyahu's retraction of his statements following his victory in the elections, Obama said that it is still hard to envision a Palestinian state that can be created by imposing conditions that would be "impossible to meet any time soon."
"I've said before and I'll simply repeat -- Prime Minister Netanyahu, in the election run-up, stated that a Palestinian state would not occur while he was prime minister. And I took him at his word that that's what he meant," Obama reportedly said.
In recent months, relations between Obama and Netanyahu have grown increasingly frosty following disagreements over several key issues, including a potential nuclear deal with Iran. However, Obama claimed that his personal relationship with the Israeli leader was not a factor in the disputes.
"The issue is not a matter of relations between leaders; the issue is a very clear, substantive challenge," he reportedly said. "This can't be reduced to a matter of somehow let's all hold hands and sing 'Kumbaya'."
Obama also refused to comment on a report, published by the Wall Street Journal on Monday, which alleged that Israel had spied on the U.S.-Iran nuclear talks.
"As a general rule, I don't comment on intelligence matters in a big room full of reporters," Obama reportedly said. "And I think I'll continue that tradition. But with respect to the possibility of an agreement that ensures that Iran doesn't get a nuclear weapon, we have not just briefed Congress about the progress or lack thereof, but we also brief the Israelis and our other partners in the region and around the world."
© Copyright IBTimes 2023. All rights reserved.
FOLLOW MORE IBT NEWS ON THE BELOW CHANNELS