Obama, Southeast Asian Leaders To Hold Special Summit In US Amid Growing China Assertiveness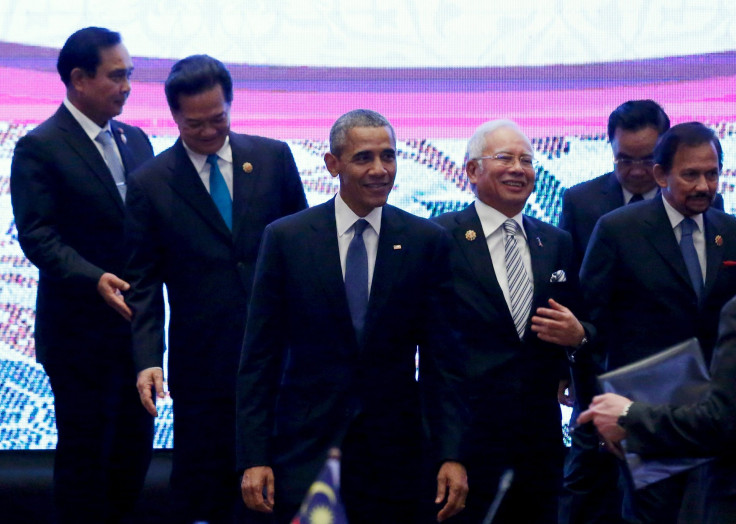 Southeast Asian leaders will hold a special summit with President Barack Obama in the U.S. next year, highlighting a "strategic partnership" they forged last month amid China's growing influence and assertiveness in the region. Obama made the invitation when he was in Manila and Kuala Lumpur in November for the annual summit of the Association of Southeast Asian Nations (ASEAN) and other meetings, Channel News Asia reported Wednesday.
At the end of the summits, ASEAN and the U.S. signed a strategic partnership, where they pledged to uphold "freedom of navigation" and a "rules-based" approach to disputes, two issues some of the leaders have taken up with China.
"The upgrade of our relationship to a strategic partnership and the invitation of President Obama for all 10 ASEAN leaders to come to the United States are perfect examples of how we have increased our engagement in the Asia-Pacific pretty dramatically and set what we call a new normal, a new base level of intensified activities with Asia," U.S. Ambassador to ASEAN Nina Hachigian told reporters, according to Channel News Asia.
China claims most of the South China Sea, which Southeast Asian countries surround and claim parts of. Since last year, China has stepped up that claim by creating or expanding islands via land reclamation and building airstrips and other facilities on those islands. The South China Sea is a major shipping route and is believed to have vast oil and gas deposits.
In response, the Philippines has taken its case to an international court in the Netherlands. Hearings ended on Monday and a ruling is expected next year. Meanwhile, in October, the USS Lassen sailed within the 12-mile radius China claims around one of those islands and said it would conduct similar "freedom of navigation" operations twice a quarter. In Manila, Obama called on China to stop reclamation operations in the South China Sea.
Aside from China's assertiveness in the disputed region, it has several international initiatives that could strengthen it in Asia at the expense of the U.S. These include the Asian Infrastructure Investment Bank, from which the U.S. tried to keep away its key allies but failed. China is also pushing for a Free Trade Area for the Asia Pacific while the U.S. pushes for its Trans-Pacific Partnership.
© Copyright IBTimes 2023. All rights reserved.