Obamacare Enrollment 2016: Obama In Milwaukee Speech Insists 'Obamacare Is Saving Lives And It's Saving Money'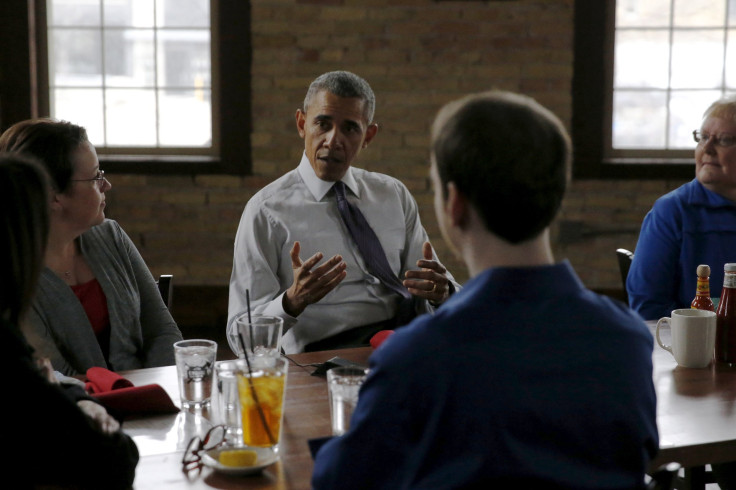 President Barack Obama traveled to Milwaukee Thursday to congratulate the city on winning an Affordable Care Act sign-up competition and also criticized Republicans for trying to repeal the law. More than 38,000 of approximately 51,000 eligible uninsured residents in the area signed up for healthcare coverage through the plan popularly known as Obamacare.
"There's been a lot of political noise surrounding the Affordable Care Act," Obama said while speaking at the Bruce-Guadalupe Middle School on the campus of the United Community Center, which has provided city residents with information on the act. "The story to be told is one of looking out for each other and helping each other ... you are proof the Affordable Care Act works."
The president said arguments that the act would prevent job growth had turned out to be unfounded, "Obamacare is saving lives, and it's saving money," he said.
Obama was introduced by a local man named Brent Brown who admitted to being a Republican and actively campaigning against the president. Brown fell ill with an autoimmune disease and said the Affordable Care Act had saved his life. Obama also met with local residents who had written to him to share their experiences with the law.
Milwaukee had the highest sign-up ratio out of 20 cities that took part in the "Healthy Communities Challenge," beating out Atlanta, Chicago and Detroit, the Associated Press reported. Obama promised to visit the city with the highest ratio as he continues to promote his policy as a positive part of his legacy before he leaves office.
Obama signed the Affordable Care Act into law in March 2010, and since then, more than 17 million uninsured Americans have received healthcare coverage, with the rate of uninsured Americans below 10 percent for the first time, according to statistics from the White House. Over 13 million Americans signed up for the marketplace coverage plan so far this year. In 2013, 11.7 percent of Wisconsin state residents were uninsured; by 2015 the percentage had dropped to 5.9 percent, according to a survey of 3,628 Wisconsin residents conducted by Gallup.
"Put all the political drama aside, I think that's a really good thing that working people can get health coverage," said Milwaukee Mayor Tom Barrett, the Milwaukee Journal Sentinel reported.
Despite the gains, Obama has faced an uphill battle selling his policy to the American people. Views have fallen along partisan lines, with almost nine out of 10 Republicans still opposing the law, the Pew Research Center found. Republican presidential candidates have repeatedly discussed their desire to repeal the law during presidential debates, with Republican front-runner businessman Donald Trump releasing his health plan Wednesday.
Obama said facts "do not comport with conviction" for Republicans who have argued for repealing the act. The president argued Wisconsin Gov. Scott Walker was denying healthcare by refusing to accept federal funding after using the Affordable Care Act to expand Medicaid.
© Copyright IBTimes 2023. All rights reserved.