Occupy Wall Street Film: Watch '#Whilewewatch' Online & Interview WIth Director Kevin Breslin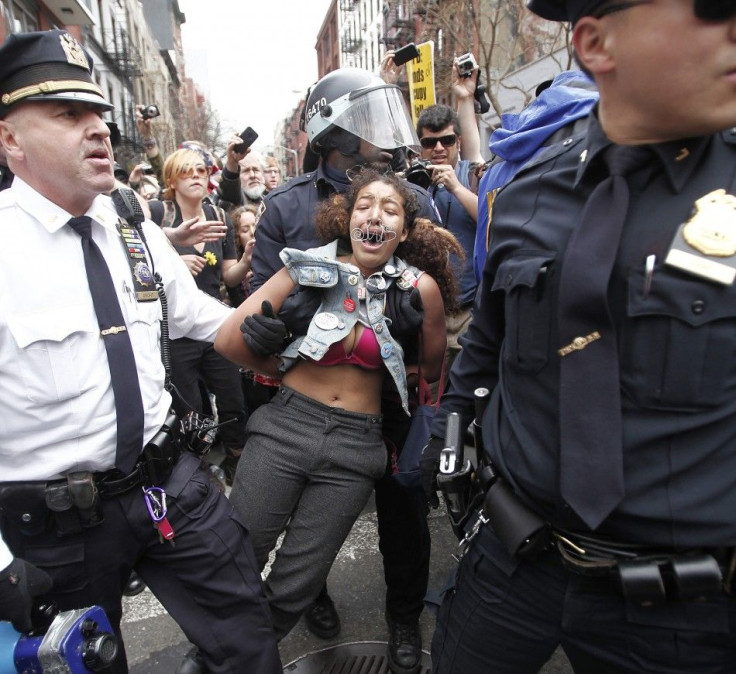 Those that have seen footage from the Occupy Wall Street movement have no doubt been shocked by the unfathomable treatment of protesters. For months, those that camped out in pursuit social equality were treated as criminals. Some of the police brutality captured evoked moments of the Civil Rights Movement. A new Occupy Wall Street film, #Whilewewatch is the first exploratory documentary on the recent events that transpired in Zuccotti Park. The film offers insight into the Occupy movement and features personal stories from Justin Wedes (Educator & Activist), Tim Pool (Journalist & Technologist), Sam Alcoff (Producer, Democracy Now!) and others.
The great thing about #Whilewewatch is that it's free and readily accessible.The film will air online tonight, April 26th at 8:00PM ET/5:00PM PT with replay of film and Q&A panel at 8:00PM PT. You can tune in via Snag Films.
The International Business Times had the chance to ask the film's accomplished director Kevin Breslin about the developement of #Whilewewatch and his hopes for the film.
What led you to develop #WHILEWEWATCH?
Breslin: I love story tellers. Real ones. I grew up knowing what a reporter is expected to do. go out and get the story. Do the legwork. At Zuccotti these are the people I discovered. From live streamers, to editors, newspaper writers, tweeters, talk show hosts pr people grinding it out. All in Zuccotti. No money. No press passes. I liked their tenacity. I have not seen media people this alive in a long time. I think the #OWS media team will be responsible for a new wave of reporters and storytellers who care. They told the story unbiased. This is the result of a rock solid generation who grew up miffed at boring, sedated, dismissive media who bows to big money and the illusion of power. I knew the #OWS media crew were original.... This was the movie. A new breed of storytellers. Once they trusted me....I captured the heart and soul of them.
How do you think filmmaking will be effected by the shift in social consciousness that emerged after the occupy movement?
Breslin: all that matters in filmmaking is the story. if the story has legs it is all systems go. The technical aspects matter less. I do think there will be a bit less tolerance for sophomoric endeavors. Media is so fast; things get immediately dismissed if they are trite. I think honesty and integrity is what will matter. it does not have to be a heavy story. From docs to comedies, it is the story. I do think people are tired of this enormous disparity of wealth and I think we will see many fiction stories tightly tying in a new generation of people willing to support #OWS.. Art and politics are supposed to be aligned for the betterment of us all.
The rise of new technologies has allowed anyone with a camera to capture political injustice and release it to the world. This was especially true of the occupy movement since police were caught doing some pretty unsettling things. What do you think the effects of that footage were?
Breslin: As for the police and the violence and the arrogance of some, well, they did it and it was captured. In this great city they should be vilified and ashamed of themselves. Also cognizant that a bevy of cameras were on them. This is where new media is going to erupt. Cameras and mics are everywhere. Everyone is now on......My role as a director was to see through this bedlam and tie it into a coherent and honest story. The NYPD granted me the only exclusive interview, they state that the cameras just show one side of the story. The police had their own cameras trained on the marchers. This is going to be media ...He said, she said.....What was captured regardless of a lens or mic was some police being violent and aggressive. They did it and it has to stop. The cameras have obviously made the NYPD aware that they have to retrain some of their officers who cannot handle freedom of speech. I think they better get retrained or be gone. I was always clear and balanced as a diriector and story teller that the police and Paul Browne made it clear to me that their people were smashed, hit & things thrown at them. I was very aware that I wanted both sides of the story. That is the job of a director. Making a film about #OWS is NO Game. I was not out there as a dilettante.
What are some call-to-action documentaries that have inspired you in your career?
Breslin: Oh there are too many. I just keep reading and watching what is going on and think what grabs me. I'm inspired by underdogs. I pay careful attention to them.
What types of changes do you hope your film brings about?
Breslin: The changes are for all of us. I go to work and use all my talent and energy.........get the story out there. I'm not in a cheap horse race in life.
© Copyright IBTimes 2023. All rights reserved.