Office Depot Store Closures: Which Locations Are Permanently Closing?
Office Depot (ODP) is the latest retailer to succumb to store closures with 50 locations expected to close this year. The store closures will affect both the Office Depot and OfficeMax brands as part of the company's three-year plan to close about 300 stores.
Office Depot merged with OfficeMax in 2013, acquiring 823 stores with the purchase. Since that time, it has closed 600 locations.
The company has recently shifted its focus from being an office supply retailer to providing business services to small and midsized companies. Office Depot will redesign its remaining 1,300 stores to create better electronic and printing and business services displays while reducing its office supply offering, the South Florida Business Journal reported.
The Office Depot stores closures will begin on May 16, when the company said it will permanently shut down at least nine locations, Shera Bishop a spokeswoman for Office Depot told Business Insider.
"Office Depot, Inc. continues to optimize its retail footprint as part of the three-year strategic plan announced in August 2016," Bishop told Insider. "We will continue to serve our customers at neighboring Office Depot and OfficeMax stores as well as online at officedepot.com."
The following Office Depot locations will close on May 18.
700 Haddonfield-Berlin Rd Unit 38, Voorhees Township, New Jersey
785 Union Ave, Memphis, Tennessee
7726 Polo Grounds Blvd, Memphis, Tennessee
4297 Guide Meridian, Bellingham, Washington
1535 W Mason St, Green Bay, Wisconsin
The following OfficeMax locations will close on May 18.
1707 J Street, Sacramento, California
1601 Market Place Drive Great Falls, Montana
2703 County Rd 541 Suite 5, Burlington Township, New Jersey
1629 North Central Avenue, Marshfield, Wisconsin
Office Depot announced a $15 million operating loss in the first quarter, which it attributes to its acquisition of CompuCom.
Shares of Office Depot stock were up 1.27 percent as of 11:05 a.m. ET on Tuesday.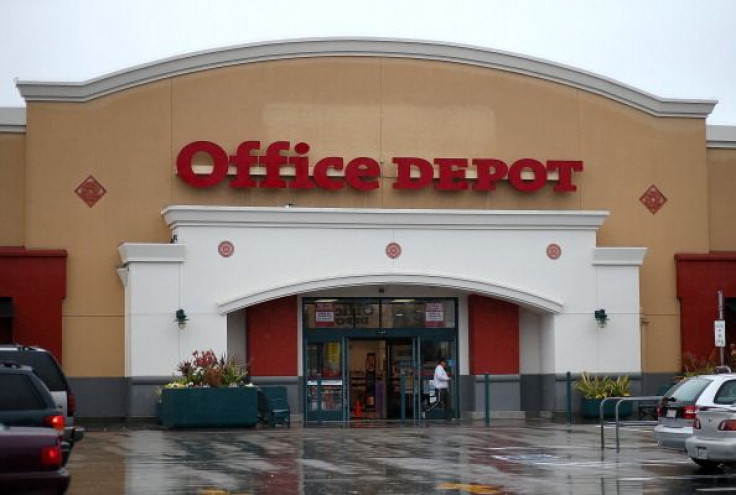 © Copyright IBTimes 2023. All rights reserved.