Office-Themed Gift Guide 2015: 46 Ideas To Take Your Loved Ones Work Space To The Next Level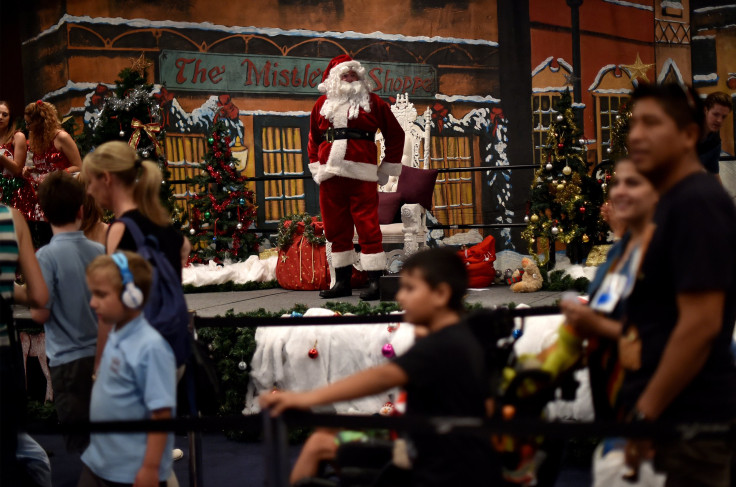 The holiday season is officially here and you know what that means -- office gift exchanges. For many those three words create a sense of dread: what if you get stuck buying something for someone you barely know? How can you be sure to buy something your co-workers will like?
Well, dread no more! We've scoured the darkest corners of the Internet in search of desk decor, mugs, stationary and more. Whether you're lucky enough to pull your work bestie's name at random or get stuck with the office newbie, these ideas are sure to please. Check out our office-themed gift guide below:
Organization:
Desk Accessories from Poppin - Prices Vary
Whether you're in need of folders, mail holders, staplers or tape dispensers, Poppin's got your back. Their website boasts an unbeatable selection of items in every color of the rainbow that anyone with a desk job is sure to appreciate.
Chalk Board Wall Caddy from Calendars.Com - $39.99
Getting organized has never been easier! This unique wall caddy features a chalkboard calendar for managing your weekly comings and goings, little hooks to hold keys and slots large enough to hold all of your office supplies.
Magnetic Cat Clip Holder from Urban Outfitters - $14
Gone are the days of losing your paper clips!
Tape Desk Organizer from Urban Outfitters - $30
Manage your pens, pins and tape in one adorable place.
Fist Pen Holder from Staples - $24.99
Because sometimes you've just got to put your fist down.
Stationery, Pens and More:
These Special Pencils from Etsy - $8
Got a tough job? These pencils get it. Buy these for your overly stressed co-worker -- just don't be surprised at how quickly they're gone.
Motivational Pens from Etsy - $16
Got a cubicle mate in need of a pick me up? These pens are the perfect way to remind someone that there's nothing they can't do.
Maki Tack Set from Urban Outfitters - $8
Perfect for the co-worker who is both hooked on sushi and obsessed with all things cute and functional!
Giant Sticky Notes from Poppin - $6
We've all got things to check of our to-do lists, but some are bigger than others. This sticky note pad gets that and has space for anything and everything you need to accomplish.
Flag Banner Stickies from Urban Outfitters -$8
There is no cuter way to remember daily tasks, phone numbers and the like than with these flag banner sticky notes.
Fast Food Puzzle Eraser Set from Urban Outfitters -$8
Mistakes happen, there's no doubt about that, but with these adorable erasers your everyday oopsies are sure to be a lot more enjoyable.
Eating and Drinking:
Citrus Zinger Sports Water Bottle from Neiman Marcus - $18
Take your coworkers hydration game to the next level with this water bottle that infuses the tasty zing of citrus fruits with cool refreshing H2O.
S'Well Water Bottle from S'Well - $35
Not only do these water bottles come in a variety of colors and patterns, they guarantee your drink will be icy cold for 24 hours or piping hot for 12.
Sriracha To-Go Bottle Keychain from Amazon - $15 for three
There is nothing worse than a bland desk lunch. Put and end to that by bringing some spice into your coworkers lives with these adorable -- and very handy -- Sriracha To-Go Bottles.
Fisherman Tea Bag Holder Set from Urban Outfitters - $15
Got an avid tea-lover on your list? Buy them this adorable fisherman tea bag holder and bring a little cheer to their morning, afternoon and nightly tea ritual.
Slow Brew Sloth Tea Infuser from Amazon - $9.99
Again, cute and functional always wins. Pair this gift with a selection of loose teas and prepare to be the star of the office secret Santa.
"I Woke Up Like This" Mug from Urban Outfitters - $8
There are two guarantees in life: just about everyone loves Beyoncé and just about everyone has a morning where they can't be bothered with getting dressed up, fussing with hair products and slathering on makeup. Embrace these eternal truths with this mug.
Britney Spears 2007 Mug from Etsy - $15.99
This mug is the perfect reminder that no matter how hard your work load gets, you'll never have it as bad as Britney Spears did in 2007. It's also sure to be a hit among your offices resident pop-culture-addict or, really, anyone with a sense of humor.
Tech Accessories:
REDGO Ultra-Thin Portable Charger from Amazon - $13.68
Sure, most of us aren't supposed to be on our phones during work, but there are just some conversations that can't wait. If someone in your office is constantly playing catch-up with their bestie, checking on on their kids, or just generally gabbing away they need this sleek and stylish portable charger.
USB Surge Protector from Urban Outfitters - $50
While this gift is a bit of a splurge for a secret Santa, it's definitely worth every penny. As technology continues to grow so does the amount of cords it takes to keep our phones, watches, tablets and other gadgets up and running. Say goodbye to tangled messes and hello to worry free charging!
Marshall Minor Earbud Headphones from Sportique - $60
Being pent up in an office all day can be kind of a drag -- many try to remedy that by plugging in and tuning out background noise with their favorite tunes. While any and all headphones will get the job done, we think that new Adele CD -- or whatever you're bumpin' to -- deserves some respect. Purchase these headphones and give the gift of quality sound.
Caeden The Linea No. 1 Headphones from Joyus - $150
Not everyone's into ear buds these days. If you've got a trendy music lover in your office or in your life, these over-ear headphones are certain to rise to No. 1 on the Best Gift Ever charts -- which we may or may not have just made up.
Silver USB Cufflinks from Uncommon Goods - $100
Know someone who's constantly forgetting their USB drive, but somehow manages to look sharp day in and day out? These USB cufflinks are perfect for them! Not only will they never be without an important file -- provided they remembered to back it up -- they'll always arrive to meetings, lunches, and whatever else they're doing in style.
Pretty Little Things:
Gold Foil "But first, coffee" Print from Etsy - $15
Coffee is essential to most people's productivity. Celebrate that with this print.
"Office Sweet Office" Print from Etsy - $5
If someone you know is putting in long hours at their job, help make their office feel more like home with this print.
"Be The Leslie Knope of Whatever you Do" Print from Etsy - $5
"Parks and Rec" fans know no one kicks a-- at their job quite like Leslie Knope. Inspire your friends, family or co-workers to be more like here with this print.
"Work a Little to Ball A lot" Print from Etsy - $20
Complete with cute graphics this design will serve as the perfect reminder of why we all work so hard -- so we can treat ourselves, duh!
"Friends, Waffles, Work" Print from Etsy - $9
It's easy to lose sight of what's important in life when you're caught up in your work. Bring whoever you're gifting back to reality with this poster.
Floral "Hustle" Print from Etsy - $10
As a wise man once said, you can't knock the hustle. So celebrate it by framing this typographical masterpiece for the hardest worker you know.
Chalkboard Skull from Etsy - $28
What better way to keep track of important info than with this skull chalk board?
"Cubicle, Sweet Cubicle" Banner from Etsy - $15
It's glittery, it's cute, it's just what every cubicle dweller needs to up their office game!
Gold Dinosaur Planters from Etsy - $25+
Nothing makes an office or cubicle feel homier than a few house plants, but house plants growing out of gold dinosaurs? That's next level.
Live Airplant Terrarium Garden from Pottery Barn - $34.50
Allow your coworkers to create a fantasy scene to enjoy day in and day out with living plants the require very little attention.
Magnetic Sand Timer from Urban Outfitters - $10
Deadlines are stressful and often not a lot of fun, but there's no better way to keep track of how much time you've got left than with this sand timer.
Copper Photo Clip Banner from Urban Outfitters - $10
Who doesn't love to look at photos of people and places they love while they're away at work? Make hanging pictures even cuter with this copper photo banner.
Dawn Redwood Tree-to-Be from Gift Tree - $29.95
Buy this gift and allow someone to plant their own bonsai tree. Then while they're sitting at work they can look on as it grows and enjoy a little bit of the outdoors while stuck inside for eight to 10 hours a day.
Silver Bulldog Clips Set from Urban Outfitters - $12
Sometimes the simplest gifts are the best!
Just For Fun:
Handicorn Finger Puppet Set from Amazon - $6.65
Because sometimes you just need to laugh at something completely ridiculous between conference calls.
"The Mindfulness Coloring Book: Anti-Stress Art Therapy For Busy People" From Barnes & Noble - $13.77
The title says it all, but here are a few keyword highlights: "Anti-stress," "for busy people," and "coloring book." A little fun in the office can go a long way.
Colored Pencil Jar Set from Urban Outfitters - $8
No one will be able to lay into that anti-stress coloring book if you don't also buy them a cute little jar of colored pencils!
Finger Mini Golf Game from Party City - $1.99
Now your golf-obsessed co-worker can practice his or her (finger) swing in their in-office downtime.
Drumstick Pens from Uncommon Goods - $8
Nothing get's the creative juices flowing quite like a little desk jam session.
Hygiene, Skin Care And More:
11+ Mini Humidifier from Nordstrom - $65
Cold weather takes a toll on skin. Help combat that by buying your co-worker (or yourself, we won't judge) this handy USB-powered mini humidifier.
Mini Flat Iron from Macy's - $29.99
Humidity, rain, snow, and long commutes can wreak havoc on hair. Buy this for your coworker who's all about looking their best and score some major brownie points.
Lush Helping Hands Hand Cream from Lush Cosmetics - $19.95
Winter = dry, rough skin. Got a co-worker who is constantly bugging you for lotion? Buy this cream and it'll be you that's asking for a little skin rescue.
© Copyright IBTimes 2023. All rights reserved.