Oil Trains: Regulators Announce New Speed Limits Through Major Cities For Explosion-Prone Vessels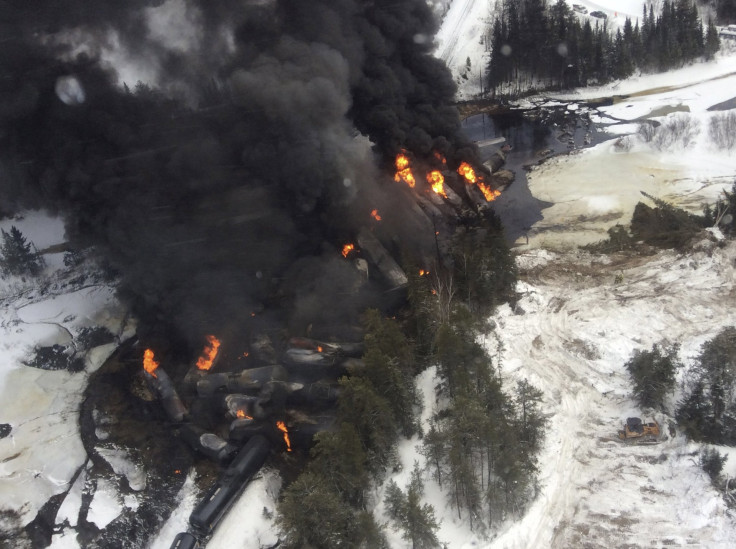 The U.S. Department of Transportation is placing a 40 mile per hour speed limit on trains transporting crude oil through major cities such as New York, Chicago and Seattle. A series of explosive accidents has prompted backlash to the practice of transporting crude by rail. The agency issued the emergency order on Friday as one of a variety of measures intended to limit the risk that these shipments pose to the communities they pass through.
"The volume of crude oil being shipped by rail has increased exponentially in recent years, and the number of significant accidents involving trains carrying ethanol or crude oil is unprecedented," the agency stated in a press release.
Companies began shipping far more crude across North America during the recent streak of productive drilling in North Dakota and Canada's tar sands in Alberta. But railroads have struggled to reassure politicians and the public that this practice is safe. In Canada, 47 people were killed in 2013 when a train carrying crude oil ran off the tracks and erupted into flames. So far this year, four major derailments involving trains carrying crude oil have occurred throughout North America, the Associated Press reports.
"The boom in crude oil production, and transportation of that crude, poses a serious threat to public safety," U.S. Secretary of Transportation Anthony Foxx said in a statement.
Most major railroads had already agreed to limit speeds of trains equipped with old-model cars through urban areas to 40 mph, but the new order mandates this speed limit for all trains. DOT also asked the Association of American Railroads to work with railroads to establish a process by which companies could quickly make critical details about a given train, such as the number and arrangement of its cars, available to federal investigators in the case of an accident.
More reforms for oil trains are expected in the coming months, as the Obama administration reviews a proposed rule that would require railroads that transport crude oil to use specially reinforced cars, as Bloomberg reports. There have been 23 train accidents involving crude oil since 2013 in the United States. In most cases, oil is contained within the cars but when a train carrying crude from North Dakota to a depot in Virginia derailed in West Virginia in February, 20 of its cars caught fire and began leaking oil, Reuters reports.
© Copyright IBTimes 2022. All rights reserved.
FOLLOW MORE IBT NEWS ON THE BELOW CHANNELS