Ola Cabs Creates Unit To Buy And Lease Cars To Drivers As Uber Steps Up Competition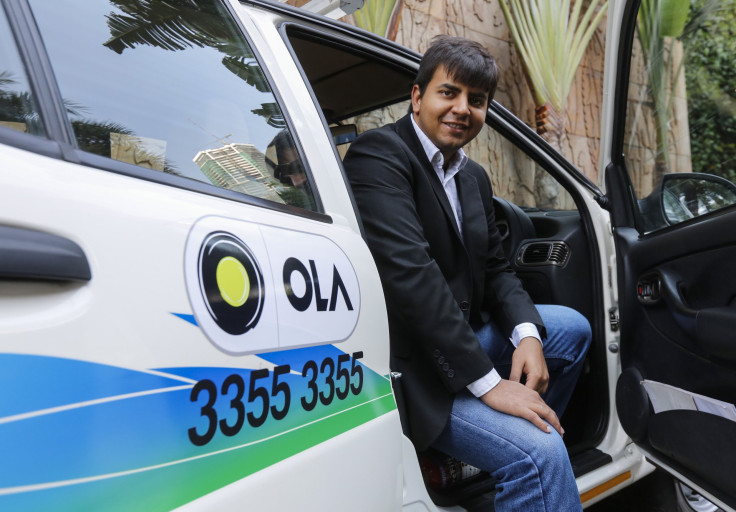 India's ANI Technologies, which operates cab-hailing service Ola Cabs, has created a new unit to buy and lease cars to drivers in an effort to consolidate its leadership in the local market, as Uber Technologies prepares to invest over $1 billion in India, its biggest market outside the United States.
While the subsidiary, for which Ola hasn't yet announced a name, is currently buying the cars itself and leasing them to drivers, it is exploring "multiple options ... to keep the focus on leasing and not buying cars," a person with direct knowledge of the plans told International Business Times. The company is also exploring the viability of bringing the automakers on board as part owners of the subsidiary, the person said.
SoftBank Corp.-backed ANI Technologies, the cab-hailing service market leader in India, is starting with an investment of 5 billion rupees ($80 million) in this new unit, but anticipates spending up to 50 billion rupees over the next 12 months, it said in a press release Monday.
The program offers drivers an opportunity to eventually own the car, ANI Co-founder and CEO Bhavish Aggarwal said, in the release. Drivers are required to make an initial deposit of 35,000 rupees and pay monthly lease-rental fees of about 15,000 rupees. After a period of three years, a driver can pay a fifth of the residual lease value to become the owner of the car, according to the release.
The move also locks drivers in to operate on Ola's network at a time when competition for good drivers is intensifying. Uber, which sees India as its biggest and fastest-growing market outside the U.S., even allows users to pay for their rides with cash, in a nod to the importance it attaches to the market.
Ola Cabs will also strike partnerships with car manufacturers in the country to accelerate its lease program. In a pilot, Ola Cabs leased 1,000 vehicles in six cities, getting most of the cars from the country's top automaker, Maruti Suzuki India Ltd.
By December 2015, at least 10,000 cars are expected to be plying under the leasing model, according to the release. Ola is also in advance talks with other leading car manufacturers and financial institutions to help the model scale up to over 100,000 drivers by the end of 2016. Ola currently operates some 250,000 cabs and 65,000 auto rickshaws on its network in 65 cities.
The Indian ride-hailing service provider has also recruited Rahul Maroli, formerly a senior executive at LeasePlan, a large vehicle leasing and fleet management operator, to head the new subsidiary, which will also independently raise funds, the company said, in the release.
© Copyright IBTimes 2022. All rights reserved.
FOLLOW MORE IBT NEWS ON THE BELOW CHANNELS