Only 40 Percent Of Americans Have EMV 'Chip' Credit Cards As In-Store Deadline Looms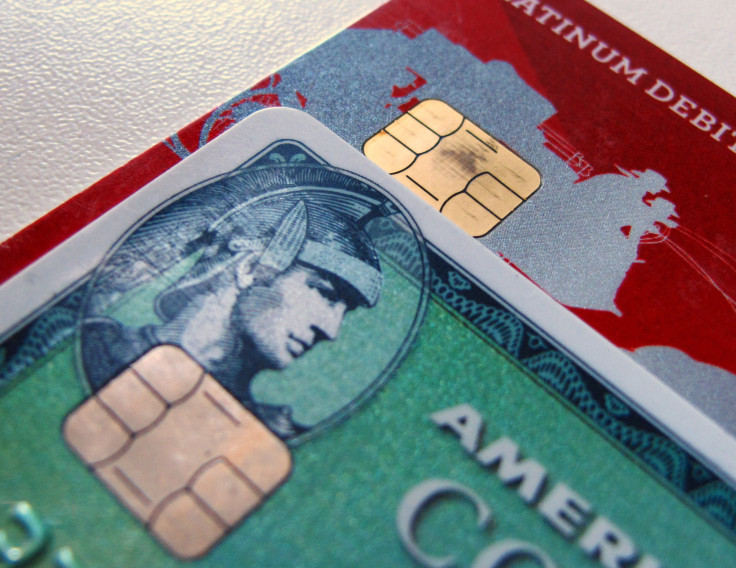 About 60 percent of American credit card holders don't have a chip-enabled card -- plastic with a smart chip that will eventually replace traditional magnetic strip cards. That's despite a long-looming credit card company-imposed deadline for banks and merchants to support the technology, according to a survey sponsored by CreditCards.com.
Starting Thursday, merchants become entirely liable for credit card fraud that occurs on their end if they don't have the terminals and systems in place to support the EMV "chip" standard -- short for Europay, Mastercard and Visa. At the same time, customers will have to begin inserting their chip-enabled cards into the terminal and wait for the transaction to complete, instead of swiping. This doesn't apply to gas station pump readers, which have a deadline of October 2017.
Cardholders who don't have a chip card don't have to worry too much -- older magnetic-only cards will still function normally. Shoppers are still protected from fraud as long as they notify their card issuer promptly. But if customers try to swipe on a terminal that supports a card with the chip, they'll get an error message prompting them to insert the card into the machine instead.
Stores aren't necessarily ready for the transition either. Only 27 percent of merchants will support EMV cards come Thursday, according to a survey of 62 payment service providers performed by credit card industry consultancy the Strawhecker Group. By December 2015, 44 percent of U.S. merchants are expected to support the technology.
EMV cards are designed to reduce the risk of fraud by using a secure computer chip that generates a one-time use code during each transaction. That's aimed at preventing thieves from stealing credit card numbers and programming them onto a magnetic strip card.
Aside from the security changes, the shift to EMV has a secondary benefit. Many of the credit card readers that merchants are installing to support EMV also come with built-in support for Near-Field Communication (NFC) -- the primary technology used by mobile payment systems such as Apple Pay, Android Pay and Samsung Pay.
While EMV is aimed at helping merchants and banks reduce in-store counterfeit credit card fraud, it could increase the rate of fraud conducted through online storefronts. When Britain made a similar transition in 2005, credit card fraud through card-not-present transactions -- such as those conducted online or over the phone -- spiked 79 percent through 2008, according to financial consultancy Aite Group.
Princeton Survey Research Associates conducted the survey of 2,004 adults over 18 on behalf of CreditCards.com during two periods, Sept. 3-6 and Sept. 17-20.
© Copyright IBTimes 2022. All rights reserved.
FOLLOW MORE IBT NEWS ON THE BELOW CHANNELS