Only a Matter of Time Before Oklahoma Regrets Move to Pac-12
ANALYSIS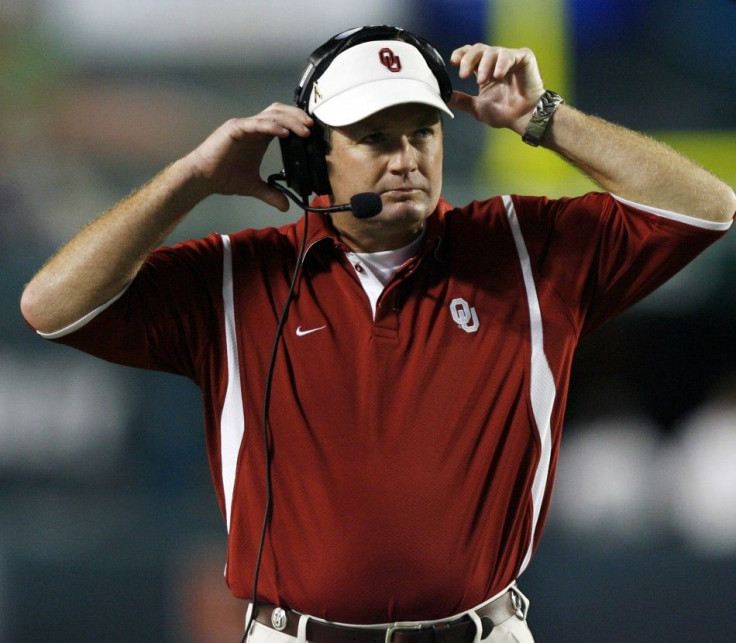 The college football missile crisis edged closer to happening when reports indicated that Oklahoma's Board of Regents has unanimously agreed to pursue membership in the Pac-12.
On Monday night, SEC commissioner Mike Slive erased any doubt that Texas A&M would be heading to the SEC when he announced the conference was already looking at 13-team football schedules.
When Texas A&M joins our conference, we don't have immediate plans for a 14th member, Slive said.
Even though we've all been through this merry go around once before in 2010 and it ended rather meekly with just a few teams leaving their conferences, it looks like the real deal this time.
Texas A&M is moving to the SEC, and Oklahoma with little brother Oklahoma State has its sights set on the Pac-12, even if Texas is practically begging its biggest rival to stay in the Big 12.
Does anyone else see this all ending in buyer's regret in about five years?
Texas A&M set the ball in motion and now Oklahoma is stubbornly trying to work its way into the Pac-12, but why?
For more money? Possibly, though early analysis shows that A&M isn't guaranteed to make more money in the SEC, and could actually lose money in the short-run.
Oklahoma might also make more money in the Pac-12, but it already has a pretty good deal in the Big-12. Big 12 commissioner Dan Beebe miraculously arranged very lucrative television contracts with Fox and ESPN during last year's crisis -- giving Oklahoma plenty and plenty of money.
But something about the Pac-12 has caught Oklahoma's eye and the school is expected to announce its intentions to move within the next two months, according to Chip Brown of OrangeBloods.com.
The schools potentially gain more money and a vastly superior conference commissioner in Larry Scott compared to Beebe, but also stand to lose quite a bit.
You know that clout that Oklahoma wields in the Big 12? Second to only Texas in the entire Big 12? Consider that a lost by-product in a move to the Pac-12.
There's a reason the conference is called the Pacific-12 -- all of its teams are located on the West Coast. Does anyone really expect Oklahoma to wield any real influence in the California-centric league?
New league entries Colorado and Utah are the biggest outsiders at this point, but just imagine Oklahoma or Oklahoma State boosters trying to fit in.
Oklahoma State seems content to follow Oklahoma wherever it goes and it makes sense. Oklahoma State is much less valuable than Oklahoma in terms of name recognition and fan base size and need to follow the Sooners, but don't think the Cowboys won't lose out on this also.
If you can imagine how little power Oklahoma will have compared to what it gets in the Big 12, lower that amount considerably and you'll arrive at Oklahoma State's position in an expanded Pac-12.
Even Oklahoma State's big-time booster T. Boone Pickens would get out shadowed in the Pac -- 12. Pickens always opens his wallet up for his team, but can he match the influence of Oregon booster and head of Nike, Phil Knight?
Not to mention the loss of rivalries with all of the Big 12 schools that are unceremoniously left behind. If Oklahoma bolts for the Pac-12 that'd likely be the end of its rivalry with Texas. The annual game between the two, the Red River Rivalry, is one of college football's most storied rivalries, but none of that means much when dollars signs are the primary motivation tool in college athletics.
Oklahoma coach Bob Stoops has already called the game nonessential, but don't be surprised to see him change his tune after a few years in the Pac-12.
Oklahoma has never quite been Texas' equal in the Big 12, but it could never be characterized as a little brother like Texas A&M.
It's made a lot of money in the league, had a major role in conference discussions, and had considerable athletic success within the conference.
None of those things is guaranteed in the Pac-12.
The grass might look much greener right now in the Pac-12, but beware what you wish for Oklahoma.
Because one thing is for certain--don't expect Texas or any of the other Big 12 schools to help you out if things don't go as swimmingly as you hoped in your new conference.
If Oklahoma makes that move to the Pac-12, then it's on its own and all success and failure will be on the Sooners.
It could work out financially, but don't bet on it being a good fit.
© Copyright IBTimes 2023. All rights reserved.