Oregon Patient With COVID-19 Dies Waiting For ICU Bed As Cases Spike
KEY POINTS
A daily record of 2,971 COVID-19 cases was reported Thursday in the state
The surge in cases was driven by the delta variant
The state's hospital and ICU beds are more than 93 percent full
A COVID-19 patient in Oregon died Wednesday while reportedly waiting for an intensive care unit (ICU) bed at a hospital.
Cases in the state have been spiking, raising concerns among people in the area, as Mercy Medical Center in Roseburg is the only hospital for about 70 miles. The medical center said the man was in the emergency department and the ICU was full of other COVID-19 patients.
"Our concern is that more people are entering the hospital than leaving the hospital," Dr. Bob Dannenhoffer, Douglas County public health officer, said Thursday, Oregon Public Broadcasting reported. "And unfortunately, one of the most common ways people are leaving the hospital is to die. We had four deaths today. Which freed up four beds but that is not the way we want to make space in the hospital."
Talking about the death of the patient in the emergency department, the medical center said: "This is very real to our physicians, clinicians, housekeepers, and each member of our Mercy family. Today, we paused, we reset and we tried to move forward mentally and physically for our own well-being and serving our most vulnerable, sick patients within our four walls. We need your help, grace and kindness."
The medical center had announced last week there would be no elective surgeries in the hospital because of the surge in COVID-19 patients.
The identity of the patient who died Wednesday has not been revealed by officials.
The latest incident comes as Oregon public health officials issued warning of dire consequences as unvaccinated people with the infection flooded emergency rooms, leading to maxed out ICU beds in southern part of the state.
"Right now, ambulances are transporting more people in respiratory distress, but they have to wait longer to get patients into emergency departments because those beds are full," Director Patrick Allen of the Oregon Health Authority at a briefing Thursday morning, according to Oregon Live. "Patients are spending days in emergency departments because critical care beds are not available."
A daily record of 2,971 coronavirus cases was reported Thursday by the Oregon Health Authority. The surge in cases has been driven by the coronavirus' delta variant, prompting more action from officials. Gov. Kate Brown announced all educators and health-care workers must be vaccinated as soon as possible. More than 200 COVID-19 patients are currently admitted in Oregon intensive-care units, resulting in the state's hospital and ICU beds being more than 93 percent full.
As of Wednesday, the U.S. reported 5,742 deaths, nearly double the total from two weeks earlier. The daily cases on Wednesday were close to the 150,000 mark.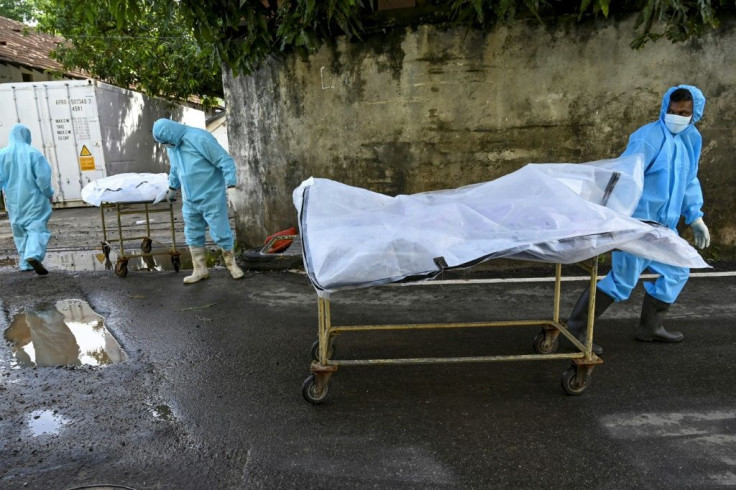 © Copyright IBTimes 2023. All rights reserved.