'The Orville' Wins At Saturn Awards 2018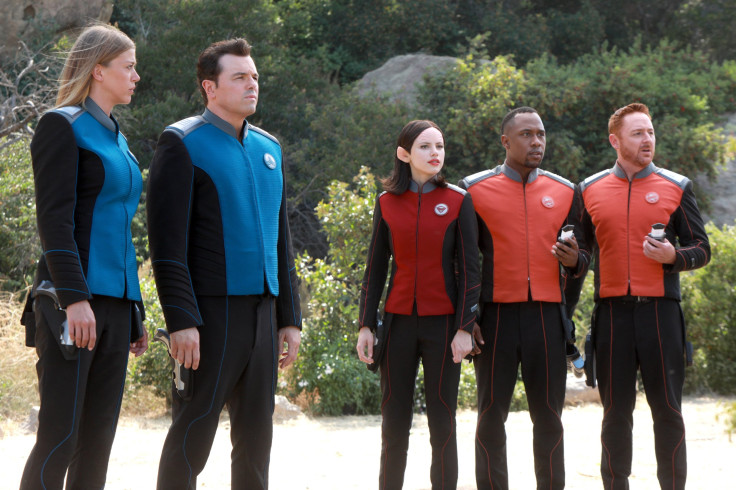 "The Orville" has scored its first ever Saturn Award.
The Seth MacFarlane-created series won the best science fiction television series category at the 44th annual Saturn Awards held on Wednesday at The Castaway in Burbank, California.
Other shows nominated in the category were The CW's "The 100," USA Network's "Colony," BBC America's "Doctor Who," Syfy's "The Expanse," CBS' "Salvation," and Fox's "The X-Files."
MacFarlane, who plays Captain Ed Mercer on the series, was also nominated in the best actor category, but was lost to Kyle MacLachlan of Showtime's "Twin Peaks: The Return."
MacFarlane's "The Orville" co-star Adrianne Palicki was also one of the nominees in the best actress category. But it was Sonequa Martin-Green of CBS All Access' "Star Trek: Discovery" who took home the award.
While plot details about Season 2 of "The Orville" are being kept under wraps, MacFarlane promised at the Television Critics Association winter press tour last January that the new season would lean more into the science fiction.
"The show was experimental in a lot of ways," MacFarlane said (via /FILM) at the time. "Tone was the biggest experimental part of it. What we found was that we can lean a little more, heavier into the science fiction and not have to worry so much about knocking out a joke every page. The show is an hour and really can and wants to service its storytelling in a way that makes it a priority. The jokes come as they come, the comedy comes as it comes."
More details about Season 2 are expected to be revealed during the show's panel at the San Diego Comic-Con 2018 on Saturday, July 21 at 4 p.m. EDT in Indigo Ballroom. MacFarlane and Palicki are confirmed to attend the panel together with their co-stars Penny Johnson Jerald and Scott Grimes. Other panelists include executive producers David A. Goodman, Brannon Braga and Jon Cassar.
"The Orville" Season 2 is set to premiere on Sunday, Dec. 30 following a Sunday Night Football double-header. The series will then resume in its regular Thursday time slot following the conclusion of the NFL season.
Are you excited for Season 2 of "The Orville"? Tell us in the comments section below!
© Copyright IBTimes 2023. All rights reserved.