Oscar de la Renta Talks Michelle Obama, Cancer Battle, Hillary 2016, Galliano And Retirement Rumors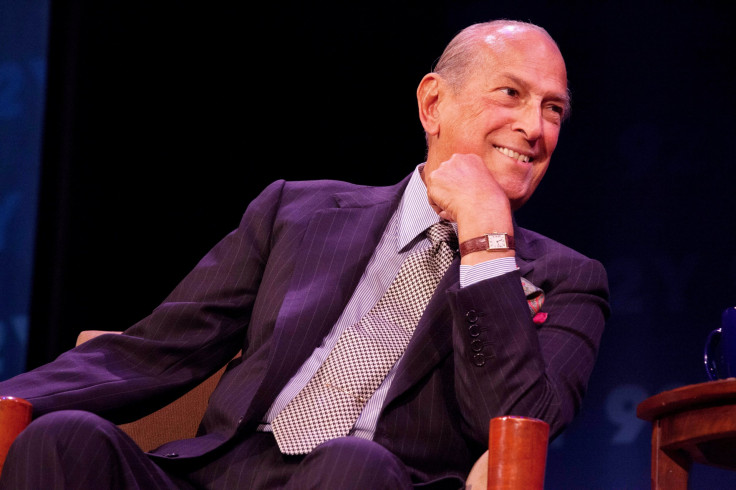 Most women could only dream of hearing the most intimate details of iconic fashion designer Oscar de la Renta's life. But Thursday night, the Dominican-born designer divulged his thoughts, dreams and fears at New York City's 92Y "Fashion Talks" series, just days after winning the CFDA Founder's Award on Monday.
Moderated by the Council of Fashion Designers of America (CFDA) Executive Director Fern Mallis, 80-year-old de la Renta opened up about his battle with cancer, his true feelings for Michelle Obama, the future of his business and rumors of retirement, John Galliano, his childhood, and of course, life in general.
With his charming smile and debonair nature – or as Mallis described him as "'the sultan of suave' … he is after all Latin and will charm us" – the designer took the audience down memory lane from the beginning of his fruitful career spanning more than half a century to his thoughts on his brand, which was created in 1967, and designers today. These were some of the topics that had the audience at the Y in thralll:
His first "business:"
"My first client was my mother. But what I sold her was the corn and spinach that we grew in our garden."
Speaking of food …
"I used to cook. I like to get involved. My wife [Annette], of course, never eats. If I didn't get involved, I wouldn't eat at all."
On his father's wishes for his only son of seven children:
"My father had different aspirations for me than I had for myself. As the only boy in the family … If I ever told my father I would become a fashion designer, he would drop dead on the spot."
His mother's support for him to study in Spain at age 18 in 1951, just before she died:
"My mother said, 'I will always back you.' A lot of what I am is because of my mother. To go to Paris was unthinkable. My mother really twisted my father's arm for letting me go to Spain because I'd never see her again. That is a sacrifice."
What he told his parents as a young boy:
"Please, please, please buy me a man's suit."
Tasks at his first job training under Cristóbal Balenciaga in Spain in 1957:
"You ask me what I was doing? I was picking pins off the floor."
His first job offers in Paris at Dior and Lanvin in 1959:
"I'm in Paris less than 24 hours and I was offered a job. I was so excited I was going to get a job." [Then Lanvin came knocking … ] "I have a job at Dior. I already accepted another job. Mr. [Antonio del] Castillo said, 'How much are they paying you?' I'd been in New York for less than one week and now I had offers for two jobs."
[Editor's note: He ended up taking the gig at Lanvin-Castillo in 1961.]
How he lied his way into getting a job at Elizabeth Arden in 1962:
"I said, 'It was not my best work.' I had been working on my book for a month."
On lying in general:
"I never tell lies because you have to cover a big lie with a little lie. Of course, I lied then."
When former Vogue editor-in-chief, Diana Vreeland, told him to ditch Dior for Arden:
"[She said] 'If you go to Dior you will be working behind a big name. It will be hard to make a name for yourself.'"
How he became successful after his deal with Jane Derby in 1965:
"I had become a little smarter then. My name has to be on the label and my name has to be bigger than the name on the label. In six months, the label was changed to just 'Oscar de la Renta.'"
What he feels about New York then and now:
"I felt the future of fashion was changing. Ready-to-wear was becoming the future of fashion. … There were things happening in New York that were very important. There are many opportunities here. I feel that New York today is no doubt the fashion capital of the world."
Why the Americans were victorious in infamous "fashion showdown" in Versailles in 1973 against Yves Saint Laurent, Christian Dior, Hubert de Givenchy, Pierre Cardin and Emanuel Ungaro:
"Our show was bound to be a disaster. The show was fun, but we [Anne Klein, Stephen Burrows, Bill Blass, Halston and de la Renta, which was the order he insisted upon] were so unbelievably unprepared. We only had Liza Minelli. One thing happened: They had never seen, in Paris, black models. They had never seen girls moving to music. By the end, everyone was standing. It was sheer luck."
His feelings on the America vs. Paris debate now:
"It's quite extraordinary how the roads have reversed. We went to France to learn the trade, now France comes to America to get the talent."
On current designers Alber Ebaz of Lanvin, Raf Simons of Dior and Alexander Wang at Balenciaga, three of the brands for which he worked:
"All three of them are such great designers. Alber is doing an extraordinary job at Lanvin. Really, very talented. Raf, I have never met really. Alexander Wang I think is extraordinary talented."
On John Galliano, the ousted former designer of Dior who joined his atelier for the Fall 2013 season:
"John came to me because he wanted to re-enter the business. We are not going to talk about John's problems because John's problems are his problems, not my problems. John is a very talented guy. I was asked if I would have John into my studio so he can re-immerse into a world that he knew. We had a wonderful time. It's important to have someone who challenges you. 75 percent of the collection was done by the time he got there. I strongly feel, regardless what he did, everyone in life deserves a second chance and I was very happy I was able to give John that second chance. John is making all the public amends that he needs to make. It would be a shame if the industry would be deprived of such talent."
Would he work with Galliano again?
"I don't know. I would love to, perhaps."
On rumors of the selling of the ODLR brand:
"The business is not for sale, no question. If somebody comes to us with a huge, big offer, it's for sale. Everything is for sale. But, the business is strong. The business is growing. The business is healthy. The business is going very well."
What about an IPO?
"A lot of companies are going public. I don't see this is the way we are going to go. We are very happy."
Or a mass collaboration line?
"I am not about gimmicks. I'm about dressing a woman who can afford my clothes."
His much-talked about opinions of Michelle Obama, who has famously never worn de la Renta:
"I don't have any strong opinions about Michelle Obama. I think she is a very good-looking lady and it's her own right to wear what she wants to wear. Would I like to dress Michelle Obama? I would like to dress everybody. I think I have been critical but … she's not an elected official. She happens to be the wife of the president. This is the only country where that happens. And this is the only country where the first lady does play a very important public role. I see it differently. I see, in fact, a lot of lost opportunities. For example – again it is for a first lady, as well, a learning process – when the Chinese prime minister came for an official visit, she was wearing a dress from a foreign designer. What a lost opportunity to promote an American industry. I'm sure she didn't do it on purpose, but she was not well-advised."
His ballot for the 2016 election:
"I have a wonderful relationship with Hillary Clinton. I hope that she will be our next president. She is an extraordinary lady. I am so unbelievably proud to say she is my friend."
On his cancer diagnosis in 2006:
"Yes, I had cancer. Right now, I am totally clean. The only realities in life are that you are born, and that you die. We always think we are going to live forever. The dying aspect we will never accept. The one thing about having this kind of warning is how you appreciate every single day of life."
On his rumored retirement and the future of the brand:
"People ask me, 'At your age, when are you going to retire?' I think every single day there is a learning process. For a long time … I wondered what would happen to the brand when I am no longer here. But I will be here for a very, very long time."
How old the 80-year-old designer feels:
"Depends on the day. Age, in my case, is your mind. My passion, my spirit, my joyful life that remains."
On life:
"Life is a little bit like a garden. I love to garden. There is a time when you plant. There is a time when you weed. You have to weed so that the beautiful flowers will grow. I'm having a fun time and I love every single day."
His advice to fashion students and aspiring designers:
"I tell fashion students, you don't need the introduction. You need to have good work. Work hard. Believe in yourself. It's not the publicity to sell the clothes, it's the woman."
Oscar de la Renta shared his thoughts about Michelle Obama, his battle with cancer, Hillary Clinton as the next President, John Galliano and rumors of his retirement at the 92Y in New York Thursday night with CFDA executive director Fern Mallis.

Joyce Culver for 92Y
FOR FREE to continue reading
✔️ Unlock the full content of International Business Times UK for free
offer available for a limited time only
✔️ Easily manage your Newsletters subscriptions and save your favourite articles
✔️ No payment method required
Already have an account?
Log in
© Copyright IBTimes 2023. All rights reserved.