Oscar Pistorius Granted Bail In Murder Case; Judge Says Runner Not A Flight Risk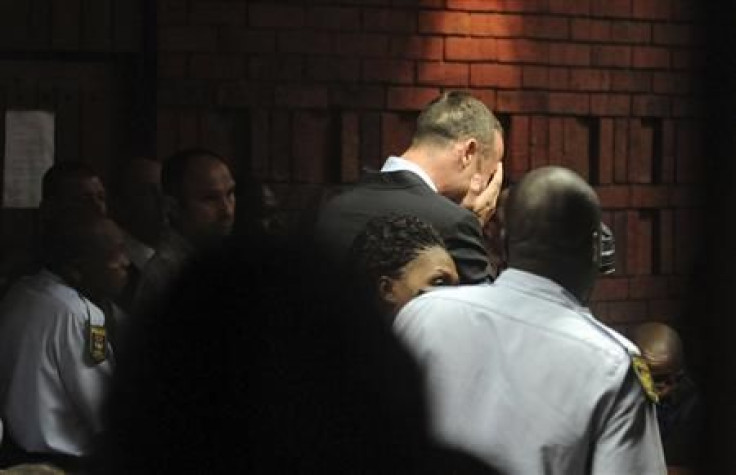 South African athlete Oscar Pistorius was granted bail on Friday and will be allowed to return home while awaiting trial on charges that he murdered his girlfriend on Valentine's Day.
Pistorius was granted bail of one million rand ($113,000), multiple media reports said. A court date has been set for June 4.
As a condition of bail, the Olympian known as "Blade Runner" must surrender his firearms, passports and not make an attempt to get a new passport. He must also report daily to a police station.
In deciding to grant bail for Pistorius, whom prosecutors have charged with premeditated murder in the Feb. 14 death of his model girlfriend, Reeva Steenkamp, Magistrate Desmond Nair said the prosecution failed to show Pistorius is a flight risk.
The judge also said Pistorius "does not show a propensity to commit violence," as alleged by the prosecution. Nair added that there is no evidence that Pistorius will interfere with witnesses in the murder case, and said he had signed a detailed affidavit of his version of events in Steenkamp's killing.
"In this instance, the accused has reached out to try and meet the state's case," Nair told a packed courtroom in Pretoria.
Prosecutor Gerrie Nel argued that the double-amputee Olympic and Paralympic track star is a flight risk and has access to a home in Italy.
Prosecutors have said they believe that Pistorius planned to kill Steenkamp; however, he has said that he mistook her for an intruder.
© Copyright IBTimes 2023. All rights reserved.