Oscars 2016: Kerry Washington Defends Decision Not To Boycott Academy Awards On Red Carpet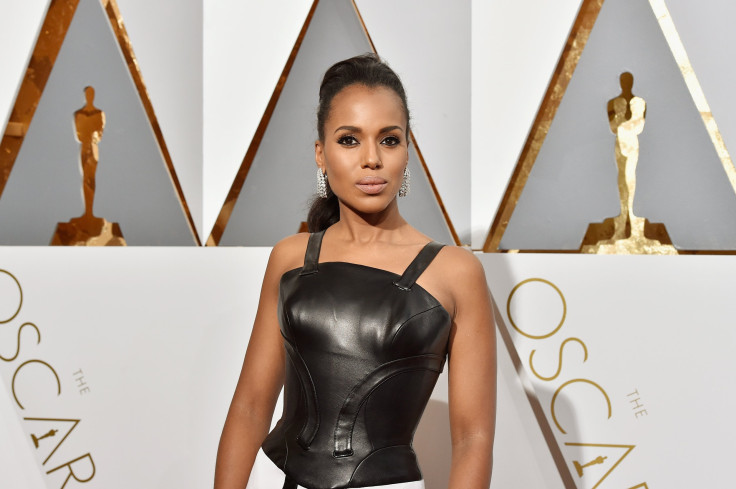 Millions of movie fans were awaiting host Chris Rock's monologue at the Oscars on Sunday to see how the comedian would address the controversy surrounding the lack of diversity in this year's list of nominees. However, before Rock even took the stage, "Scandal" star Kerry Washington made headlines by defending her decision not to boycott the Academy Awards.
For the second straight year, all 20 acting nominees at the Academy Awards were white and many African-American actors and filmmakers called for a boycott of the popular awards show. "Selma" director Ava DuVernay and "Creed" director Ryan Coogler both decided not to attend in favor of a benefit for the victims of the water crisis in Flint, Michigan, and dozens of black stars and filmmakers, including Will Smith, Jada Pinkett-Smith and Spike Lee, joined in, calling for a boycott.
Washington told ABC's Robin Roberts on the red carpet that she chose not to sit out the awards in order to represent the need for people of color to have a seat at the table in the film industry.
"A lot of people have asked me why I'm here tonight and the thing I've been thinking about is, if you look at the history of movements, the history of change, a lot of voices are needed at the table," said Washington during ABC's red carpet pre-show. "I really respect and actually admire some of the people who are not here tonight. I really get it. But for me, I felt like my voice, in my heart, my voice is best used at the table. As a new member of the academy, I want to make sure there's institutional change so that we never have a year like this again, so that we can be as inclusive as possible."
Washington also garnered a lot of attention of social media for her flashy Versace dress.
The actress later took the stage at the Oscars to help introduce best picture nominee "The Big Short."
The 88th annual Academy Awards ceremony airs Sunday at 8:30 p.m. EST on ABC. Find out how to live-stream the ceremony HERE and check out the nominations refresher HERE.
© Copyright IBTimes 2023. All rights reserved.