Chris Rock Oscars 2016 Opening: Hollywood's Lack Of Diversity Skewered In Comedian's Monologue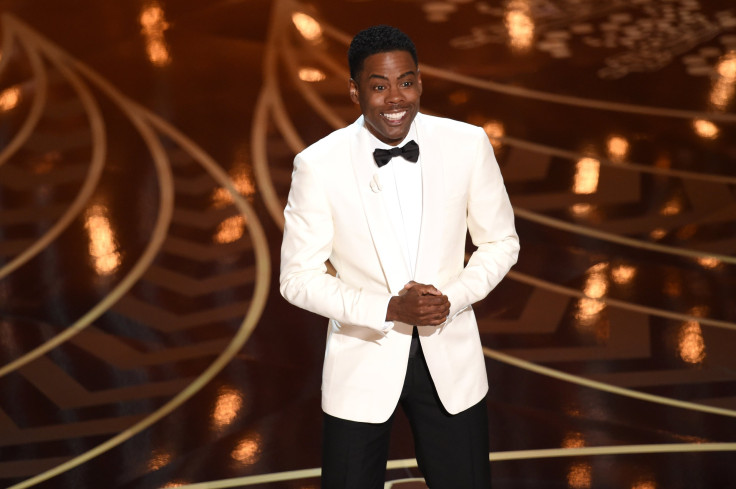 Oscars host Chris Rock kicked off the 88th annual Academy Awards ceremony Sunday night by skewering Hollywood for failing to recognize the work of African-Americans and other minorities in the film industry. Rock, 51, who is black, pulled no punches, calling out industry leaders for claiming to be socially progressive and relegating people of color to the margins.
"Everyone wants to know, in the world, is Hollywood racist?" the tuxedoed host said in the opening minutes of the telecast. "Is it burning cross racist? No. Is 'Fetch me some lemonade' racist? No. It's a different type of racist. It's sorority racist. It's like, 'We like you Ronda, but you're not a Kappa.' That's how Hollywood is," Rock said.
Rock continued: "We want opporutnity. We want black ators to have the same opporunities and that's it. That's it. Not just once."
Rock's remarks were undoubtedly a much-anticipated part of the telecast, following months of speculation about how the comedian, actor and film producer would broach the #OscarsSoWhite discussion. For the second year in a row, the Academy of Motion Picture Arts and Sciences' nominations for best actor/actress and best supporting actor/actress are all white, renewing calls for the Hollywood to do something about the underrepresentation of Asians, Latinos and African-Americans.
After the nominations were revealed last month, several black Hollywood stars, including actress Jada Pinkett-Smith and film director Spike Lee, announced they would boycott the ceremony to send a message about the lack of racial diversity in Hollywood. Instead of attending the ceremony, several stars were in Flint, Michigan, for an event to highlight the city's water crisis. Civil rights leaders, led by the Rev. Al Sharpton, staged multi-city rallies to call for more inclusion in the film and TV industry.
Rock, who had been encouraged to back out of the hosting duties this year, said he couldn't figure out what that would have accomplished. "If [the academy] nominated hosts, I wouldn't even get this job," he said. "You all would be watching Neil Patrick Harris right now."
Many #OscarsSoWhite hashtag users were reacting to Rock's monologue with praise and critiques. Some said they were happy that Rock had taken the controversy head on, while others noted that it was making attendees visibly uncomfortable.
April Reign, creator of the social media hashtag #OscarsSoWhite, this weekend encouraged those concerned about the lack of Hollywood diversity to tune-out of the ABC telecast. She also urged supporters to watch films and TV shows with diverse casts and tweet about them with the hashtag.
Chris Rock | PrettyFamous
© Copyright IBTimes 2023. All rights reserved.