Oslo Terrorist Attacks: Police Make First Arrest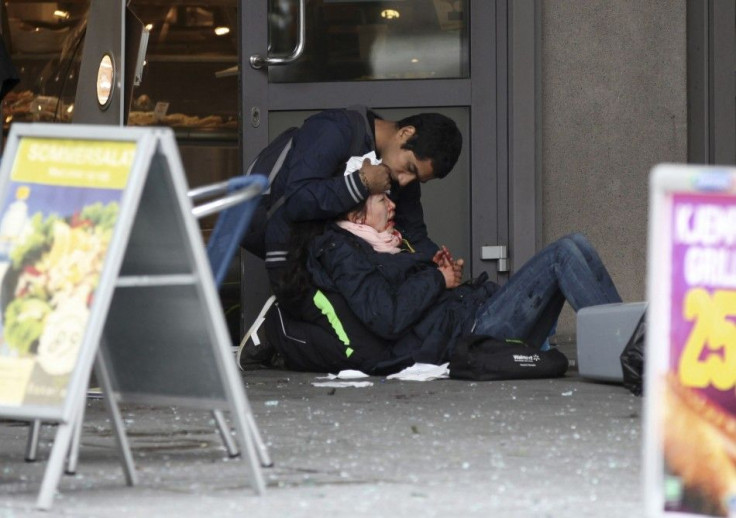 Two suspected terrorist attacks in Oslo, Norway have left up to seven people dead and dozens more injured.
An explosion at government headquarters is now believed to have been the result of a car bomb. It was detonated around 3:30 p.m. in Oslo. The 17-story government building was home to the Prime Minister Jens Stoltenberg 's office. Stoltenberg was unharmed in the explosion.
A second, possibly related event happened on an island outside of the city, where around 700 teenagers were attending a youth politics camp. A man dressed as a police officer opened fire on campers shortly after the bomb went off in Oslo.
At least five people were injured by the gunman, who was apprehended by counter-terrorism police who helicoptered onto the island.
Authorities are asking friends and relatives not to call the cell phones of anyone on the island, fearing that ringing could give away the location of those hiding in bushes or elsewhere, in case there is a second gunman nearby.
Authorities speculate that a jihadist group, possibly al-Qaeda, planned and executed the attacks. International bodies have quickly come to Norway's support, condeming the events.
I am deeply shocked by the bomb blasts this afternoon in Oslo which have killed a number of innocent people and left many others injured, European Union president Herman Van Rompuy said in a statement.
I condemn in the strongest terms these acts of cowardice for which there is no justification.
The death count from the bombing is now as high as seven people, police say, and at least two of 15 wounded are in critical condition.
Police have evacutated the center of Oslo and the army is positoned around Oslo.
Norway is not the likeliest candidate for a terrorist attack, but if the Friday bombing proves to be the work of militants, it will surely shock relatively quiescent Scandinavia.
The first images of the explosion appeared on Twitter immediately after the blast.
There is speculation that, if the explosion is a bombing, it could have been the work of militant jihadists anger about the looming deportation of Iraqi-born cleric Mullah Krekar. Krekar is the founder of the Kurdish Islamist group Ansar al-Islam, and has been living in Norwary controversially since the early 1990s.
READ: Oslo Explosion and Shooting Rocks Norway, 17 Dead [PHOTOS]
© Copyright IBTimes 2023. All rights reserved.