'Pacific Rim' Faces Stiff Competition At The Box Office From 'Grown Ups 2' And 'Despicable Me 2'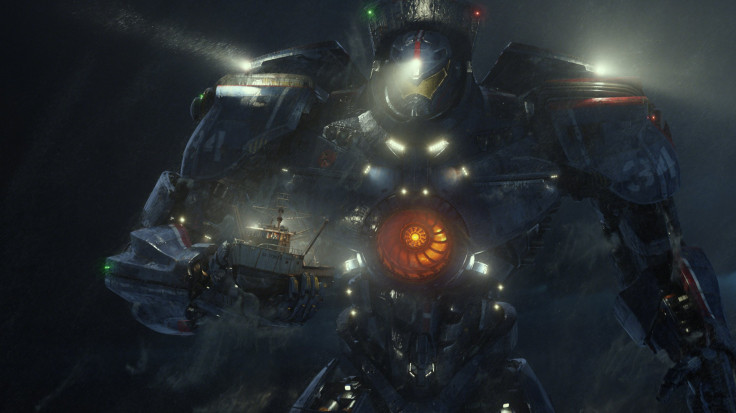 "Pacific Rim," Guillermo Del Toro's big-budget "monsters and robots" movie, has plenty of hype and online buzz surrounding it, but how will it fare at the box office? With plenty of competition from established properties, "Grown Ups 2" and "Despicable Me 2," early estimates indicate the original property will be a hit at the box office.
Despite positive buzz from the online community, it appeared as though "Pacific Rim" was connecting to a general audience. Some experts questioned the marketing of the film, focused on the action between the robots, known as Jaegers, and monsters, known as Kaiju, instead of the human element. The film features a cast that includes Idris Elba, Charlie Hunnam, Rinko Kikuchi, Charlie Day and Ron Perlman, but all the attention has been on the action scenes between Jaegers and Kaiju.
For some potential moviegoers, "Pacific Rim" may appear to be just another sci-fi action movie similar to "Transformers" or "Battleship," which could have led to the soft early tracking numbers of the movie. Despite the initial fears of a potential flop, estimates predict "Pacific Rim" will win this weekend's box office, but, considering the unpredictable nature of the summer box office, the movie could still underperform or exceed expectations.
Movies such as "Now You See Me," "The Heat" and "World War Z" were expected to do well, but all three films have exceeded expectations. "World War Z" was predicted to flop amid reports of a troubled production that led to many reshoots but has become a box office hit. Other movies, including "After Earth," "White House Down" and "The Lone Ranger," drastically underperformed at the box office.
"Pacific Rim" has earned a positive response from critics, 73 percent fresh on Rotten Tomatoes with 119 positive reviews out of 162 total reviews, and could be an audience favorite around the globe. Box Office Mojo is reporting the film will face some strong competition but will win the box office, estimating a gross of $46 million.
"Grown Ups 2" has not fared so well with the critics -- 7 percent and certified rotten on Rotten Tomatoes with just four positive reviews out of 58 total critical reviews. Box Office Mojo estimates the film will still perform well, earning $45.1 million, due in part to the star power, including Adam Sandler and Kevin James, attached to the film.
Variety has a completely different take on the box office than Box Office Mojo, indicating a rather unpredictable weekend at the box office. Variety has "Despicable Me 2" retaining the box office crown, and Box Office Mojo has it slipping to third, while "Grown Ups 2" will wind up in second place and "Pacific Rim" will come in third place. Variety estimates a high $40 million gross for "Despicable Me 2" and a low $40 million debut for "Grown Ups 2," while "Pacific Rim" will earn just over $35 million.
Even with a weak domestic gross, "Pacific Rim," with an estimated budget of $185 million, could still be a hit for Warner Brothers and Legendary Pictures due to the international box office. The movie earned $1.47 million in its opening day in South Korea and collected $3.76 in six other Asian markets, Variety reports. The movie also earned $3.6 million in early screenings on Thursday, while "Grown Ups 2" earned $2.3 million, the Hollywood Reporter notes.
© Copyright IBTimes 2023. All rights reserved.