Paid-Family-Leave Benefits Explained After Hillary Clinton's Statement At Democratic Debate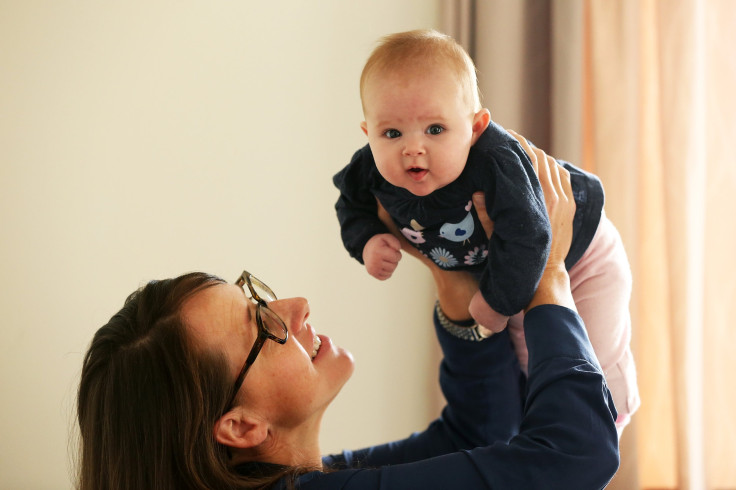 When waitress Nancy Glynn, 27, lost her son Sawyer in childbirth and suffered medical complications from the birth, she needed time to recover, but instead she made the difficult choice to return to her job. Glynn, a Navy veteran who lives in Manchester, New Hampshire, with her husband and 3 1/2-year-old son, had no paid-family-leave time.
"I feel like I rushed it, but I had no choice," she said, describing the bill notices from gas and electric companies that started to pile up. "I've got to make sure I have food, that I have a house, that I can take care of my family."
Organizations like the U.S. Chamber of Commerce have argued that mandatory paid leave would hurt the nation's job market, but a growing body of research looking at the three states in the U.S. that have paid leave has started to combat that perception as presidential candidates are bringing the issue to the front of their campaigns.
During Tuesday night's Democratic presidential debate, Hillary Clinton, Bernie Sanders and Martin O'Malley were all asked to respond to a question about mandatory paid family leave and affordability for small businesses. Clinton responded by pointing to California, which was the first state in the U.S. to mandate paid leave in 2004. The Golden State was joined by New Jersey in 2009 and Rhode Island in 2014 in this regard.
"It has not had the ill effects that Republicans are always saying it will have," Clinton said, referencing arguments that paid leave would negatively affect the economy.
But the day after the presidential debate, Americans in 47 states were still faced with some of the same difficult situations that Glynn faced when she decided to rush back to work in order to support her family. Data from the Department of Labor show that only 12 percent of private-sector workers have access to paid family leave, with access especially low among minorities.
"The argument that it's a big burden on small business has really been demolished," said Ruth Milkman, a professor of sociology at the City University of New York and an author on paid family leave in California.
Milkman's research, based on speaking with businesses in California, found that nine of 10 employers reported either no impact or a positive impact on productivity among their workers with paid family leave. Employers also told Milkman they saw an increase in morale and that workers were not abusing the program. Milkman said employers can save turnover costs when it comes to hiring new workers.
Maya Rossin-Slater, a professor of economics at the University of California at Santa Barbara, argued that it would be beneficial to have more data on employers, but her own unpublished research in Rhode Island found businesses there haven't reported adverse effects with paid family leave.
"The momentum has been at the state level," said Rossin-Slater, who will be taking her own leave time soon because she is seven months pregnant. "The economy in California hasn't collapsed as a result."
The exact formulas vary in each state; California provides six weeks of paid family leave, with 55 percent weekly wages paid that can be used by either parent to care for a newborn or a sick child, spouse, domestic partner or a parent. Some states also cover in-laws. Unlike California and New Jersey, Rhode Island's policy features job protection. States use payroll taxes and temporary-disability insurance to fund the programs.
The U.S. is unique in the world as the only industrialized nation that does not offer paid maternity leave. Papua New Guinea, an island nation in the Pacific, shares that distinction with the U.S.
"It's completely standard in all European countries," Christopher J. Ruhm, a professor of public policy and economics at the University of Virginia, said. He said he often gets incredulous reactions from colleagues overseas who are shocked that the U.S. does not have paid leave.
Ruhm noted the programs in California, New Jersey and Rhode Island with four to six weeks of leave are small when compared with those of countries that offer as much as a year or more of paid leave, but even having six weeks across the U.S. would make a big impact, he argued. Ruhm's own research has shown that women who are able to take leave are 6 percent more likely to be working a year later than those who do not.
Many experts say momentum and attention around the issue of paid family leave is gaining traction in the U.S. Ruhm attributes it to individual companies like Netflix implementing expansive policies, the American economy strengthening after the 2008 crisis and a younger generation of Americans "saying that things are kind of out of whack."
The Family and Medical Leave Act (FMLA), established in 1993, provides 12 weeks of unpaid family leave for workers with a baby or sick family member. But experts say the program doesn't allow people from lower income levels to take time off. Programs like the one in California have increased the shares of disadvantaged mothers able to take leave.
Democrats are now trying to expand on the FMLA with the proposed Family and Medical Insurance Leave Act, which would provide partial pay for up to 12 weeks of leave. Milkman has doubts that the act will manage to pass the current Congress but believes that sooner or later the U.S. will have federal legislation concerning paid leave. Meanwhile, national and local lawmakers are pushing a 16-week program with 100 percent pay for paid leave in Washington in what would become the nation's most progressive policy in this area.
"Sometimes we have to look around and realize a lot of people suffer, and if we can do something that every other major country has been able to help with, then why can't we do it here … and make it easier on new mothers and fathers?" Glynn said.
© Copyright IBTimes 2022. All rights reserved.
FOLLOW MORE IBT NEWS ON THE BELOW CHANNELS