Do Debates Always Get Politicians Big Donations? Bernie Sanders Raises $1.3 Million After Democratic Debate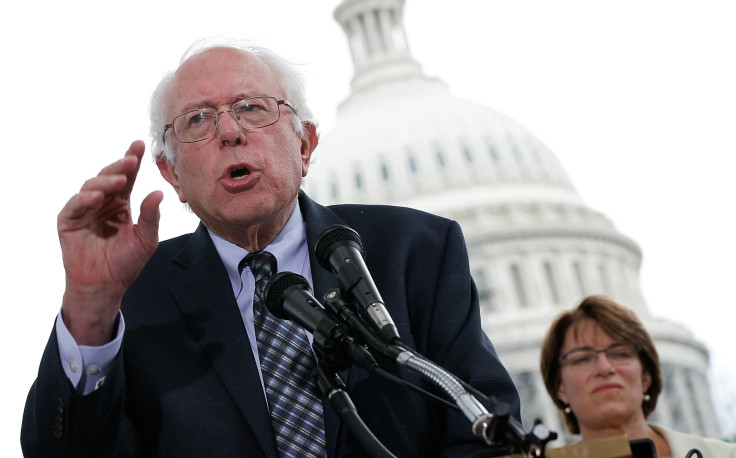 While media and political insiders seem to think Hillary Clinton won Tuesday's Democratic debate, Vermont Sen. Bernie Sanders came away with a rush in donations that may signify more enthusiasm to come. Sanders' performance prompted donors to give more than $1.3 million in the first four hours after the debate, his campaign said in a statement Wednesday.
Presidential campaigns often try to capitalize on candidates' debate performances to gain a boost in fundraising, but their efforts aren't always as successful as Sanders' seem to be. After the Republican debates earlier this fall, those candidates who had strong showings quickly reached out to donors, but none announced an immediate haul of quite this size.
In a flurry of support the Sanders campaign dubbed a "fundraising bonanza," more than 37,600 individual contributors gave to the Vermont senator Tuesday night and early Wednesday morning. In the first five minutes after the debate ended, Sanders received $100,000, according to his campaign. The average donation during the four hours after the debate was $34.58, keeping with Sanders' focus on recruiting many small donors instead of relying on larger donations and super PACs.
Both Sanders and Clinton gave strong performances Tuesday night, as they each touted their records helping everyday Americans and managed to get in several zingers. But perhaps the most memorable moment was when Sanders defended Clinton, saying, "The American people are sick and tired of hearing about your damn emails." The line received applause from the audience and was dubbed the "top social moment" by Facebook and Twitter.
Shortly thereafter, the Sanders campaign capitalized on the moment and sent a fundraising email urging supporters to give "before Bernie steps off the stage." Clinton's campaign also sent an email during the debate, although hers was addressed from her husband, former President Bill Clinton.
Clinton's campaign did not announce a similar fundraising bump Wednesday, but there are signs that her debate performance may win her more support in coming days. Major Democratic donor Tom Steyer, the hedge fund billionaire and environmentalist, told Politico that he was impressed with Clinton during the debate, for example. And the former secretary of state remains ahead in overall fundraising -- during the third quarter of 2015, Clinton raised about $28 million while Sanders raised $26 million.
The Republican candidates have used similar tactics to Clinton and Sanders during their own debates, planning fundraising blitzes and clever emails to capitalize on moments of good press. Texas Sen. Ted Cruz told supporters that he raised $1 million in the first 100 hours after the first Republican debate Aug. 6. Ben Carson also said he raised $1 million in the 24 hours after the Sept. 16 debate, and even more money after his comments that he did not believe a Muslim should be president of the United States. And yet, candidates like former Florida gov. Jeb Bush and Carly Fiorina have struggled to continue big fundraising despite strong debate performances.
Polls and favorability ratings for candidates typically change more in the days after debates as voters see how candidates move forward and read media coverage of the showdowns. Republican front-runner Donald Trump, Carson and Fiorina have all experienced significant post-debate polling bumps regardless of their fundraising, and the Democrats are likely to watch polls closely in this period.
For Clinton especially, she will need to calm donor fears about the rising excitement around Sanders as she tries to uses the praise from this first debate to keep spirits up and show donors that she is the one who can lead Democrats to victory in 2016.
Bernie Sanders Campaign Contributions by State | InsideGov
© Copyright IBTimes 2022. All rights reserved.
FOLLOW MORE IBT NEWS ON THE BELOW CHANNELS