Paid Sick Leave: Obama's Executive Order Expected To Lift Low-Wage Workers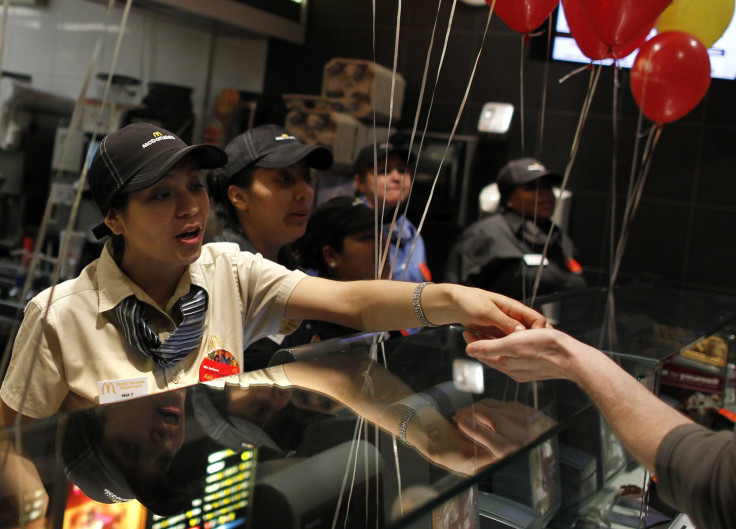 On what was most likely one of their few guaranteed days off this year, hundreds of thousands of low-wage workers got some good news. President Barack Obama signed an executive order Monday -- Labor Day -- that will require federal contractors to provide their employees with up to seven days of paid medical leave per year.
Many high-profile contractors, like Boeing and Lockheed Martin, already offer employees some form of paid sick leave -- the ability to take compensated time off from work to care for oneself or a loved one. That's usually not the case for people in low-paying fields like food and janitorial service. About 300,000 of these workers will benefit from the new mandate, according to the White House, which it said will take effect in 2017. For many of them, the order is a relief.
"I really need my hours, and every day I miss affects me a lot," said Mayra Tito, 30, who has worked nearly two years at a Starbucks restaurant inside the Pentagon. She makes $10 an hour.
Tito said she works 40-hour weeks to help pay for her studies toward an associate degree at a community college and is not entitled to any form of paid leave. As a result, she has gone to work sick a few times, she said. Earlier this summer, Tito recalled coming down with an especially brutal fever after lunch and "feeling the shakes." Still, she figured it wasn't worth going home.
Unlike its competitors in the industrialized West, the United States has no minimum paid sick leave requirement. That means a worker's access to paid leave depends largely on his or her income. Employers that pay well usually offer paid sick leave; the lower-paying ones tend not to. The divide extends to companies with government contracts: Most of the briefcase-toting, suit-wearing visitors to the Pentagon can take the day off and get paid for it; the people who serve them coffee, burgers and pizza inside the sprawling Arlington, Virginia, office complex are far less likely to have that luxury.
"Because we're paid so little, we really can't afford to take the time off," said Tito. "This is a great step."
Business groups disagree. They complained about the move, the latest in a recent string of worker-friendly executive orders from the White House. Since 2014, Obama has signed orders that raised the hourly minimum wage for contractors to $10.10, prohibited them from discriminating against gay and transgender workers and forced them to disclose more information about labor law violations.
"Once again President Obama is using the federal procurement system to do something it was never been designed to do -- usurp the legislative authority of Congress to determine appropriate workplace policies," Randy Johnson, senior vice president of labor, immigration and employee benefits for the U.S. Chamber of Commerce, said in a statement. "Just as his previous executive order [forcing contractors to disclose labor law violations] will not improve the economy and efficiency of the procurement process, this [executive order] will also make it harder for small businesses to remain federal contractors."
But supporters say the policy effectively pays for itself.
It's good for business when workers aren't confronted with "the choice to put food on the table or care for a loved one," said Paco Fabian, spokesman for Good Jobs Nation. The union-funded group has pressured the White House to issue executive orders for federal contractors through a series of protests and strikes. "Happier employees tend to be more productive employees," he said.
A body of research backs that up. Studies show that paid leave reduces employee turnover, saving employers the costs of hiring and training new staff. Sick employees also tend to be less efficient, costing the economy more than $200 billion a year in "lost productive time," according to one study. (When Tito stayed at work with the bad fever, she says her boss moved her to the back of the store to restock and wash dishes, away from the drinks, food and customers.)
Proponents also hope the rule will have a "ripple effect." The federal government has a "huge economic footprint in the private sector," said Fabian, buying "anything from apples to airplanes." While it can be challenging to know the precise reasons an employer hikes pay, Fabian says Obama's recent order on wages for contractors encouraged other private-sector employers to follow suit.
The president's move targets low-wage workers, but it comes several months after two of the nation's most recognizable employers announced they would make their contractors provide the benefit. Both Microsoft and Facebook now offer their workers paid time off and demand that their contractors offer employees at least 15 such days.
© Copyright IBTimes 2022. All rights reserved.
FOLLOW MORE IBT NEWS ON THE BELOW CHANNELS