Pakistan Court Upholds Death Sentence Of Christian Woman Convicted Of Blasphemy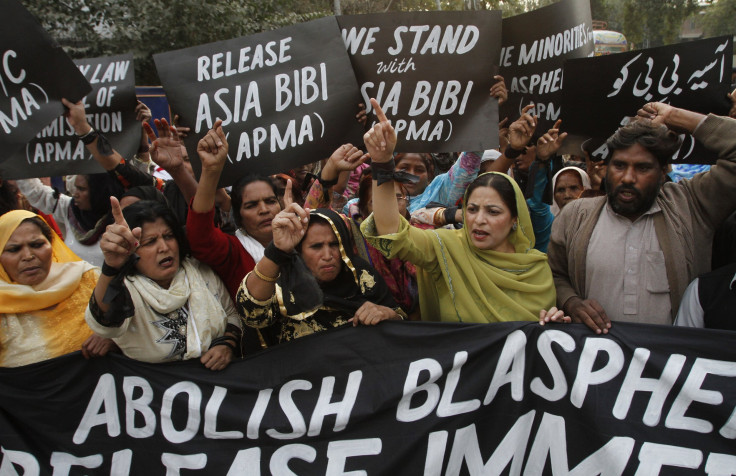 A Pakistani court on Thursday upheld the death sentence of a Christian woman convicted of blasphemy in 2010, according to media reports. Asia Bibi has been on death row since November 2010, when a district court found her guilty of making derogatory remarks about Islam and the Prophet Muhammad.
Reacting to the ruling by the Lahore High Court, Bibi's lawyer reportedly said that he will appeal the verdict in the Supreme Court of Pakistan. Amnesty International, which has campaigned for the repeal of anti-blasphemy laws in Pakistan, termed the verdict a "grave injustice" and urged Pakistani authorities to release Bibi immediately.
"There were serious concerns about the fairness of Asia Bibi's trial, and her mental and physical health has reportedly deteriorated badly during the years she has spent in almost total isolation on death row." David Griffiths, Amnesty International's deputy Asia Pacific director, said in a statement. "Asia Bibi should never have been convicted in the first place -- still less sentenced to death -- and the fact that she could pay with her life for an argument is sickening,"
Bibi's case dates back to June 2009, when she allegedly made blasphemous comments during an altercation with her neighbors. She was sentenced to death by a district court in November 2010, triggering numerous protests by rights groups calling for a repeal of the country's draconian anti-blasphemy laws.
Critics of the law have argued that it is often misused to settle personal vendettas and that it unfairly targets members of minority communities, including Christians and Muslims belonging to the Ahmadi sect.
In 2011, two prominent Pakistani politicians -- Punjab Governor Salman Taseer and Minorities Affairs Minister Shahbaz Bhatti -- both of whom had campaigned vociferously for Bibi's release and an overhaul of the country's blasphemy laws -- were killed by Islamist militants.
© Copyright IBTimes 2023. All rights reserved.