Palm Islands Of Dubai Are World?s Largest Artificial Island Trio [PHOTOS]
Frequently called the eighth wonder of the world, the Palm Islands of Dubai in the United Arab Emirates are the world's largest artificial islands, each manmade into the shape of a palm tree.
In Dubai, where tourism is making it one of the fastest growing cities in the world, the Palm Islands are a popular travel destination. But only one of the three islands - the Palm Jumeirah, the Palm Jebel Ali and the Palm Deira -- that make up the Palms is open to visitors.
Claiming the title of the largest manmade archipelago in the world, the Palm Islands can be seen from space. Each of them is shaped like a palm tree, but there are no actual palm trees there.
According to How Stuff Works, the islands were a brainchild of Sheik Mohammed bin Rashid al Maktoum, who decided Dubai needed a new role as its oil supply ran out. Sheik Mohammed teamed up with Dubai-based developer Nakheel Properties to create islands for the emirate, whose desert climate and short coastline limited tourism development. The addition of the Palms in fact the coastline of the small emirate by 166 percent, according to TripGuideDubai. AMEInfo.com reported that state-owned developers Nakheel benefited from the construction, reporting a profit of $98.6 million in April and May despite global economic fragility.
The project took just four years to complete and each island required nearly 12 million pounds of rock and more than 53 million pounds of sand from the ocean floor to construct.
Jumeirah, the only island open to the public, houses the Burj Al-Arab seven-star luxury hotel. The Palm Jumeirah also includes residential property as well as commercial attractions like The Trunk, 16 Fronds and Crescent, according to Just Luxe. The first residents, who include David Beckham, moved onto plots on Jumeirah during the summer of 2007.
In total, the Palm Islands house 60 luxury hotels, 4,000 residential villas, 1,000 water homes, 5,000 shoreline apartments and multiple marinas, restaurants, shopping malls, sports facilities, health spas, cinemas and dive sites, according to All World Best.
View the slideshow to see photos of the three islands - the Palm Jumeirah, the Palm Jebel Ali and the Palm Deira -- that make up the Palms.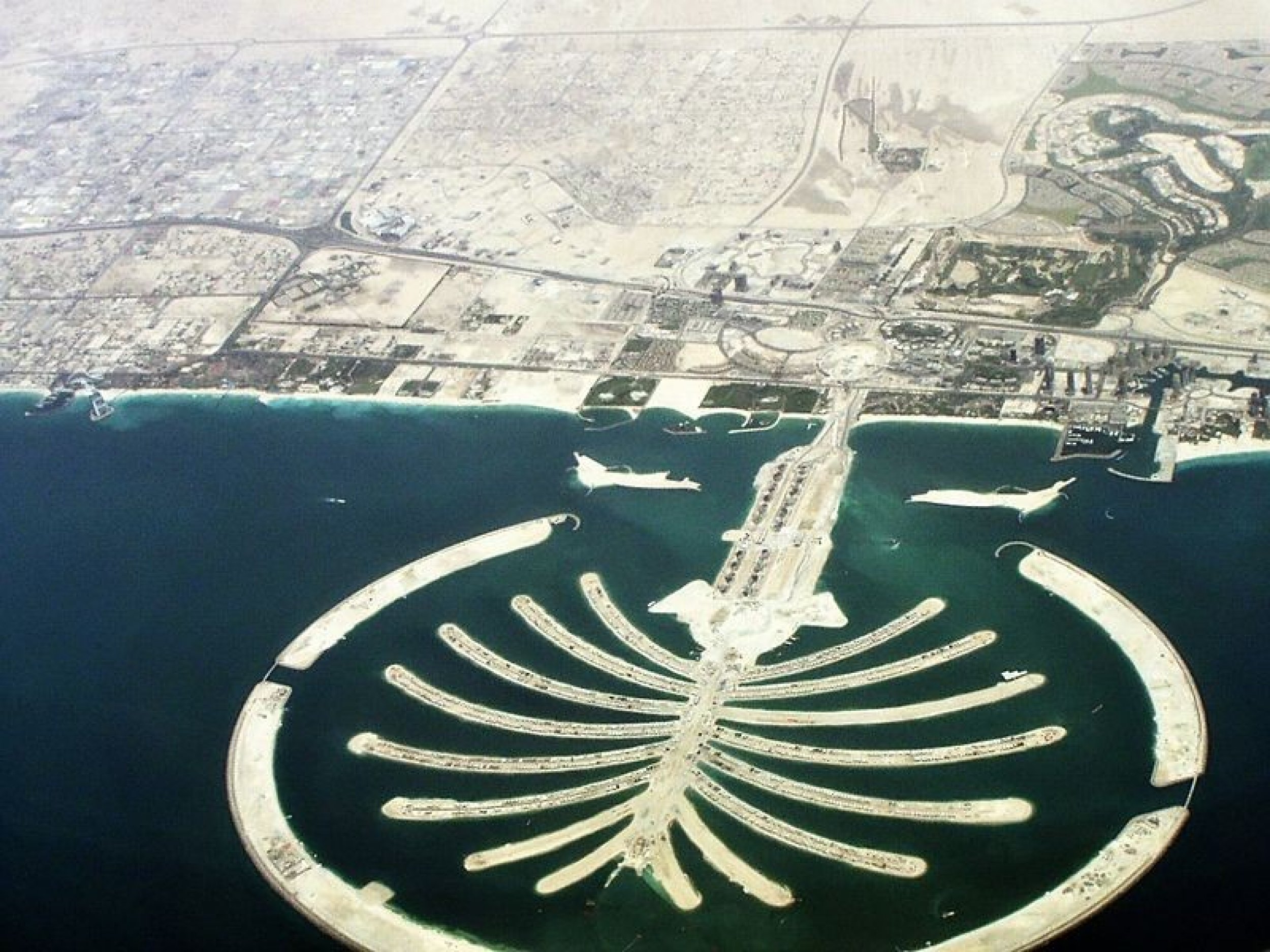 © Copyright IBTimes 2023. All rights reserved.
FOLLOW MORE IBT NEWS ON THE BELOW CHANNELS