Palm Sunday 2015: Pope Francis Prays For Germanwings Victims During Easter Week Celebration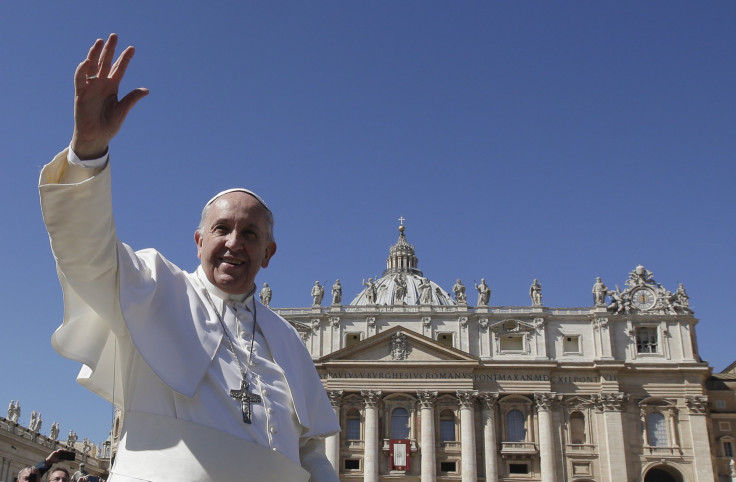 During his celebration of Palm Sunday Mass in St. Peter's Square in Vatican City, Pope Francis commemorated with prayer the lives of those who died in the Germanwings Flight 9525 crash last Tuesday. Speaking to more than 70,000 attendees, he also acknowledged the faithful who serve others without concern for themselves -- as well as those who have had to withstand humiliation, discrimination and even persecution because of their faith.
The pope, who has served as leader of the Roman Catholic Church for two years, wore bright red vestments to recollect Jesus' death by crucifixion. The Mass took on a simple tone, which is indicative of his papal style.
Toward the end of the Mass, the pope discussed the importance of humility and remembering the 150 people who perished in the French Alps aboard the Germanwings flight last week. Among the crash victims were a group of German schoolchildren and three Americans, including mother and daughter Yvonne Selke and Emily Selke.
Investigators have indicated the flight's co-pilot, Andreas Lubitz, a 27-year-old native of Montabaur, Germany, locked the pilot out of the cockpit and intentionally changed the plane's course so it would crash into a mountainside. Records in the plane's first black box, a cockpit voice recorder, have determined that the flight commander attempted, without success, to break down the cockpit door to regain control of the plane.
Holy Week observances will continue with a Way of the Cross service at the Colosseum in Rome Friday and a mid-morning Mass in St. Peter's Square Easter Sunday, when Pope Francis will give a blessing from the central balcony of St. Peter's Basilica.
In the Christian faith, Palm Sunday commemorates Jesus Christ's entering Jerusalem the week before his resurrection. The name Palm Sunday derives from biblical verses, which depict people greeting Jesus with palm branches as he entered Jerusalem, waving them and laying them at his feet, while calling him "savior." Another name for the religious holiday is Passion Sunday. Palm Sunday marks the beginning of last week of Lent, which ends Easter Sunday. This year, Easter will be April 5.
© Copyright IBTimes 2023. All rights reserved.
FOLLOW MORE IBT NEWS ON THE BELOW CHANNELS