Palm Sunday 2015: Watch Pope Francis Vatican Live Stream Blessings, Procession, Mass And Prayers [VIDEO]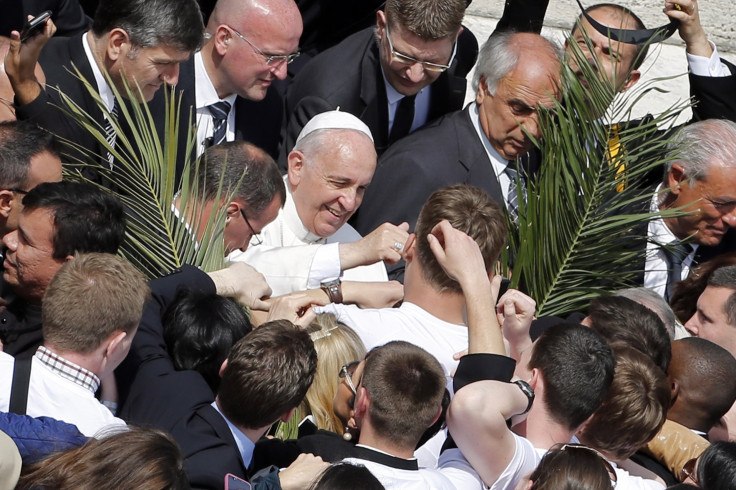 Every year in Italy, the beginning of Easter Week is marked by a special Palm Sunday Mass celebrated by the pope in Vatican City. The event turns Rome into one of the most popular destinations in the world during the holiday celebrations, but you don't have to travel all the way to Europe to view it. Watch Pope Francis' Palm Sunday Mass here on a live stream instead.
The Vatican's events, held in Saint Peter's Square, were scheduled to begin at 9:20 a.m. local time Sunday. First is the Blessing of the Palms, then the Procession, and finally the Holy Mass celebrated by Pope Francis, who recites the Angelus prayer with religious pilgrims at the end of the Mass. Large crowds usually gather in the square for these free events, and many take home small olive and palm branches, which are symbols of peace.
For Christians, Palm Sunday commemorates Jesus Christ's proud entry into Jerusalem one week before his death and subsequent resurrection. It takes its name from Biblical verses that say that when Jesus entered Jerusalem, crowds greeted him with palm branches, waving them and laying them at his feet and calling him "savior." The religious holiday, also called Passion Sunday, marks the beginning of the last week of Lent, which ends with Easter Sunday. This year, Easter will be on April 5.
In Biblical times, palm branches represented victory and benevolence, as well as triumph. In modern times, in certain parts of the world where palms are hard to come by, branches from local trees are used instead. Leftover palms used in Palm Sunday ceremonies are not discarded, as they have been blessed, but instead burned for use on Ash Wednesday the following year.
Watch a live stream of Palm Sunday services at the Vatican, including a Mass celebrated by Pope Francis, here:
© Copyright IBTimes 2023. All rights reserved.
FOLLOW MORE IBT NEWS ON THE BELOW CHANNELS